Life Chose A Different Path for Dr. Patricia Ruiz
Posted on

by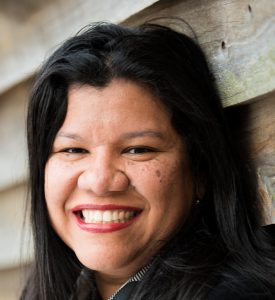 "I believe that we always have a dream for our lives — but some plans may change because of a situation that goes against our will. When things don't go as planned, those are learning opportunities. In those times we need to be brave, be flexible, refocus, persevere, and never give up," says Dr. Patricia Ruiz, a toxicologist in the Office of  Innovation and Analytics, Agency for Toxic Substances and Disease Registry (ATSDR)/Centers for Disease Control and Prevention (CDC).
"Sometimes," she says, "things happen for a reason, and the future holds something better for us than what we may have had planned for ourselves."
Where it all began
Pat was born in the city of Cartagena in Colombia, South America. Cartagena is a major port on the northern coast of Colombia, in the Caribbean Coast Region. She is the second of four children, growing up in an economically challenged but close family of six. Gifted academically, Pat was able to pursue education to help herself and her family.
Education coupled with perseverance
The sciences, especially chemistry, captured her interest. Pat's dream was to be a chemical engineer. However, financial struggles and the fact that there was not a college near her home with a chemical engineering program halted that goal.
During her undergraduate studies in pharmaceutical chemistry at the University of Cartagena, she received a National Pharmaceutical Chemistry Award. This achievement enabled her to author publications, and to meet and work with professors who mentored her.
Pat entered the National Colciencias, a Colombian science program, to compete nationally for a scholarship for graduate study abroad. The program provided an academic scholarship to help gifted but finally disadvantaged students attain advanced degrees. As part of her preparatory package, she contacted and corresponded with a professor of computational chemistry at a university in Belgium.
Pat wasn't initially selected for a scholarship; her best friend was chosen instead. This came as quite a devasting blow. But blessing was with her.
As part of her second preparatory scholarship package, she had corresponded via email with a professor of computational science at Georgia State University. And the second time, she won!
Pat was awarded a scholarship to Georgia State University (GSU) in 1998, enrolling in a graduate degree program in Physical Science, which led to a PhD in computational chemistry in 2002.
Path to public health
During Pat's last year at GSU, one of her mentors suggested applying to CDC. Even though she did not have her citizenship at that time, she interviewed for an ORISE fellowship with CDC's National Center for Environmental Health. Funding fell though, however, so that fellowship appointment did not come to fruition.
A second opportunity arose with ATSDR as an ORISE fellow, then Pat was converted to a full-time equivalent appointment as a Senior Service fellow and later to a toxicologist. This was in 2005, and she has worked in ATSDR ever since.
Most rewarding aspects of the job
"I am privileged that I get to do what I love, and I strive to do everything with excellence. I get to use computational methods to predict the potential toxicities of substances that may harm the health of exposed communities," says Pat.
Pat has been able to lead and participate in national and international computational efforts to predict toxicity for large data sets, dealing with chemicals such as persistent organic pollutants, volatile organic chemicals, and metals (such as mercury, nicotine, and lead). Her publications and work are recognized in the field, allowing her and colleagues to be a resource to many scientific workgroups and consortiums.
Most passionate about
Pat is happiest when collaborating with others to apply methodologies to what they do, and to coach up-and-coming toxicologists at ATSDR and other institutions. Family is also an important part of her life. Her family is very proud of her accomplishments, though she is very modest about her PhD and position as a computational toxicologist. She is the only member of her family to have emigrated to the United States.
As a means of giving back, Pat loves to mentor and see others applying their newly acquired knowledge. "I love the fact that people around the country and around the world get to use the results of our work to advance theirs. I love working with people with a diversity of thoughts and backgrounds and ideas. I can understand their needs, and I get to guide them and help them accomplish what they need to do."
Current work
Part of the work in ATSDR's Office of  Innovation and Analytics is to use computer models to help find the best ways to evaluate and reduce hazards from toxic chemicals. For example, Pat's work includes
Aiding evaluations of exposures to hazardous chemicals in communities
Providing estimates of toxicity from exposure to chemicals in the environment
Contributing advice and support to help reduce the impacts of exposures to chemicals
Scientists like Pat support basic and applied research projects in collaboration with CDC's National Center for Environmental Health, EPA, FDA, and academic institutions. These projects contribute to a goal of developing and applying model estimates and expertise that aid assessments and help reduce the effects of toxic chemicals found in communities.
Looking back
"I have always been a fighter. I went through many trials and obstacles, as well as financial limitations that forced me to change plans. In the end, through a series of incredible life events, I was able to reach more than I'd ever dreamed or imagined, achieving a PhD degree in a field that I love, in a new country, a new language, to work for a better future. When you persevere, you will get more than what you dream."
Had Pat won a scholarship through the National Colciencias in Colombia the first time she competed, she might have ended up living in Belgium, where the rainy climate may not be ideal for someone with asthma. And she would never have met her husband, Gilberto Ruiz, a senior pastor and native Nicaraguan. They have two sons together: Jacob, who starts college in the fall, and Samuel, who will be starting high school.
Jacob, who has expressed interest in becoming a chemical engineer, excels in chemistry like his mentor: his mom.
Tweet this: "Life Chose A Different Path." Meet Dr. Patricia Ruiz, a toxicologist in the Office of Innovation and Analytics, Agency for Toxic Substances and Disease Registry. https://bit.ly/3lwFbeX #CDCEHblog via @CDCEnvironment.
Posted on

by
---
Page last reviewed:
March 17, 2021
Page last updated:
March 17, 2021