Welcome to CDC's NCEH/ATSDR Clear Writing Hub!
Posted on

by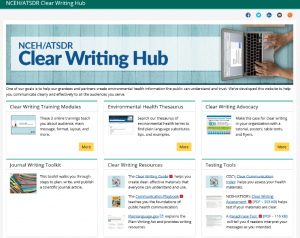 CDC's National Center for Environmental Health (NCEH) and the Agency for Toxic Substances and Disease Registry (ATSDR) have long been your sources for the latest in environmental health news and information. But now they are your source for clear writing support as well!
Even before the Plain Writing Act became law in 2010, CDC and ATSDR made clear communication a priority. NCEH/ATSDR's Office of Communication encourages our subject matter experts to use clear writing practices to explain scientific principles and provide health information. Now we're pleased to offer our tools to health agencies, non-governmental and private health organizations, and others.
While we think the site will be especially useful for health and science organizations, we hope it will be helpful for educators and anyone who wants to brush up on the latest research on clear writing practices. This is the first of three blog posts introducing the tools on the clear writing hub.
Environmental Health Thesaurus
Readers complain about "jargon" more than any other writing fault. But if you're a scientist or technical writer, you are likely to use terms that non-scientific readers aren't familiar with. That's why our subject matter experts and communication specialists developed the Environmental Health Thesaurus to help writers find plain language alternatives to difficult-to-understand terms. For each term or word, the thesaurus offers three suggestions:
A "Tip" suggests one of three alternatives for each term: Explain it. Avoid using it. Teach it.
"Try this instead" offers an alternate word choice or phrase.
"Explain" provides a sentence to explain or define a term.
Although the thesaurus focuses on environmental health terms, it also includes common health and science terms across other disciplines. It also provides a link to CDC's public health plain language thesaurus—Everyday Words.
The Clear Writing Hub includes writing guides as well:
Your Guide to Clear Writing walks you through the writing process, from the four questions you should ask  before writing to tools to test your writing for clarity. The Guide also offers tips to help you fix specific writing problems, a checklist for reviewing and editing your own writing, and writing models you can follow (for example, storytelling, infographics, feature articles, and quizzes).
The Health Communication Playbook  provides a communication plan template, worksheets, checklists, and other tools to help you develop strategy, key messages, and talking points. The Playbook also includes design guidance and models for a wide variety of communication products, including factsheets, webpages, social media, media advisories, and media interview strategies.
Testing
Audience testing is an important step in developing public outreach. Many health organizations don't have the funding or personnel for audience testing, but the tools and methods on the Hub allow you to do this at little or no cost by asking fellow staff members to score the document.
CDC Clear Communication Index (Index) is a research-based tool to plan and assess communication products. CDC developed the Index to identify the most important factors that increase clarity and aid understanding of public messages and materials. It includes 4 questions and 20 scored items to evaluate your main message and call to action, your language usage, and information design, as well as features like risk communication and use of numbers.
The Clear Writing Assessment is another scoring tool with 12 questions on writing practices and simple yes/no answers. Scoring is quick and easy, and the user guide explains the value of each practice.
Paraphrase Testing will tell you what readers think about your content and whether they interpret your message(s) as you intended. It asks readers to explain what they just read by paraphrasing it and works best for short documents, web content, survey questions, talking points, and key messages. You can use this tool to test 3 – 9 people in one-on-one interviews.
For More Info
Whoever your audience is, our Clear Writing Hub can help you communicate with them clearly and effectively. Check it out! Watch for the second of three blogs next month on the Clear Writing Hub to explore our testing materials and printable resources for encouraging clear writing practices in your organization.
Posted on

by
---
Page last reviewed:
February 24, 2021
Page last updated:
February 24, 2021