Stories of Collaboration: ATSDR 2021 Annual Report
Posted on

by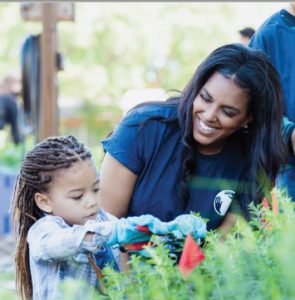 The Agency for Toxic Substances and Disease Registry (ATSDR) serves as a science-based public health agency working to address community concerns about hazardous substances. For more than four decades, ATSDR has worked with communities across the United States to identify and reduce community exposures that might lead to harmful health effects. To date, we have taken action to keep people safe from environmental hazards in more than 6,000 communities. ATSDR recently released its 2021 annual report to show how we work with citizens and agencies at every level to respond to environmental concerns:

These stories, and more, are featured in ATSDR's 2021 Annual Report. The report's theme, Listening, Responding, & Taking Action, mirrors ATSDR's commitment to engaging and involving communities as a core part of our work to protect communities from harmful health effects related to exposure to natural and man-made hazardous substances. We do this by responding to environmental health emergencies; investigating emerging environmental health threats; conducting research on the health impacts of hazardous waste sites; and building capabilities of and providing actionable guidance to state and local health partners.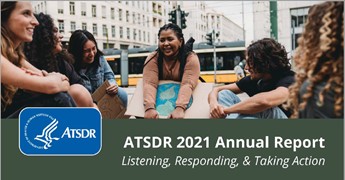 Our 2021 annual report also features "what's next", or how we are looking towards the future with emerging initiatives such as
I invite you to take the time to learn more about our achievements in this ATSDR 2021 annual report. ATSDR is, and will always be, committed to protecting the health of the American public.
---
Facebook this: Listening, Responding, & Taking Action mirrors ATSDR's commitment to protect the health of the public. #ATSDR works to strengthen public health responses. Read more about our achievements in the new 2021 Annual Report: https://bit.ly/3UB7EA9.
---
Tweet this: #ATSDR is excited to present our 2021 Annual Report. Learn how we put communities first to protect people from harmful environmental exposures https://bit.ly/3UB7EA9.
Posted on

by
---
Page last reviewed:
December 8, 2022
Page last updated:
December 8, 2022