Working to Address Children's Environmental Health
Posted on

by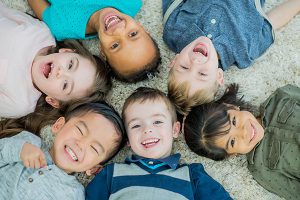 Today, across the nation, we celebrate Children's Environmental Health Day. This is an opportunity to increase the visibility of children's environmental health issues, while empowering individuals and organizations to take action on behalf of children nationwide.
For the Pediatric Environmental Health Specialty Units (PEHSUs), this serves as an opportunity to reinforce the need for the work they do all year long! Protecting the health of our children in the environment where they live, learn, and play is central to the PEHSUs' mission.
What are PEHSUs?
PEHSUs are a national network of experts in the prevention, diagnosis, management, and treatment of health issues in children that arise from environmental exposures, from preconception through adolescence. PEHSUs are based at academic health institutions, and each is responsible for a different region within the United States.
PEHSUs are funded by the Agency for Toxic Substances and Disease Registry (ATSDR) with support from the U.S. Environmental Protection Agency (EPA).  ATSDR staff manage and lead this program in partnership with a National Program Office, the American Academy of Pediatrics.
Why is children's environmental health important?
Children are more vulnerable than adults to the effects from exposure to environmental contaminants. These exposures can cause serious health problems in children. Even low levels of exposure to some contaminants, such as lead, can significantly affect a child's physical and mental development.
Children are at greater risk for exposure and exposure-related health effects for many reasons:
Relative to their size, children eat, drink, and breathe more than do adults.
Children frequently put objects in their mouths and play on the floor and ground.
Many parts of a child's body, such as their nervous system, immune system, and other organ systems, are rapidly developing. Some of these systems help filter pollutants from inhaled air and help process chemicals in the body.
Health problems from environmental exposure can take years to develop. Children have more time to develop health conditions and diseases from exposure than do adults who are exposed later in life.
Many healthcare professionals do not receive sufficient environmental health training to be able to recognize and manage environmental exposures in children and pregnant women. They also are not trained to provide appropriate patient counseling to prevent exposures. This makes the work of PEHSUs that much more vital as they fill this critical gap by providing scientifically based healthcare provider training and consultations.
How do PEHSUs work to protect children's environmental health?
PEHSUs address not only children's environmental health issues but also reproductive environmental health exposures that affect families and communities. Some examples include safe disinfectant use, how to protect children exposed to wildfire smoke, and how to limit exposures to per- and polyfluoroalkyl substances (PFAS), lead, pesticides, and mold.
To better address these issues, PEHSUs work with healthcare professionals, parents, schools, community groups, federal, state, and local government agencies, and others. PEHSUs services include
education
outreach
consultations
These services are essential to reduce environmental exposure risks for children and families and prevent or limit potential adverse health effects.
What can you do?
Environmental exposures in children can be prevented — and you can learn how! We encourage you to learn more about PEHSUs and help raise awareness about children's environmental health and how to reduce exposures.
To learn more, visit: https://www.pehsu.net/
---
Tweet this: Happy #CEHDay! A key piece of @PEHSUNational's mission is to protect the health of our children in the environment where they live, learn, and play. Read more, visit: https://bit.ly/3ezfRpv #ChildrenAtTheCenter
Posted on

by
---
Page last reviewed:
October 13, 2022
Page last updated:
October 13, 2022