The Road Less Traveled – Not All Veterinarians are Clinical Practitioners
Posted on

by
Meet Brittany Szafran, DVM, PhD, Toxicologist and Associate Service Fellow for the Agency for Toxic Substances and Disease Registry (ATSDR) in Atlanta, Georgia.
A Brief Personal History
Like many other students who pursue veterinarian medicine, Brittany wanted to work with animals from a young age. She tailored her life to pursue the profession. During her first year of college, however, she discovered that combined Doctor of Veterinary Medicine (DVM) & PhD programs exist. She knew right then and there that she wanted to pursue one.
DVM-PhD dual degree programs are designed to enhance the career development of students with an interest in science, veterinary research, and graduate education. The programs allow students to pursue a DVM and PhD degree simultaneously and may also be called a Veterinary Medical Scientist Training Program (VMSTP). VMSTPs are innovative programs that produce scientists with clinical backgrounds who can go on to investigate complex human and animal health issues.
Brittany chose to focus on toxicology, which is the branch of science concerned with the nature, effects, and detection of poisons. Her decision was based on a few key experiences, most notably her work training as a zoo volunteer in middle school. During one zoo training session, she helped simulate the bioaccumulation and biomagnification of DDT. The exercise demonstrated DDT bioaccumulation/biomagnification up the food web beginning with phytoplankton (plankton consisting of microscopic plants) and ending with bald eagles. DDT was developed as the first modern manmade insecticide in the 1940s.
Bioaccumulation is a process of buildup of chemicals in an organism. Bioaccumulation occurs if the rate of chemical intake exceeds the rate of elimination. Biomagnification is an increase of concentration of toxins in an organism. Biomagnification occurs because of the organism's consumption of other plants or animals in which the toxins are more widely distributed.
During that training session, Brittany realized that the actions we take to enhance our lives can also have unintended negative consequences, particularly when we release substances into the environment. That is how she got her start in toxicology.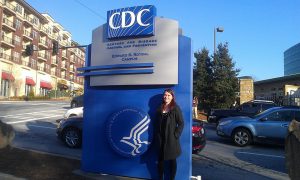 Her Path to Public Health and Current Work
Public health work was always in the back of Brittany's mind, even when she didn't realize it herself. When she was in veterinary school, she formed a "One Health" club. The club organized several successful events such as "Less Rabies, More Cowbells." As part of the campaign, people provided rabies facts for educational videos and rang cowbells for rabies awareness. Brittany also organized a decontamination training exercise that was a collaboration between first responders and veterinary students. Decontamination is the process of removing or neutralizing contaminants from people and animals, including pets.
While in vet school, Brittany visited CDC for their "A Day at the CDC for Veterinary Students." The event aims to recruit more veterinarians to work at CDC. She didn't learn anything about ATSDR then; but in 2019, she had the honor of inviting a keynote speaker from the National Toxicology Program to the annual research day at Mississippi State's vet school.
After meeting the speaker, also a veterinarian, the conversations and connections that followed made Brittany realize that she wanted to pursue government work as a career. Afterwards, Brittany reached out to different federal agencies, one of which was ATSDR.
The Most Rewarding Aspects of the Job
To Brittany, a rewarding job means "interacting with colleagues from various backgrounds and expertise towards a common goal." Her career goal is to protect the lives of people, animals, and the environment, a "one health approach," from manmade hazardous substances. "That is the most rewarding aspect of the job, because I get to do exactly what I've set out to do for my career goal," she emphasized.
Brittany's Passions
For Brittany, the bottom line is protecting lives from manmade hazardous substances.
A manmade substance is created from natural resources. Manmade substances are made through a chemical reaction and transformed into something brand new. A chemical reaction could be caused by melting natural substances using extremely hot temperatures, or by mixing in other substances, or both. A few examples of manmade substances are:
Chlorobenzene – chlorobenzene is used in the manufacturing of products such as herbicides, dyestuffs, and rubber. It is a colorless, flammable liquid with an almond-like odor.
Chlorpyrifos – a broad-spectrum insecticide, widely used in food crop agriculture. It is a white crystal-like solid with a strong odor.
Vinyl chloride – vinyl chloride is a colorless gas that burns easily. It does not occur naturally and must be produced industrially for its commercial uses. Vinyl chloride is used primarily to make polyvinyl chloride (PVC); PVC is used to make a variety of plastic products, including pipes, wire and cable coatings, and packaging materials.
These manmade substances are dangerous because breathing them in, getting them on your skin, or swallowing them at high levels for short periods of time affects nerve and brain function. In addition, some manmade substances also get stored in body fat, which can be released into the body's circulation at a later time.
Brittany's Influence on Public Health
At ATSDR, Brittany is part of a group that develops and summarizes toxicological profiles and minimal risk levels.  ATSDR's toxicological profiles
characterize toxicological and adverse health effects information for toxic substances, and
estimate the daily human exposure to a particular hazardous substance.
One leading example of a class of hazardous substance that requires a profile are per- and polyfluoroalkyl substances (PFAS). Human exposure to PFAS is a public health concern that the Centers for Disease Control and Prevention's (CDC) National Center for Environmental Health (NCEH) and the Agency for Toxic Substances and Disease Registry (ATSDR) are helping local, territorial, tribal, state, and federal partners address.
Over the last decade, interest in PFAS has been growing. ATSDR and state health partners are investigating exposure to, and the possible health effects associated with PFAS in more than 30 communities across the United States.
To learn more, visit Learn about PFAS.
Her Hobbies
It's not all work and no play for Brittany. She was a fencer up until her vet school clinical rotations. During her final years of fencing, she took interest in ballroom dance lessons. Now, Brittany has been ballroom dancing for about nine years. She also likes to play Pokémon Go and was a local community leader for organizing events. In addition, Brittany has been attending Dragon Con in Atlanta since 2014.
A true lover of all living things, Brittany currently owns two dogs, six tarantulas, a salamander, and some isopods (pill bugs). She also volunteers at The Amphibian Foundation. The foundation is a local non-profit that leads one-of-a-kind conservation programs and aims to educate people about amphibians.
Brittany's Personal Life and Family
Brittany grew up in West Virginia as one of eight siblings in the household. She is a first-generation college graduate from a low-income family. In addition, Brittany has attained two doctoral degrees.
In May 2013, she earned a bachelor's degree, and graduated with honors, in animal and nutritional sciences, biochemistry at West Virginia University. Her doctorate in veterinary medicine is from Mississippi State University, earned in May 2017. In April 2021, she earned her doctorate in Environmental Toxicology from Mississippi State.
"By choosing a career as both a toxicologist and veterinarian, I took the road less traveled. I'm hoping to use my experiences to help clear the path for others to pursue a similar background – more veterinarians in toxicology. Dare to be different!" she proudly declares.
---
Tweet this: "The Road Less Traveled – Not All Veterinarians are Clinical Practitioners. Meet Brittany Szafran, DVM, PhD, Toxicologist and Associate Service Fellow for the Agency for Toxic Substances and Disease Registry in Atlanta, GA. https://bit.ly/38B212P CDCEHblog via @CDCEnvironment"
Posted on

by
---
Page last reviewed:
July 28, 2022
Page last updated:
July 28, 2022