Preventing Food Allergies in Restaurants
Posted on

by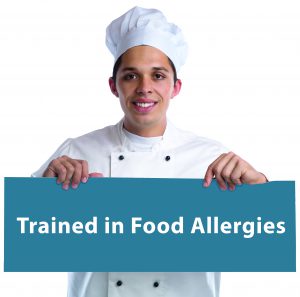 When Erin and a friend stopped by a sandwich shop one Saturday a few years ago, she decided to treat herself to a lemon cookie. "I'm allergic to coconut; does the lemon cookie have coconut in it?" she asked the server taking her order. The server said no. She believed him and ordered the cookie. But when Erin took her first bite, she knew she'd made a mistake.
Within seconds, her mouth started tingling and throat started to itch. Even though she couldn't taste it, she knew there must be coconut in the cookie. She was having an allergic reaction: her throat and esophagus were swelling painfully, and she felt light-headed. She needed to go to a hospital immediately.
While leaving, she passed the restaurant manager, who confirmed the cookie was made with coconut flour. "But I was so focused on getting to the emergency department," Erin recalled, "I didn't stop to discuss it further."
As her friend drove her to a nearby hospital, she was grateful to have her epi pen in case she had trouble breathing. At the emergency department, Erin was given epinephrine, intravenous steroids, antihistamines, and strong antacids to counteract the allergic reaction. It took the rest of the weekend before she felt normal again.
People can be allergic to almost any food, but eight foods or food groups account for the most serious allergic reactions in the United States:
milk,
eggs,
fish,
crustacean shellfish,
wheat,
soy,
peanuts, and
tree nuts, including coconut.
Allergic reactions to food can range from mild symptoms like itchy, burning skin to serious issues like trouble breathing and death. Food allergies are a growing public health issue, and allergic reactions at restaurants are more common than one might realize. In fact, a survey of people with food allergies found that one in three had a reaction in a restaurant.
What do we know about how restaurants handle food allergies?
Dining out can be difficult for people with food allergies because they must trust restaurant staff to properly prepare allergen-free meals for them, and they rely on accurate information about ingredients to help them decide what to order. "The stakes are very high. I wish restaurants would educate their employees more about how serious food allergies can be," Erin says. "Some people can die if they eat the wrong thing. As the customer, I know I must look out for myself, but I really appreciate when restaurants provide that extra layer of protection."
CDC's Environmental Health Specialists Network (EHS-Net) wanted to see what restaurant staff and management knew about allergies and how they handled them. They interviewed staff and looked at restaurant policies and records. EHS-Net found that, in general, managers, food workers, and servers were familiar with food allergies and had positive attitudes about accommodating customers with them. Most restaurants provided ingredient lists or recipes for their menu items, and nearly all restaurant staff knew the symptoms of an allergic reaction and to call 911 in these situations.
But EHS-Net found also significant gaps:
More than 1 in 10 managers and staff incorrectly believed that someone with a food allergy could safely eat a small amount of that allergen.
More than half the staff interviewed did not have specific training on food allergies, and training often didn't cover important information like what to do if a customer had an allergic reaction.
Most restaurants did not have separate areas and equipment for preparing and cooking allergen-free food.
Some food workers thought their restaurant might not know what to do if a customer has a food allergy emergency.
What can restaurant managers and staff do to help customers with food allergies feel safer?
Allergic reactions to food can cause serious harm, but they are preventable. As Erin notes, "I could have avoided an unpleasant afternoon at the hospital if I'd asked for and gotten a complete ingredient list."
Accurate ingredient lists and recipes can help customers decide what to eat. In addition, restaurants can focus on specific steps to reduce and prevent food allergy reactions in their restaurant, such as the following:
Prepare meals for customers with food allergies on separate equipment and in separate workspaces, or thoroughly clean equipment and workspaces before preparing allergen-free food. This is a key practice, as allergens often accidentally get into other foods through  shared equipment.
Choose a specific person in the restaurant to handle food allergy questions and preparation requests.
Train staff on food allergies and how serious they can be, including

The most common, or major, food allergens.
The symptoms of an allergic reaction.
How to prevent cross-contact from food allergens to other foods.
The specific menu items in the restaurant with food allergens.
What to do if a customer says they have a food allergy.
What to do if a customer has a bad food allergic reaction (e.g., trouble breathing).
Read more about how restaurants can reduce the risk of food allergy reactions.
References
Wanich, N., C. Weiss, T. J. Furlong, and S. H. Sicherer. 2008. Food allergic customer (FAC) experience in restaurants and food establishments. J. Allergy Clin. Immunol. 121:S182.
Tweet this: "When Erin went out to eat a few years ago, she never expected to go to the emergency department for an allergic reaction. Read about her experience as well as what restaurants know about food allergies and how to handle them https://bit.ly/2PX6O5s"
Posted on

by
---
Page last reviewed:
May 7, 2021
Page last updated:
May 7, 2021