Plain Language Past and Present, Part III: Award Winners
Posted on

by
Plain Language Past and Present is a three-part blog series highlighting some of the interesting early efforts and events that championed the cause, long before 2010's Plain Writing Act made it law.
Part I examined John O'Hayre's 1966 Gobbledygook Has Gotta Go, and underscored how overly formal, complex language can make writing wordy, pretentious, incomprehensible—or all of the above.
Part II explained 1998's Walters v. Reno, in which the court ruled that a set of government-issued forms was so confusing that they violated due process. This case underscores the importance of the first rule of plain language: write for your audience.
This final installment, instead of telling you, will show  you what a difference writing plainly can make.
Writing Winning
In July 1998, according to PlainLanguage.gov, one month after President Clinton issued a memorandum requiring plain language in all government documents, Vice President Al Gore created the monthly No Gobbledygook Award. Seventeen recipients received the prize, which highlighted outstanding achievement in transforming wordy, complex, ridiculously stuffy writing into easily readable plain language.
Below are four examples.
To see the full list, visit: https://www.plainlanguage.gov/about/history/. While there, bookmark the site to browse any time for handy explanations and tips you can use to make sure you're writing plainly.
And the Oscar "No Gobbledygook Award" Goes To …
"Vice President Gore gave the first No Gobbledygook plain language award to Marthe Kent of the Occupational Safety and Health Administration on June 30 in the White House. Kent, Director of Regulatory Analysis, received the award for an upcoming OSHA regulation on dip tanks."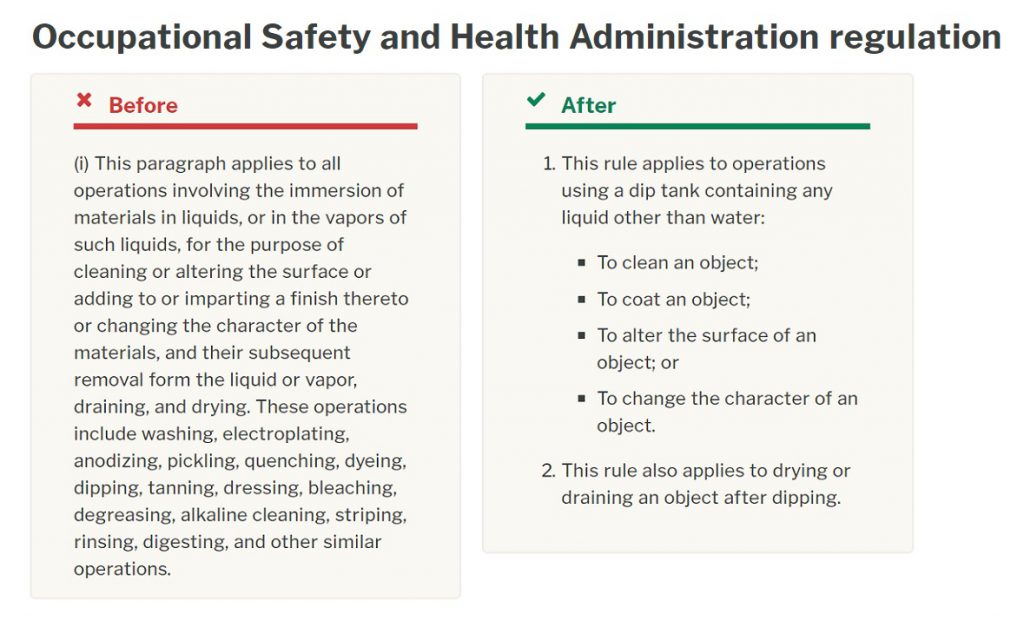 "Vice President Gore, with comedian Al Franken in tow, presented the second No Gobbledygook Award on August 5 to Chris Fontecchio and Richard Hoops from the Bureau of Land Management. Chris and Richard shortened a dense, full-page regulation to a crisp, four-sentence paragraph."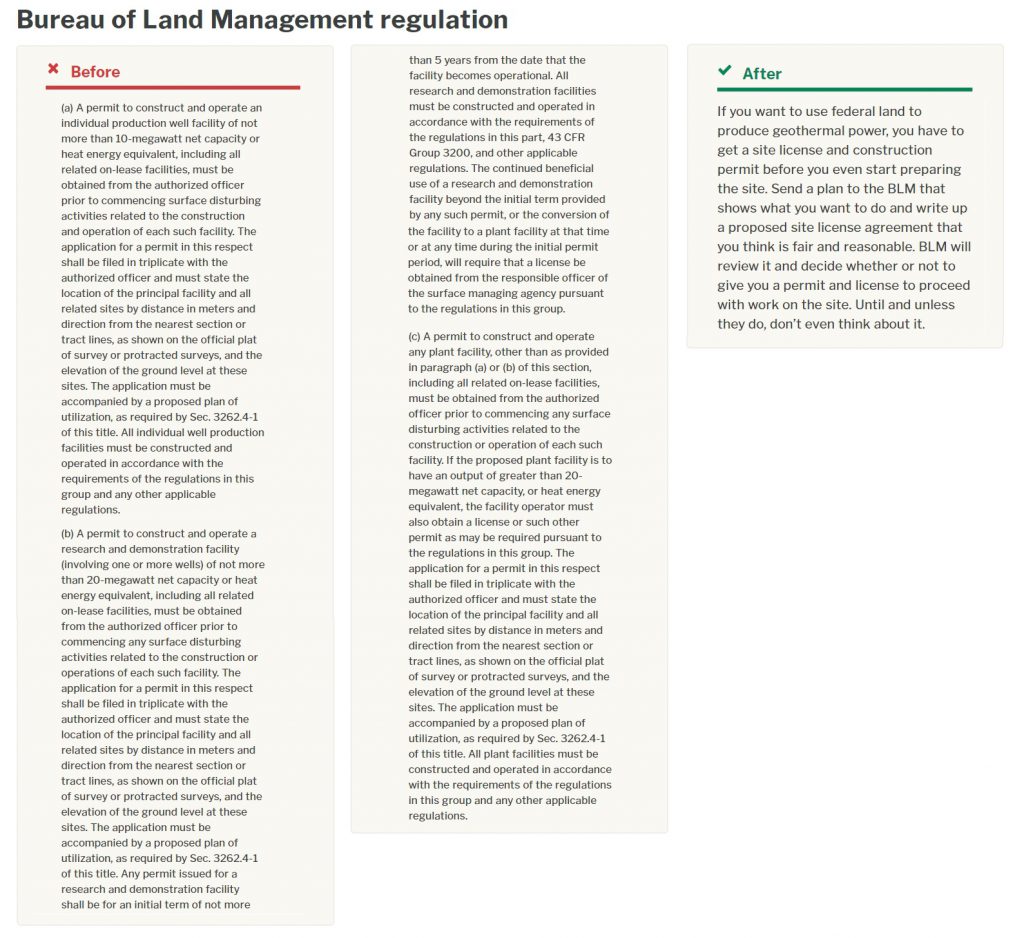 "Vice President Gore presented two General Service Administration (GSA) employees the third Plain Language Award today for their rewrite of a GSA travel rule. Jim Harte and Umeki Thorne, both program analysts at GSA, clarified and streamlined a 194-word rule on government-sponsored travel down to 45 words."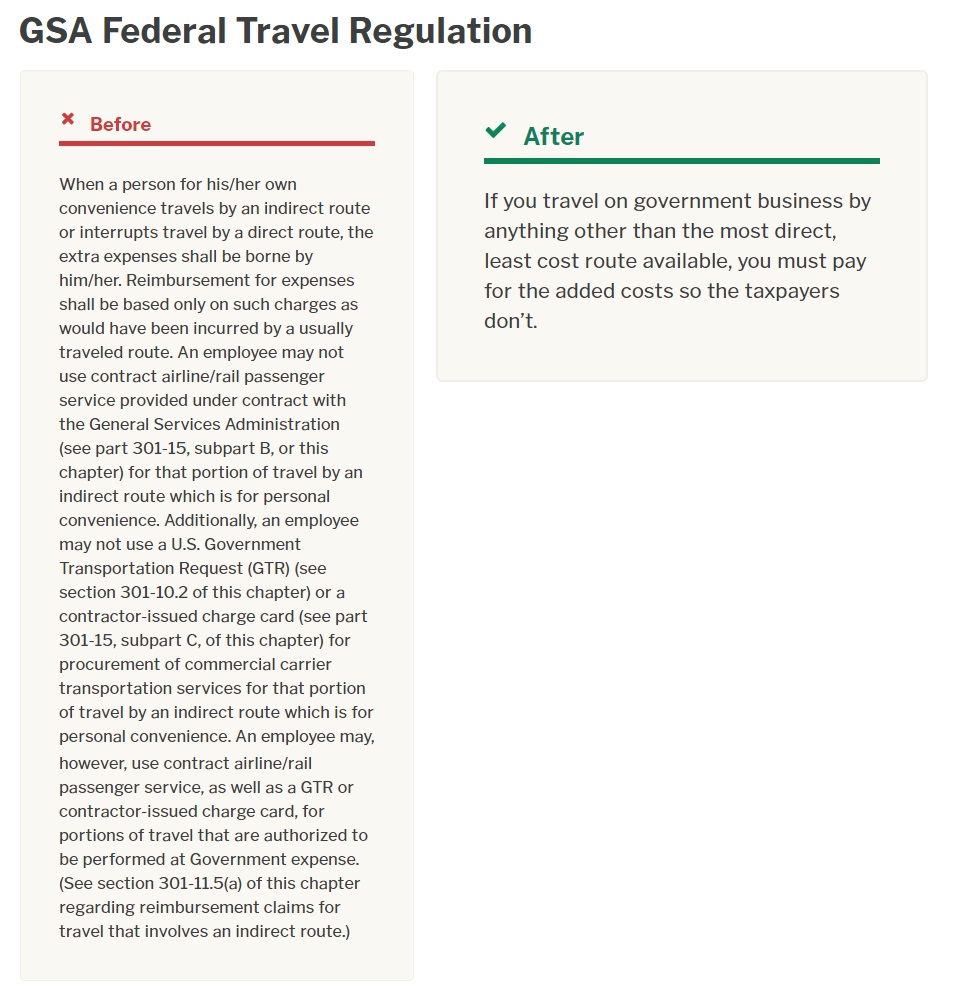 "Vice President Gore presented two Securities and Exchange Commission (SEC) employees a Plain Language Award today for their work with financial disclosure forms: Nancy Smith of the SEC's Office of Investor Education and Assistance, and Brian Lane, Director of the Division of Corporation Finance for their work on the SEC's initiative to get companies to write financial disclosure documents in plain language."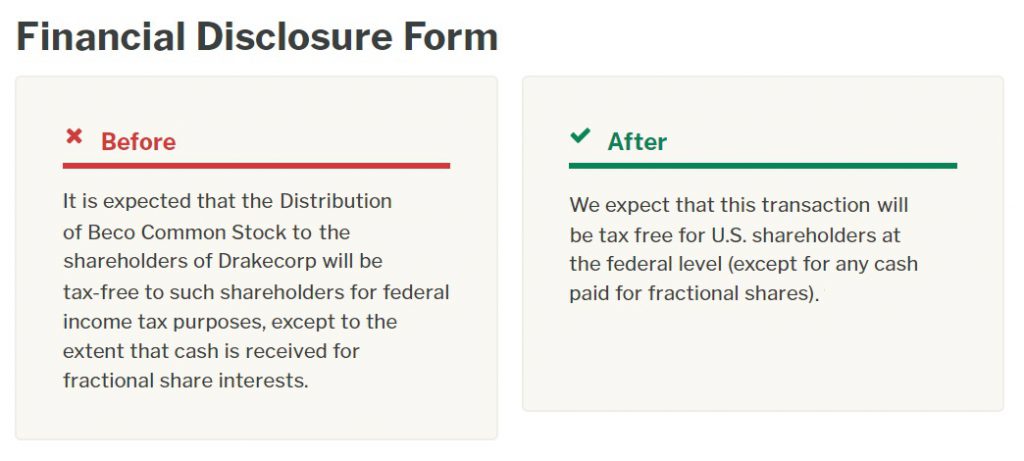 DO Try This At Home
Simple plain language techniques were used to make the "after" versions better.
1. Replace big words with more common words*:
"later instead of "subsequent"
"get" instead of "obtain"
"start"/"begin" instead of "commence"
"use" instead of "utilize"/"utilization"
*Check out PlainLanguage.gov's handy list of suggested substitutes for complex words: https://www.plainlanguage.gov/guidelines/words/use-simple-words-phrases/.
2. Get rid of unnecessary passive voice:
"send form with application" instead of "Application must be accompanied by form"
"you must get a permit" instead of "a permit must be obtained"
"operate the well according to" instead of "the well must be operated according to"
3. Sound natural. Stiff, stuffy writing sounds forced … and pretentious. Reword any awkwardly formal, unnatural-sounding sentences and phrases so that they sound more like every-day, conversational speech:
"you must pay" instead of "extra expenses shall be borne by"
"We expect" instead of "it is expected that"
"File three copies of the application" instead of "the application shall be filed in triplicate"
Note: the three awkwardly formal examples are all passive voice.
Using these simple techniques in your writing will easily increase readability!
Tweet this: "Let us show you what a difference writing plainly can make. Learn more about CDC's plain language guidelines at https://bit.ly/3hbRYQN #CDCEHblog via @CDCEnvironment"
Posted on

by
---
Page last reviewed:
July 20, 2020
Page last updated:
July 20, 2020