Using Data to Make Decisions and Inform Decision-Makers
Posted on

by
Webster's dictionary defines data as "factual information used as a basis for reasoning, discussion, or calculation." This holds true at the La Crosse County Health Department (LCHD), an agency nestled between the Mississippi River and the bluffs of West Central Wisconsin. Here, data are a cornerstone to furthering policy and actions to improve the community's health. Within the realm of water quality outreach and education, data are especially crucial to highlighting potential health concerns. CDC's Safe Water for Community Health (Safe WATCH) program has played an important role in water quality improvement efforts in La Crosse County.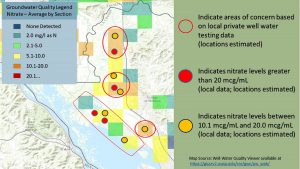 La Crosse's Safe WATCH story began in 2015 when LCHD laboratory staff noticed a trend of private well water tests above or around the U.S. Environmental Protection Agency's (EPA) maximum contaminant level (MCL) for nitrate (10 milligrams per liter [mg/L], which is equivalent to 10 micrograms per milliliter [mcg/mL]) LCHD staff mapped the locations of these samples and found noticeable hotspots of wells containing high levels of nitrate (10 mg/L or more) in the area.
Approaching the Problem on the Ground
After seeing the stark picture painted by the data, the department set priorities to
Notify and educate current homeowners within the identified geographic areas of concern.
Educate potential residents.
Build strategic partnerships to help change local policies.
First, LCHD mailed an advisory letter to more than 2,000 area residents, resulting in testing that produced more than 500 well samples. More than 30% of the wells tested had high levels of nitrate contamination.

In the past, strong and strategic community action plans in La Crosse County have depended on multidepartment partnerships and support. And this issue was no different. Once again, the local community united, forming the Nitrate Task Force, with members from the La Crosse County Health and Land Conservation Departments; University of Wisconsin Extension, Planning, and Zoning Departments; and community members. This knowledgeable task force developed five policy solutions, but after a year of no noticeable action other than LCHD education, the taskforce decided to tackle this issue from another angle. The taskforce created Vulnerable Groundwater Area branding for their educational materials that the community could easily recognize and remember.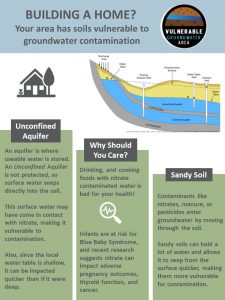 Taking It to the Top
Wisconsin Governor Tony Evers dubbed 2019 as "The Year of Safe Water," and task force members used this as their opportunity to educate the county board about their work. They created a short presentation illustrating LCHD's data collection, evaluation, and program initiatives, which prompted an unanticipated response of questions and further discussion from the 12 county board members and decision makers. The task force's short presentation was successful in demonstrating that the topic of safe and healthy well water was of high concern and a top priority for further action.
With continued support of the Safe WATCH program, LCHD staff created their first Vulnerable Groundwater Area branded infographic that answered important questions such as
Why is this area considered vulnerable?
Why should I care?
What can be done about it?
Continuing the Work
LCHD will continue to educate the community on health effects of nitrates and other contaminants, especially targeting individuals moving into or choosing to build in identified vulnerable areas. In addition to education, the department will also provide guidance on necessary tools and resources so those affected can make informed decisions about what to do next.
What Can Other Well Owners Do?
Knowledge is power, so stay informed! Prioritize regular well water testing, an important step to you and your loved ones' immediate and long-term health.
Disclaimer: The findings and conclusions in this blog are those of the author(s) and do not necessarily represent the official position of the Centers for Disease Control and Prevention/Agency for Toxic Substances and Disease Registry.
Learn more:
Posted on

by
---
Page last reviewed:
June 30, 2020
Page last updated:
June 30, 2020