Legionnaires' Disease and Water Management Programs
Posted on

by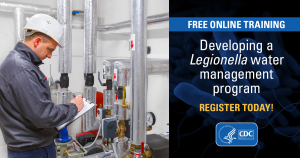 Rob Cole squints against the desert wind as he gathers his equipment and crosses the hotel parking lot. Another person diagnosed with Legionnaires' disease reported staying at this hotel. Rob, a Senior Environmental Health Specialist at Southern Nevada Health District, is investigating the case and preparing to begin a facility environmental investigation.
Meanwhile in coastal Florida, Meghan Zhao, a Food Safety and Sanitation Officer with Virgin Voyages, checks the filter in a cruise ship hot tub to make sure it is functioning properly. She also takes water samples and logs disinfectant residuals to ensure they are within the recommended range. As vacationing guests relax into the bubbly hot tub, Meghan smiles, knowing that she has done all she can to minimize the risk of harmful bacteria making them sick.
Learning About Legionella Through Outbreak Investigations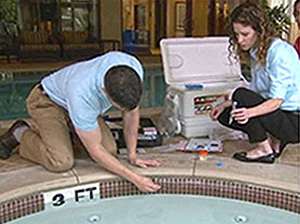 A few years ago, the average person likely had never heard of Legionella. But even though reports of Legionnaires' disease outbreaks have become more frequent in recent years, what is reported is likely an underestimate. People can get Legionnaires' disease when they breathe in small droplets of water in the air that contain the bacteria. Legionella is naturally found in freshwater environments, like lakes and streams, where it is seldom a health problem. However, Legionella can also grow in the water systems of large, multistory buildings that are not adequately maintained. It can also show up in water-related systems like showers, cooling towers, and other places, where it can then cause health problems. For example, CDC recently issued a Health Alert Network (HAN) Advisory regarding Hot Tub Displays and Legionella Risk in 2019—a further demonstration that, even when hot tubs are not being used, these devices can still contain Legionella if they are not properly maintained.
With all we know about this illness, public health professionals still need to learn much more about Legionnaires' disease and how to protect the public's health. So far, outbreak investigations are the primary way we have learned about it. And CDC investigations found that 9 in 10 outbreaks of Legionnaires' disease were caused by problems preventable with more effective management of water systems. "One of the main problems with preventing Legionnaires' disease," says Rob, "is the lack of practical knowledge of the bacteria."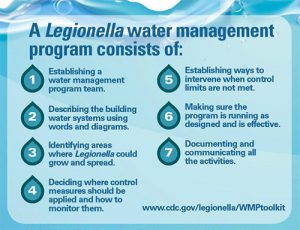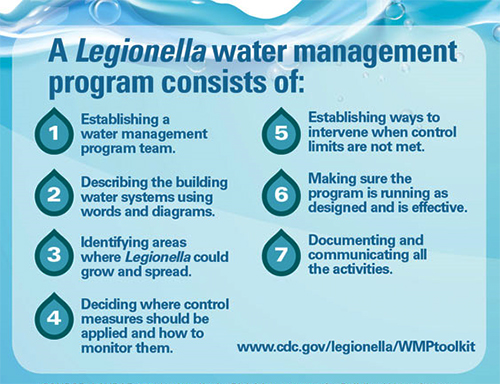 Water Management Programs are the Key to Prevention
The first line of defense to prevent the spread of Legionella is having an effective water management program. Water management programs are the primary mechanism for ensuring clean water to serve a building's occupants. However, a recent report by the Association of State and Territorial Health Officials indicates that only 21% of U.S. health departments conduct routine water management program outreach, and less than half indicated that they have the expertise to perform environmental assessments and the recommended remediation steps. Typically, building managers are responsible for developing water management programs. But programs are not required in all situations, and many people are unfamiliar with the necessary steps to create one. "Setting up a water management program is hard if you don't have experience," says Meghan. "Having a guide of how and where to start takes away all the guess work."
Take the PreventLD Training to Learn about Creating a Water Management Program
The Preventing Legionnaires' Disease: A Training on Legionella Water Management Programs (PreventLD Training) provides practical training on how to develop a water management program and help curb outbreaks and fatalities from Legionnaires' disease. "Having the facility team or colleague take the PreventLD Training prior to an investigation allows the team to focus their efforts on locating and preventing the bacteria from growing in a water system," says Rob. "When I am working with a facility team that has taken the training, there are fewer issues in communicating the appropriate steps to take when issues arise."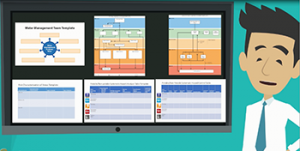 The PreventLD Training is a series of short lessons that take about 3 hours to complete in total. Users can take the training in one session or save their progress and complete lessons in shorter segments. The training includes case studies, templates, and other practical resources to reduce the risk for Legionella and protect those at increased risk of Legionnaires' disease:
Adults aged 50 years or older
Current or former smokers
Anyone with a weakened immune system or chronic disease
In addition, the training principles apply to more than just hospitals and hotels, as Meghan can attest to. "The training platform gave us a structure that could be followed; with a bit of common sense, we were able to apply the principles to a cruise ship environment. It was easy to take the modules and apply the things we knew into the format given."
Environmental health practitioners have essential expertise to address Legionnaires' disease, but the PreventLD training models how epidemiology, laboratory, and environmental health staff work as a team, rather than separate silos of expertise. The training has something for anyone who works on Legionella issues. Rob agrees, "The training can be used to prepare you for a field investigation of Legionnaires' disease, to prepare a water management program for your facility, or to increase your general knowledge on the topic if you are a student preparing for a test."
Collaboration Across Public Health
In addition to bolstering environmental health capacity, the PreventLD Training has been a collaborative endeavor from the beginning. To create this multidisciplinary training, CDC's Water, Food, and Environmental Health Services Branch partnered with
CDC's National Center for Immunization and Respiratory Diseases (NCIRD)
National Network of Public Health Institutes
University of Arizona Mel and Enid Zuckerman College of Public Health
Western Region Training Center at the University of Arizona
Helping Programs Fill Performance Gaps
NCEH's Water, Food, and Environmental Health Services Branch provides free tools and guidance, training, and research for environmental health practitioners, and programs serving states, tribes, localities, and territories. NCIRD's Respiratory Diseases Branch works to prevent and control illness and death from respiratory bacterial diseases including Legionnaires' disease.
Tweet this: "Involved in water safety for buildings? Learn about our training on preventing #Legionnaires' disease and complying with industry standards. https://bit.ly/2RpNXxp"
Posted on

by
---
Page last reviewed:
April 15, 2020
Page last updated:
April 15, 2020