Meet Dr. Victor R. De Jesús, Chief of the Volatile Organic Compounds Laboratory at CDC
Posted on

by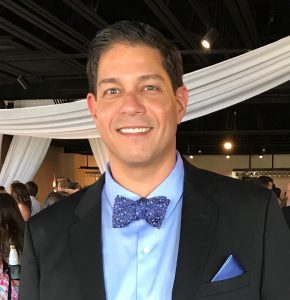 Personal History and Education
Born and raised in Puerto Rico, Dr. Victor De Jesús moved to the mainland after high school to pursue an education in chemistry, landing in Wisconsin. The brutal winter proved too much for him, so he returned to Puerto Rico where he completed undergraduate studies in chemistry at the Universidad Interamericana de Puerto Rico (1995). He returned to Georgia to earn a master's degree in chemistry from Georgia State University (1997), and a PhD in chemistry from the Georgia Institute of Technology (2001).
Because his father died when Victor was still very young, his mother became the sole breadwinner of the family, raising the children on her own as a single parent. Despite having only a high school education and working all day, she was always actively involved in her children's education, and encouraged academic excellence.
Victor attributes his love of chemistry to an excellent high school teacher he still remembers fondly. And he is quick to acknowledge the help he received as an aspiring chemist. In fact, he credits his outstanding work ethic to his two PhD co-advisors. They inspired his strong sense of urgency, his devotion to high quality work, and his practice of never over-promising and always delivering.
These principles have served Victor well and proven invaluable to him in his career at CDC. He considers them the "cardinal rules" in the laboratory that he now leads. He also prioritizes maintaining good contacts and working relationships, both of which have been helpful to him throughout his career.
Federal Service and Path to Public Health
Victor's first exposure to federal service was at EPA's National Risk Management Research Laboratory in Research Triangle Park, North Carolina during a post-doctoral appointment. After one year, he moved back to Atlanta, hired by one of his co-advisors at the Georgia Tech Research Institute, where he worked as a senior research scientist from 2002-2006.
While working at the research institute, Victor taught part-time at a local community college. One of his former students, a CDC employee, reached out to him to let him know that the branch she worked in was looking for a mass spectrometrist to analyze environmental and biological samples. Mass spectrometry is what Victor was trained for during his graduate work, so, not one to overlook an opportunity, he sent in his CV.
During a tough 90-minute interview, the branch chief in CDC's Division of Laboratory Sciences (DLS) Newborn Screening and Molecular Biology Branch (NSMBB) asked him an equally tough question: "Why should I hire you?" Victor's response was, "I'll be very honest with you. If you're looking for a mass spectrometrist who can develop a method for your particular project, I am your guy. If you are looking for someone with a background in public health, then I am not your guy." Remembering the advice of his former co-advisors, he added "I can assure you that I won't overpromise." He got the job.
Victor was hired to launch a quality assurance program for lysosomal storage diseases. There are over 40 rare diseases known as lysosomal storage disorders (LSDs). LSDs are caused by deficient enzymes that normally eliminate unwanted substances in the cells of the body. These disorders do not have a cure, but many can be treated if detected early before symptoms develop.
CDC's Newborn Screening Quality Assurance Program develops quality assurance materials for certain LSD's.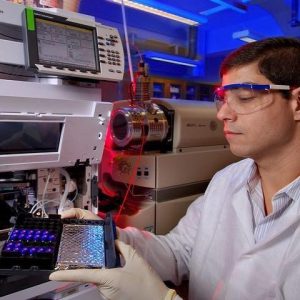 Current Work
From the NSMBB, Victor migrated to the Tobacco and Volatiles Branch, where he serves as chief of the Volatile Organic Compounds Laboratory, with a staff of 25. The laboratory analyzes 15,000 to 16,000 blood, urine, and serum patient samples a year, contributed by participants in CDC's National Health and Nutrition Examination Survey (NHANES) and FDA's Population Assessment of Tobacco and Health (PATH) project.
"Tobacco use in this country is changing as a result of changing technologies and different cultural expectations," says Victor. "The Tobacco and Volatiles Branch is particularly well situated to help move the understanding of tobacco use forward. In collaboration with other federal agencies and academic institutions, our lab is second to none in analyzing volatile chemicals. We can really make an impact in our understanding of tobacco use, and how it affects public health."
The Tobacco and Volatiles Branch is currently working to identify urine biomarkers of exposure to chemicals in e-cigarette liquid. It has already identified several biomarkers and is testing them at this time. In addition, the branch analyzes chemicals from both the product side and the exposure side.
The Most Rewarding Aspect of Victor's Work
Victor has seen CDC's significant effect on public health, first in the NSMBB and now in the Tobacco and Volatiles Branch. He describes CDC as "a service organization," adding that "egos need to be checked at the door. We can teach folks how to do science in the labs. We are good at that – we excel at that. Changing people's perceptions of themselves and trying to mold people into a service mindset is a bit more challenging." But for Victor, this is a requirement.
He will always look back on his 10 years working in the NSMBB not only his first venture into public health, but also as his most rewarding. He was able to elevate and help "demystify" mass spectrometry. This technology now plays an important role in every newborn screening laboratory in the United States, and a high number of newborn screening programs outside our nation as well.
Victor's Most Passionate Interest
In the lab's day-to-day work, Victor says he is most passionate about producing high quality, scientifically valid data. "All it takes is one mistake for our credibility and reputation to go 'kaput.' Every number that makes it out of our laboratory has to be unassailable." Data quality is personal for Victor, and he asserts that at the end of the day he "should be able to stand up and defend everything he [and his staff] does, with conviction. As simple chemists, that is what we do. DLS at CDC is a wonderful place to work, and to hone your craft as a scientist."
As passionate as Victor is about leading CDC's Volatile Organic Compounds laboratory, he is equally as passionate about attaining a work life balance for himself and encouraging his staff to do the same. To help achieve his personal balance, this "simple scientist" loves to dance, an activity he began in middle school and has continued ever since. He also enjoys hiking and bike riding in Stone Mountain Park outside Atlanta, Georgia.
Impact on Public Health
"To be successful at CDC, all it takes is a strong work ethic, a strong desire to support the mission of the organization, and first and foremost, humility. The work that CDC does has real life impact. That is not a cliché — it is incredibly satisfying to a person like me – a simple chemist."
Additional Information
Tobacco and Volatiles Branch
Secondhand Smoke
Tobacco
Biomonitoring Summaries
Chemical Factsheets
Environmental Chemicals
CDC's National Biomonitoring Program Website
Tweet this: "A "Simple Chemist." Meet Dr. Victor R. De Jesús, Chief of the Volatile Organic Compounds Laboratory at CDC. Read more at https://bit.ly/2Kc6OIM CDCEHblog via @CDCEnvironment"
Posted on

by
---
Page last reviewed:
February 27, 2020
Page last updated:
February 27, 2020