Twenty Years of the Laboratory Response Network
Posted on

by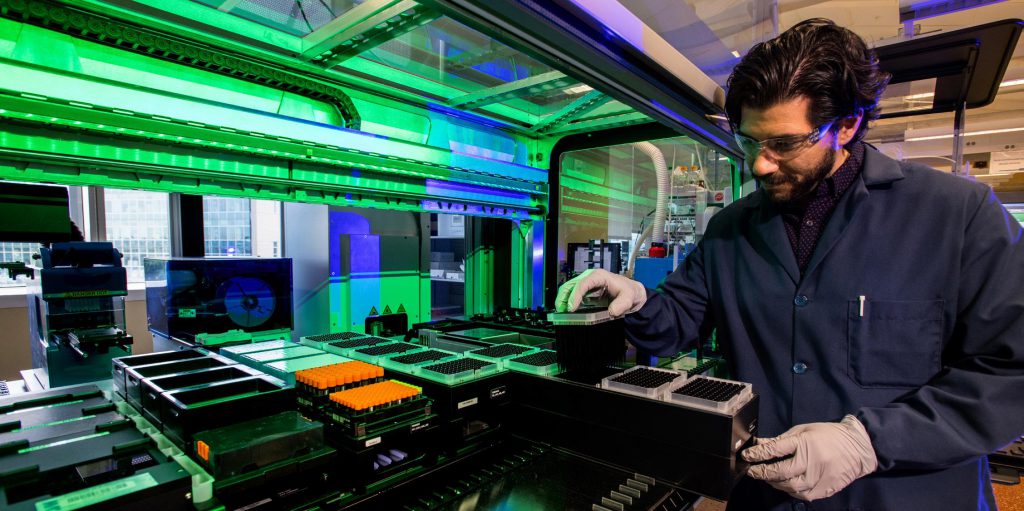 What do chemical spills, the opioid epidemic, Zika, and potential safety threats at the Super Bowl have in common? They are examples of public health emergencies that CDC and local and state laboratory partners prepared for and responded to during the last 20 years.
These laboratories are part of the Laboratory Response Network (LRN). Founded by CDC, the Federal Bureau of Investigation, and the Association of Public Health Laboratories, the LRN provides the laboratory infrastructure and capacity required to respond to public health emergencies and biological and chemical terrorism.
This year marks the LRN's 20th anniversary. Prior to 1999, public health laboratory infrastructure in the United States was on the decline. Most state and local public health laboratories were not capable of detecting and responding to public health threats using rapid, advanced molecular methods. Something needed to be done. That "something" came to be the LRN.
The LRN links hundreds of laboratories across the United States—clinical labs; veterinary labs; environmental testing labs; and local, state, and federal labs—into one national response network. Since its inception in 1999, it has played a critical role in improving public health infrastructure by expanding laboratory capability and capacity. Because of the LRN, which receives considerable funding from the Public Health Emergency Preparedness cooperative agreement, labs are better equipped, staffed by highly trained scientists, and able to employ advanced technologies, such as rapid molecular testing, to inform public health decisions every day and during emergencies.
The LRN is one network, but with two distinct arms. The Laboratory Response Network for Biological Threats (LRN-B) enables the United States to detect and respond to biological threats and emerging infectious diseases, while the Laboratory Response Network for Chemical Threats (LRN-C) ensures that the United States can detect and respond to chemical terrorism and related public health threats.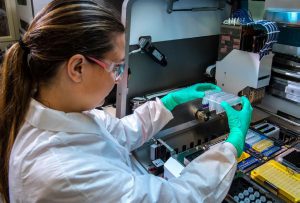 LRN-B
LRN-B strengthens the nation's ability to detect biological threat agents, like smallpox and anthrax. Its structure and unique capabilities, with at least one LRN-B laboratory in all 50 states, enable it to respond when infectious diseases, like Zika, emerge. In total, LRN-B has 45 distinct tests for biological threats, emerging infectious diseases, and other high-consequence pathogens.
Managed by the Laboratory Preparedness and Response Branch (LPRB) in NCEZID's Division of Preparedness and Emerging Infections (DPEI), LRN-B is made up of more than 120 member laboratories. Network members
Develop and improve diagnostics
Harness new technologies
Strengthen partnerships
Ensure tests can be deployed rapidly in a response
"An accurate, timely laboratory diagnosis is one of the foundations of any public health response," said LPRB Branch Chief Julie Villanueva, PhD. "CDC's LRN-B enables the United States to detect biological threats and emerging infectious diseases quickly and accurately—anywhere in the United States."
"The strength and flexibility of the network provided critical support during the West Africa Ebola response in 2014," Dr. Villanueva added. "Not only did we deploy a test from the Department of Defense test quickly, but we also worked with experts in CDC's Division of High Consequence Pathogens and Pathology to deploy a novel test for Ebola that is still in use today."
LRN-C
LRN-C is a national network of 54 local and state public health laboratories. There is at least one network laboratory in each state and one in Puerto Rico. Created to provide surge capacity support to CDC for national chemical emergencies, LRN-C laboratories now also provide local response capacity within their respective jurisdictions.
Managed and supported by NCEH's Division of Laboratory Sciences (DLS)/Emergency Response Branch (ERB), LRN-C laboratories
Monitor chemical exposures at their onset
Assist local hospitals and first responders with sample accessioning
Pack and ship specimens to other LRN-C laboratories
Serve as CDC sentinel sites for large scale chemical emergencies
Ensure accurate and reliable measurements for core chemical methods
"Through funding from CPR [CDC's Center for Preparedness and Response], ERB supports the work of LRN-C laboratories—providing guidance and assistance to ensure they have the capabilities needed for emergency responses, and employing best practices," said ERB Branch Chief Rudolph Johnson, PhD. "The technical assistance we provide includes proficiency testing, response readiness drills, and method development to address new and emerging threats."
"By providing local and state public health labs with our training, materials, and proficiency testing resources, we ensure a standardized network of laboratory testing capabilities that the U.S. can rely on 24/7," said LRN-C Program Coordinator, Amy Watson, PhD. "The equipment, staffing, and expanded testing capacity to develop testing methods— that all comes from CDC and the LRN-C partnership. It is a tremendous national preparedness asset."
Two Decades and Counting
With its partners, the LRN has developed, maintained, and strengthened an integrated network of laboratories, enabling the United States to respond quickly to biological threats, chemical threats, and other high-priority public health issues and emergencies. For the past 20 years, the LRN has been a critical national security asset. As future needs arise, it will continue to be there, ready to respond.
Tweet this: "What do chemical spills, the opioid epidemic, Zika, and potential safety threats at the Super Bowl have in common? For the answer, and to help CDC mark the 20th anniversary of the Laboratory Response Network, go to https://bit.ly/2lXkiyR#CDCEHblog via @CDCEnvironment"
Posted on

by
---
Page last reviewed:
September 23, 2019
Page last updated:
September 23, 2019