Meet Dr. Rudolph (Rudy) Johnson, Chief, Emergency Response Branch, Division of Laboratory Sciences at CDC
Posted on

by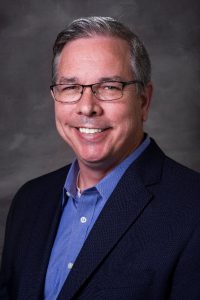 "Everyone has something that I need to know."
Originally from Detroit, Rudy is a 4th generation public servant. He grew up moving with his family every 3 years, ending up in Atlanta where his father worked for and retired from the Internal Revenue Service, right next door to where Rudy now works.
From a large family of five brothers and sisters, Rudy refers to his family as the "Brady Bunch." One of his brothers went to graduate school for chemistry in California. So, Rudy was inspired at an early age not only to pursue a life of public service, but to embark on a career in chemistry.
Early in life, Rudy learned a strong work ethic and a love of people, first as a paperboy, earning a "paperboy" college scholarship, and during his undergrad years working as a waiter. He enjoyed the challenge of customer service – and enjoyed people. "Everyone I encounter, whether on a bus, subway, or in a grocery store has something that I need to know, something very important to tell me, I just don't know what it is."
Rudy enjoys analytics, puzzles, challenges, hard work and exploration – all activities a chemistry major offers. All the attributes of a chemist! He earned his B.S. in Chemistry from Virginia Military Institute in Lexington, Virginia (1994), and a Ph.D. in Chemistry from Purdue University in West Lafayette, Indiana (1999).
Minoring in history also served Rudy well, teaching him why people do things. "If you can understand the history of what the U.S. is good at and what's it's not good at, that tells us where to improve. We work internationally with a lot of countries, and if you don't understand their history, you're going to get into trouble very quickly." Rudy feels strongly that people in other countries are flattered when visitors understand their history. He learned that during his early years in customer service.
"Real people have real problems"
Rudy started with CDC in the Division of Laboratory Sciences as a bench chemist in 2003, then worked as a Project Lead, and is now chief of the Emergency Response Branch (ERB). Rudy identifies hard work by how many problems are encountered. "Real people have real problems. If you aren't doing anything, you don't have a problem. If you try very hard, you tend to have all sorts of problems." Recognizing this in himself has helped him to recognize it in others, and he feels hard workers are worth investing in. He believes this investment in people applies to everyone he knows – friends, neighbors – and not just those he works with.
His path to public health runs parallel with his own personal philosophies, and his love of working with people helps him in his current position. "Most scientists aren't very good at talking and interfacing with customers," says Rudy, but he enjoys that aspect of the job — taking scientific knowledge and sharing it, repackaging it in a simple way. "But you can't be condescending – you have to be sincere," he is quick to point out.
Rudy explains that the Emergency Response Branch enhances the Poison Control Center system (see first callout box). If someone gets really sick, the Poison Control system may reach out to the appropriate state laboratory and the state lab can reach out to CDC. ERB may be contacted for information or testing to help isolate the poison in question. Poisons can be things you find in a hardware store (rat poisons), or more recently, opioid poisonings, or something you eat, something that comes in contact with your skin, or something you inhale.
ERB's primary role on the national and international level is not to direct, but to support labs that are directly involved by sharing ERB's methods and materials, and by offering training, support, publications, and conference presentations. At least 50% of state labs have adopted ERB's methods. Having done so, these labs can do what they need to do and perform good science, independent of CDC.
Rudy believes that is one of the reasons why CDC is so well liked and respected. "We enable people to live their lives better, and run their programs better, but CDC rarely directs them how to do that."
The most rewarding aspects of job – interacting with people
Rudy enjoys interacting with people who are involved in public health, whether members of the public, laboratorians, or physicians. When on call, he interacts quite a bit with emergency medicine physicians, and he gets to hear what is happening to the real person and what physicians are coming up against.
He also enjoys mentoring people. He considers that his mission as a supervisor is to help laboratorians, research chemists, and other staff get their next jobs. And when former staff become successful, he finds their success very rewarding. Those who stay on in ERB do so as a personal choice because the work isn't easy. And through the challenging times, Rudy encourages his staff and lets them know they are appreciated.
"When someone gets exposed, we get involved."
One of the biggest things ERB has done with Rudy at the helm is to set up the designated laboratory for the Organization for the Prohibition of Chemical Weapons (OPCW) at CDC. OPCW is an intergovernmental organization and the implementing body for the Chemical Weapons Convention, which entered into force on April 29, 1997. To do that, ERB had to develop a proficiency testing program internationally, then pass the proficiency testing to become a designated laboratory. That process did not exist prior to 2016. ERB can now receive samples for testing from anywhere around the world, and have one of three labs in the U.S. that share that distinction. The other two are the Department of Defense and the Department of Energy.
ERB also helped develop the Laboratory Response Network, and serves as the chemical reference lab for all the other labs in the country, advocating for what these labs need, as well as helping designate the equipment they use and the type of diagnostic testing they should perform. ERB also helps run proficiency testing and develops materials for these labs. Bottom line, ERB helps all the states labs become better at testing for poisons and chemical agents. "State labs are fascinating," says Rudy. "They have to deal with everything concerning the public. By creating better capacities, CDC enables state labs to better respond to local needs."
"Public health has been very rewarding."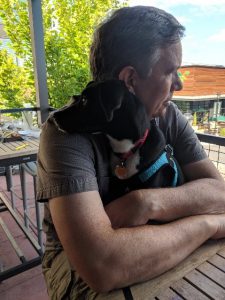 "Meeting people and seeing how I can help them," says Rudy. "Real people have real problems. Listening is important – as are mentoring, and guiding some of the career components of aspiring chemists, and helping other labs get their jobs done. The Chemical Weapons Convention is primarily what man has developed, but Mother Nature really offers an array of changes, especially in toxins, and we need to be flexible to address those. They affect everything in your life, from food to water to the air you breathe."
"Freeing the mind to allow for the flow of fresh ideas."
When Rudy is not hard at work, he enjoys riding a motorcycle, and for the motorcycle enthusiasts out there, he rides a cruiser – a Honda Shadow. He used to be a bicycle racer, going around the country racing, "tour de France style" he says, and switched to motorcycles. Motorcycling is what he prefers doing when he has free time, having ridden from the Outer Banks to New Orleans and on parts of the Natchez Trace. Rudy feels that balancing free time with work frees up his mind and allows for the flow of fresh ideas.
He also enjoys hiking, camping, pet ownership and, most important, parenting his two daughters, ages 13 and 17, the eldest of whom is embarking on a scientific career path.
Poison Control Center System
Poison Control Centers are medical facilities that provide immediate, free, and expert treatment advice and assistance over the telephone in case of exposure to poisonous or hazardous substances. Poison control centers answer questions about potential poisons in addition to providing treatment management advice about household products, medicines, pesticides, plants, bites, and stings, food poisoning, and fumes.
Poison control centers are open 24-hours a day, seven days a week. If you have questions concerning exposures to poisons or need assistance during an emergency, call 1-800-222-1222. This nationwide number will connect you to your local poison control center.
Tweet this: "Everyone has something that I need to know." Meet Dr. Rudolph (Rudy) Johnson, Chief, Emergency Response Branch, Division of Laboratory Sciences at CDC. Read more at https://bit.ly/2Y0lhLZ #CDCEHblog via @CDCEnvironment"
Posted on

by
---
Page last reviewed:
July 23, 2019
Page last updated:
July 23, 2019