Tracking Network Data Spotlight: Drought
Posted on

by
You don't have to live in a desert to experience drought. Did you know that 48 states experienced drought in 2016? Dry periods of below-average rainfall are experienced throughout the United States: they can be relatively short or last years, and can cover both large and small areas.
Extended dry periods have become more frequent in parts of the United States during the past several decades. This can affect people's health in a number of ways.  CDC's Environmental Public Health Tracking Network (Tracking Network) allows users to track the duration and severity of drought over time throughout the country. This information can inform a wide variety of environmental and public health efforts related to drought.
Drought and Health
Drought can lead to other environmental health problems like reduced quantity and quality of drinking water and poorer air quality. These conditions can affect health by increasing the risks of infectious, chronic, and vector-borne diseases. Lower water levels can also result in diminished sanitation and hygiene and increased risk of injury from recreational swimming and boating in shallow water. Read more about drought and health.
Communities are affected by drought differently depending on a number of factors. These include drought severity, geographical location, existing health and sanitation infrastructure, and available resources to alleviate drought-related health effects. Certain populations, such as the elderly and farmers whose livelihoods depend on water, can also be more vulnerable to the effects of drought.
Tracking Drought
The Tracking Network uses data from two widely used drought indices, the United States Drought Monitor (USDM) and the Standardized Precipitation Evapotranspiration Index (SPEI), to track drought trends in the United States. The USDM characterizes drought weekly based on a number of environmental inputs and observations from experts around the country. The SPEI is calculated monthly based on rainfall and temperature data.
Would you like to learn more about the occurrence of drought in your state? You can search for drought data on the Tracking Network's Data Explorer by selecting weekly or monthly indicators. You can view the number of weeks or months of drought in a given year, compare years, and even look at data seasonally or by different levels of drought severity. You can view the maximum number of consecutive weeks or months of drought over a five-year period to get a sense of the duration of drought in a particular area. The Data Explorer's dual map feature also allows you to look at side-by-side views of drought and health outcome data in a particular area. Weekly data are available from 2000-2016 and include Alaska and Hawaii, while monthly data for the contiguous United States only are available from 1979-2016.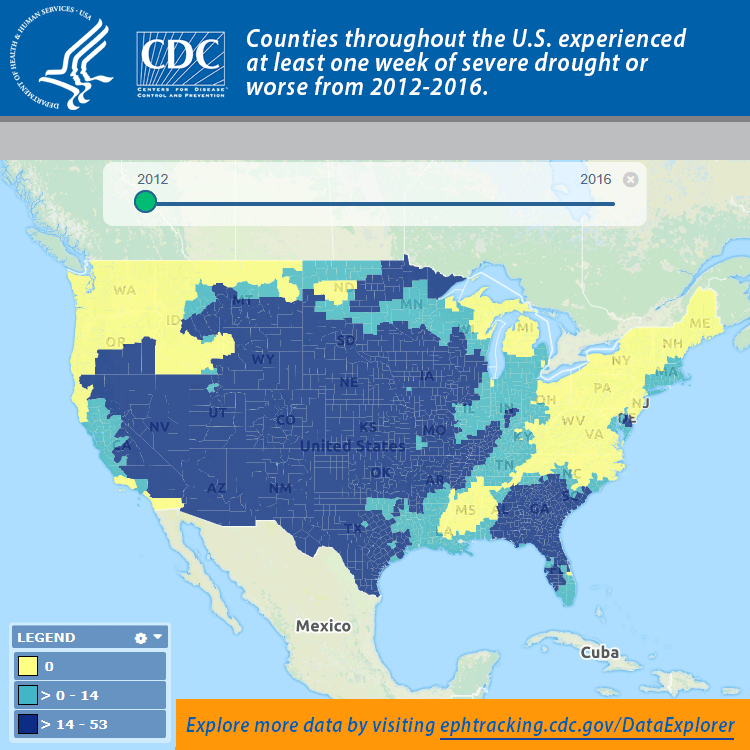 Are you a researcher, or would you prefer to dig into the raw drought data yourself? The Tracking Network's got you covered! The Tracking Network offers raw data from four drought indices, including the USDM and SPEI, available for direct download. You can access county-level SPEI data from 1895-2016, while county level USDM, Palmer Drought Severity Index, and Standard Precipitation Index data are available from 2000-2016.
Although many factors influence how drought will affect a community, drought trend data and other related information can be used to prepare for and prevent potential negative health effects. The Tracking Network provides several ways for health professionals, policy makers, researchers, and community members to access drought data.
The Data Explorer and direct download offerings ensure that access to drought data will never dry up!
Tweet this: "CDC's Environmental Public Health Tracking Network allows uswers to track the duration and severity of drought over time throughout the country. For more info, go to https://bit.ly/2JpliSh #CDCEHblog via @CDCEnvironment"
Posted on

by
---
Page last reviewed:
July 18, 2018
Page last updated:
July 18, 2018