Going Out to Eat with Food Allergies
Posted on

by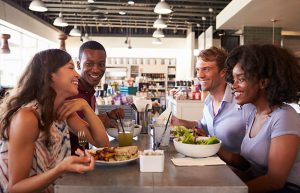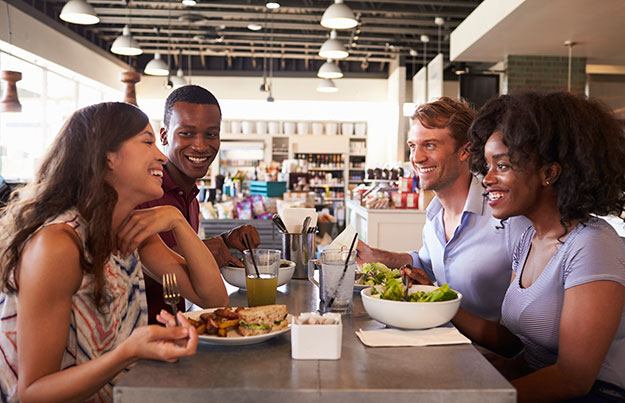 Rick, Lois, Angus, and Samantha visit a new restaurant to celebrate Rick's birthday. They are excited to try the restaurant they've heard so much about. The host seats them and they start looking over their menus to decide what to order. Lois is allergic to peanuts, so she wonders about the ingredients in the eggrolls.
The server approaches the table to take their orders. Lois asks if the restaurant has an ingredient list for the egg rolls. The server says yes and brings the list. Lois sees that the eggrolls contain peanuts, but the salad doesn't, so she decides to have the salad instead.
Rick and his friends enjoy their meal and say they want to eat there again and try something else from the menu.
Before the restaurant opened last month, staff received training on food allergies including what to do if a customer has an allergic reaction. The food safety certified kitchen manager also prepared ingredient lists for all menu items, and the kitchen has dedicated areas and equipment for preparing and cooking food for customers with food allergies.
Food allergies are a growing public health issue—about 15 million Americans have food allergies. And food allergic reactions are responsible for about 30,000 emergency room visits and 150-200 deaths a year.
Many food allergic reactions occur in restaurants. One in three people with food allergies have had a reaction in a restaurant. Understanding how restaurants address food allergies can help to reduce the risk of food allergic reactions in restaurants.
CDC's studies on food allergies and restaurants found that
Most restaurants have ingredient lists, but only about half of the restaurants' staff had received food allergy training (read our plain language summary of this study).
While managers and staff were generally knowledgeable about food allergies, more than one in ten managers and staff incorrectly believed that someone with a food allergy could safely eat a small amount of that allergen (read our plain language summary of this study).
Posted on

by
---
Page last reviewed:
May 14, 2018
Page last updated:
May 14, 2018