Protecting Kids from Environmental Exposure
Posted on

by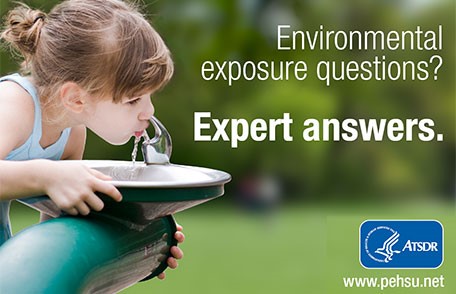 Children's rapid development from before they are born through early childhood makes them more vulnerable to environmental exposures. Contact the nearest Pediatric Environmental Health Specialty Unit (PEHSU)to learn how to protect your child from exposure to health hazards in the environment.
What do these situations have in common?
You're renovating an older home. While you're sanding window frames, some paint chips fall on the floor. Your toddler puts them in his mouth.
You live near a former industrial site. Your child loves playing in the dirt—and you've caught her eating mud pies.
You enjoy gardening and use pesticides to protect your garden. But you're pregnant and wonder if pesticide exposure could harm your unborn child.
If you guessed that in each situation, children are exposed to harmful substances in their environments, you're right!
Children are more vulnerable to environmental exposure from the prenatal period through puberty.
Greater Exposure Risk
Children are especially vulnerable to environmental contaminants due to their rapid development from before they are born through early childhood. Children's age-appropriate behavior also exposes them to hazards. They crawl and play on the floor or in the yard where they can come into contact with harmful substances—and they put everything in their mouths.
Just their physical size puts children at greater risk of exposure. From birth, children breathe more air, drink more water, and eat more food per pound of body weight than adults. An infant's breathing rate is more than twice of an adult's.
Children continue to be vulnerable as they go through the developmental changes of puberty.
In 2008, the U.S. economic cost for children's environmental exposures was estimated at $76.6 billion.1 But has your child's pediatrician ever talked to you about environmental exposures? Has your obstetrician ever taken an environmental history?
Doctors Uncomfortable Discussing Environmental Health
Taking an environmental history is essential for healthcare providers to understand patients' exposure risks and help reduce them, but most physicians and other healthcare providers are not taught the importance of an exposure history during their medical education. For example, responses to a survey of members of the American College of Obstetricians and Gynecologists in 2014 reported that:2
Only 1 in 15 physicians have received training on environmental exposures.
Half of the respondents rarely take an environmental health history.
Less than 20% counsel patients about environmental exposures common in pregnant women in the United States.
However, 78% of respondents did agree that counseling patients about environmental health hazards could prevent exposures.
Protecting a pregnant woman from environmental exposures also protects the unborn child.
Doctors who don't counsel their patients reported that they did not know enough about environmental exposures and were uncertain about evidence. They were also concerned that patients would be unable to reduce their exposure or that counseling would alarm them.
Another survey in 2015 was sent to pediatric blood and cancer specialists. Most of them indicated that families of children with cancer asked about environmental connections to their children's illnesses, but the doctors were uncomfortable discussing the topic. Over 77% suspected that their cases did have an environmental origin, but their methods of taking environmental histories varied widely.3
The results of both these surveys indicate the need for increased physician education on the relationship between environmental exposures and health effects—in medical school, during residencies, and after beginning practice.
PEHSU Locations
PEHSUs at Work
The good news is that environmental health experts in Pediatric Environmental Health Specialty Units (PEHSUs) throughout North America can meet these needs. PEHSUs are committed to protecting children from exposure to harmful substances from the earliest stages of development before birth and throughout childhood.
PEHSUs have addressed children's environmental health for more than 15 years. Findings from emerging research indicate that childhood environmental exposure can impact health throughout life, beginning with parental exposures prior to conception and mothers' exposures during pregnancy. So in recent years, PEHSUs have extended their outreach to reproductive health physicians as well as pediatricians.
PEHSU professionals provide consultation to doctors, nurses, parents, and childcare providers in schools and daycare facilities. They also offer professional education to physicians, nurses and nurse practitioners, physician assistants, and others in reproductive and pediatric environmental medicine and within schools of medicine and nursing.
PEHSUs Tackle Mercury and Pesticide Exposures
The New England PEHSU received a call from a primary care provider about a pregnant woman and her 15-month-old child who had both been exposed to mercury from a mercury heat generator. Staff investigated exposure levels and provided medical monitoring and follow-up recommendations to the patients and their physicians.
After sleeping in a vacation condominium where pesticides had been used improperly, a family suffered methyl bromide poisoning. The Region 2 PEHSU assisted the family, and to prevent future poisonings, PEHSU staff developed fact sheets for the area hospitality industry on using pesticides safely. They also drafted a proposal for integrated pest management and pesticides training for the hospitality industry, health care providers, and condominium owners.
Focused on providing healthcare for underserved patients likely to be exposed to hazardous substances, the Southeast PEHSU took a group of student nurses and nurse practitioners to serve migrant workers and their children in Colquitt County, Georgia. In the previous year, pesticide burns had been identified, so staff distributed boots to protect workers from exposure in the field. They also educated workers about pesticide exposure and safe practices when returning home from work and cared for 628 children of migrant workers.
Learn More
Many environmental exposures in children and pregnant women can be prevented—and you can learn how. Contact the PEHSU closest to you or visit regional websites or PEHSU national websites.
CDC and ATSDR also provide information on preventing environmental exposure. You can search both websites for information on specific topics, like childhood lead exposure. Other resources:
Poisoning Prevention
An environmental health website designed for children: the NCEH Kids Page.
PEHSU Academic Affiliations
University of Washington School of Medicine Department of Pediatrics
University of California at San Francisco
University of California at Irvine
University of Colorado Health Science Center
University of Missouri School of Medicine
Texas Tech University Health Science Center- El Paso
University of Illinois School of Public Health
University of Cincinnati
Harvard University School of Medicine and School of Public Health
Mount Sinai School of Medicine Department of Pediatrics
Georgetown University
Emory University School of Medicine Department of Pediatrics
Tweet this: "Learn more about CDC's and ATSDR's "Protecting Kids from Environmental Exposure" @ http://bit.ly/2wMFlEK #CDCEHblog via @CDCEnvironment"
Posted on

by
---
Page last reviewed:
October 12, 2017
Page last updated:
October 12, 2017