Research Moves the Fight Against ALS Forward
Posted on

by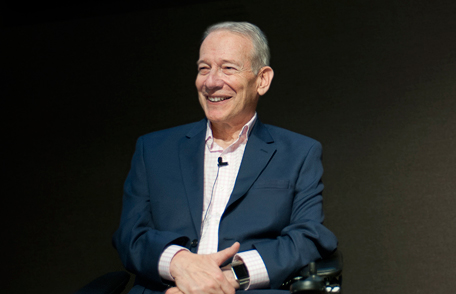 May is ALS Awareness Month. The National ALS Registry is working to better understand the risk factors that affect the disease. Learn how to support the Registry and strengthen the fight against ALS.
What is ALS – and Why the National ALS Registry?
Amyotrophic lateral sclerosis (ALS) is a fatal neurological disease that attacks the nerve cells. It first gained national attention as Lou Gehrig's disease, named after the famous baseball player who was diagnosed with ALS in 1939. To date, the cause of ALS is unknown, and there is still no known cure. The disease strikes quickly, usually leading to death within 2–5 years of diagnosis.
Because there are many unknown factors about ALS, the U.S. Congress passed legislation to establish the National ALS Registry to better understand the disease and its risk factors. The Registry collects and analyzes data on persons living with ALS in the United States.
Joining the Registry is easy.
Once a person living with ALS registers via the secure web portal, he/she can take brief risk factor surveys, be connected with support groups, and learn about new clinical trials and studies for which he/she may be eligible.
The Registry is constantly gathering information to learn more about ALS. Each year, it reports new data about ALS. In 2016, the Registry's second annual report was published in CDC's Morbidity and Mortality Weekly Report (MMWR) and included data on how many people in the United States were living with ALS during 2012 and 2013. Some of the findings from 2013 include:
Almost 16,000 people were identified with ALS in the United States.
About 5 in 100,000 people were living with ALS during this period.
More people were identified as having ALS compared with the earlier report for 2010-2011. This increase is likely due to better detection and increased awareness of the Registry.
People identified with ALS were more likely to be men, white, and 60 years of age or older. This finding was seen in both years (2012 and 2013) and is consistent with the other studies.
Progress in 2017
While studying the risk factors of the disease, the Registry seeks to find a way to link sample specimens to data being collected . This merging of epidemiological data with specimens may allow research to make connections in areas such as environmental exposures and ALS.
In 2017, the National ALS Biorepository (Biorepository) was launched as part of the Registry. The Biorepository collects and stores samples of biological material such as blood, urine, tissue, hair, and DNA.
Patients living with ALS are key to unlocking the mysteries of the disease. By enrolling in the National ALS Registry, individuals living with ALS can take part in the Biorepository at no cost to them or their family and contribute their samples for ALS research in areas such as genetics, biomarker identification, and possible etiology.
Enrolling in the National ALS Registry makes a person with ALS eligible to contribute to the Biorepository. However, only Registry enrollees who indicate an interest in the Biorepository will get an information packet on how to donate specimens. The Biorepository hopes to include as many individuals living with ALS who want to take part as possible.
ALS Research Counts on You
The Registry also funds research to help find potential causes and risk factors associated with ALS. By enrolling in the Registry, persons living with ALS have access to information about new clinical trials and studies.
Approximately 95% of individuals who have enrolled in the Registry seek to learn more about research studies and clinical trials. To date, the Registry has supported over 25 research studies and clinical trials from researchers in the U.S. and internationally, and the Registry has sent over 80,000 emails to enrollees to inform them about opportunities to participate in research studies and clinical trials.
The Registry not only serves those living with ALS, but also funds researchers who are striving to make a difference in the treatment and prevention of ALS. "The Registry is a tremendous resource for researchers: they can use the Registry to recruit persons living with ALS for studies, which would be hard because it's not a common disease," said Eric J. Sorenson, MD, Professor and Division Chair, Neuromuscular diseases, Department of neurology, Mayo Clinic, Rochester, MN, who has been involved in ALS research since 1996.
A complete list of Registry funded research is available here.
Make a Difference
May is ALS Awareness Month. Everyone can help support the research and advocacy for ALS in May and throughout the year by connecting with the National ALS Registry and local chapters of ALS advocacy or support groups, such as the ALS Association, the Muscular Dystrophy Association, and the Les Turner ALS Foundation, to spread the word about the importance of ALS research.
The picture of who has ALS is incomplete, but as more people living with ALS participate in this Registry, the more accurate the picture will become. We encourage everyone to learn more about the Registry and tell those who are living with ALS or caring for someone with the disease about how the National ALS Registry is moving the fight forward against ALS.
Learn more about the National ALS Registry today!
Tweet this: "May is ALS Awareness Month. Learn how to support the Nat'l Registry & the fight against ALS at: http://bit.ly/2ps1jsi #CDCEHblog via @CDCEnvironment"
Posted on

by
---
Page last reviewed:
May 10, 2017
Page last updated:
May 10, 2017