CASPER helps community identify environmental health needs in South Gate, CA
Posted on

by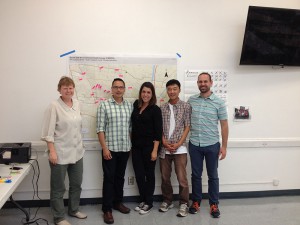 Are you concerned about how your neighborhood environment may affect your family's health and safety? In the City of South Gate, California, residents had a chance to express those concerns through a process that brought state health department and City staff directly to their doors.
Facing environmental health challenges
The City of South Gate is a densely populated area in Los Angeles County where pollution is higher than in other parts of the metro area. South Gate's 7.4 square mile area is home to 96,000 residents and 3 Superfund sites within ¼ mile of each other.
Fortunately, South Gate has help in facing these environmental challenges. The Agency for Toxic Substances and Disease Registry (ATSDR) is currently supporting the California Department of Public Health's (CDPH's) Site Assessment Section in evaluating public health effects at 2 of the Superfund sites. ATSDR staff suggested using the Protocol for Assessing Community Excellence in Environmental Health (PACE EH) to look at environmental health issues from the community's viewpoint. The 13-step process has helped South Gate identify and begin to address their environmental health concerns.
To develop local leadership, CDPH worked with South Gate city government and volunteers to establish a Community Environmental Health Assessment Team (CEHAT). Together they reached out to local citizens to learn what environmental and health issues concern them the most.
Thinking outside the box
The PACE EH includes a community survey to gather information about citizens' concerns. Danny Kwon, Health Assessor at CDPH, explains the CEHAT's survey choice: "After researching surveys, we felt a rapid needs assessment like CDC's Community Assessment for Public Health Emergency Response (CASPER) would be the best approach."
CASPER is based on a World Health Organization method of gathering data at the community level. CDC's National Center for Environmental Health has helped U.S. state and territorial health departments conduct CASPERs—usually to determine community needs following disasters or to evaluate emergency preparedness. But, says Kwon, "We learned that the CASPER method could also be used to collect and prioritize environmental health concerns."  CDPH Health Assessor Russ Bartlett adds, "To our knowledge, no other communities have used a CASPER in the PACE EH protocol."
Surveying South Gate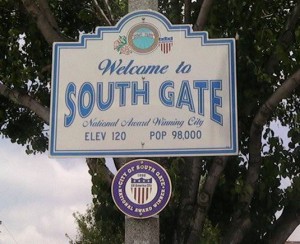 CEHAT and CDPH developed a one-page survey questionnaire in English and Spanish for South Gate. Questions focused on environmental health concerns, possible solutions, Superfund knowledge, and household age demographics.
CDPH and the South Gate CEHAT recruited and trained 38 survey workers for 2 days of CASPER activities. Most volunteers came from Teen Challenge, a faith-based recovery and rehabilitation program for adults. Bartlett explains, "Teen Challenge has a history of volunteer work in the City—and members' experience going door-to-door to advocate for their program was a significant contribution."  Community members, students from university schools of public health, and staff members from the Los Angeles County Department of Health, EPA, and CDC also volunteered
A 5-hour training the first day prepared volunteers  to conduct the survey. Because 98% of South Gate is Hispanic, CDPH required that one member of each team speak Spanish.
The survey received a good response. Surveyors conducted 199 out of 210 possible interviews—almost half of them in Spanish. Demographic data closely matched South Gate 2010 census data, confirming that the results represented the community.
Learning what residents think
Volunteers presented households with a list of environmental health issues developed by the CEHAT and asked which of them raised concern. Interviewees chose the following issues most frequently: polluted land, public safety, lack of water-saving programs, graffiti, and lack of a local hospital.
Volunteers asked respondents to choose which issue concerned them most, explain their reason, and suggest a solution. These data are helping the CEHAT find effective action plans and enlist the support of government agencies.
South Gate residents chose either crime or traffic safety as their greatest concern. Crime safety issues included burglary, homicide, drugs, and gang activity. Solutions included a neighborhood watch and more police presence. Traffic safety issues included heavy traffic, speeding, and lack of traffic lights. Solutions included more speed bumps, traffic cameras, crosswalks, and stop signs; stricter traffic fines; and wider streets.
Responding to citizens' concerns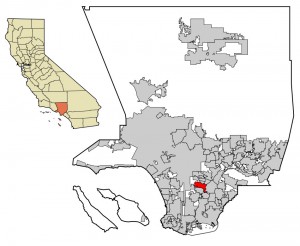 Haydee Becerra, CEHAT member, management analyst for the City of South Gate, and CASPER volunteer says, "The City of South Gate's focus is to improve residents' quality of life. Our partnership with CEHAT has educated residents about programs already in existence and those in development." Becerra mentioned four City programs that address concerns residents mentioned:
Street Lighting Master Plan
Neighborhood Watch
South Gate Water Conservation Program
Graffiti Removal Program
Taking CASPER to Aliso Canyon
CASPER has also been used in other areas of Los Angeles County. Dr. Ramon E. Guevara, CEHAT member and epidemiologist with the Emergency Preparedness and Response Program in the County of Los Angeles Department of Public Health (DPH), volunteered for the Southgate CASPER. That experience guided him during a widespread leak from a gas storage facility in Aliso Canyon.
Between October 2015 and February 2016, methane levels in the air were elevated in the Aliso Canyon community, though they were below levels posing health and safety risks.  During that time, DPH received 700 health complaints from residents who believed the effects were related to odors from the gas leak and 260 more complaints even after the well was sealed.
"The County had to act quickly to evaluate exposure, illness, and environmental conditions," says Dr. Guevara. "I thought the CASPER could work well because it can rapidly assess community health in emergencies. More importantly, it would give the communities a public health presence as we conducted the survey." Guevara adds, "The CASPER allowed us to measure and describe the health effects statistically and to direct follow up action, like indoor air quality surveys."
Empowering Citizens to Find Solutions
With ATSDR's support, CDPH is actively listening to citizens' environmental health concerns and giving them opportunities to participate in finding solutions. Their success using the CASPER demonstrates the tool's effectiveness in activating and empowering communities—and may encourage other state and local health departments to use it, too.
Tweet this: "CASPER helps community ID environmental health needs in South Gate, CA at http://bit.ly/2g3ehIh #CDCEHblog via @CDCEnvironment"
Posted on

by
---
Page last reviewed:
December 7, 2016
Page last updated:
December 7, 2016