National Preparedness Month: Radiation Emergencies
Posted on

by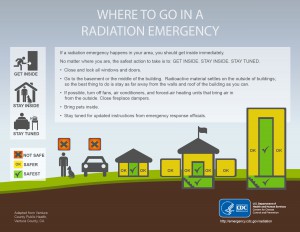 National Preparedness Month is recognized annually in September to educate the public about preparing for emergencies—natural disasters, chemical and biological threats, mass casualties and radiation emergencies. On this post, we will share information and resources where the public, public health, and medical communities can learn more about preparing for a radiation emergency.
It's Saturday night and you're at home with your family watching TV. A news alert announces a radiation emergency in your city. It could be an overturned truck hauling radioactive material, a nuclear power plant accident, or a "dirty bomb," but reports are that large amounts of radiation have been released.  What should you do?
The most important steps you can take to protect yourself, your family, and your pets in a radiation emergency are to get inside or take shelter, stay inside to reduce your exposure to radiation, and stay tuned for further instructions on what to do.
During National Preparedness Month, NCEH's Radiation Studies Branch (RSB) will highlight the following specific preparedness topics:
Preparedness Starts in Your Community–Talk with your family and friends about what to do in a radiation emergency.
Community Preparedness is the Key to Your Health and Safety—Preparedness starts at home, in your community, workplaces and schools. Ask questions about sheltering in place and other actions you can take in a radiation emergency.
Protect Yourself, Your Family and Your Community—Work together with community members to promote awareness of available resources for radiation emergencies.

RSB also has resources available to the public, public health professionals, and medical communities on how to stay safe during radiation emergencies.
Infographics
Explaining radiation emergencies can be challenging; visuals can help. The infographics focus on protective actions, health effects of radiation emergencies, and different types of radiation emergencies.
Online Trainings
Radiation Basics Made Simple is an online training module that explains radiation concepts in short, engaging, and entertaining videos.  The information is presented in a lecture format along with animation to assist in explaining radiation concepts. The videos cover topics ranging from radiation in our everyday lives to radiation emergencies.
Toolkits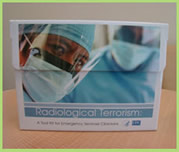 The Radiation Emergency Preparedness Tool Kit for Public Health Officials and the Radiation Emergency Preparedness Tool Kit for Emergency Service Clinicians provide radiation-related education and training to the public health and clinician communities. Both toolkits include booklets, CD ROMs, and DVDs that provide guidance for health professionals and can be used with existing preparedness and response efforts. Both toolkits are free and can be ordered through CDC-Info.
Website
The Radiation Emergencies website has important, easy-to-find information and resources for public and professional audiences. The website has a Resource Library that provides one stop shopping for professional audiences to find guidance and tools.  The website has communication materials such as brochures, postcards, images and videos, and also is available in Spanish.
More Information:
Posted on

by
---
Page last reviewed:
September 12, 2016
Page last updated:
September 12, 2016