Prep Your Health for Floods
Posted on

by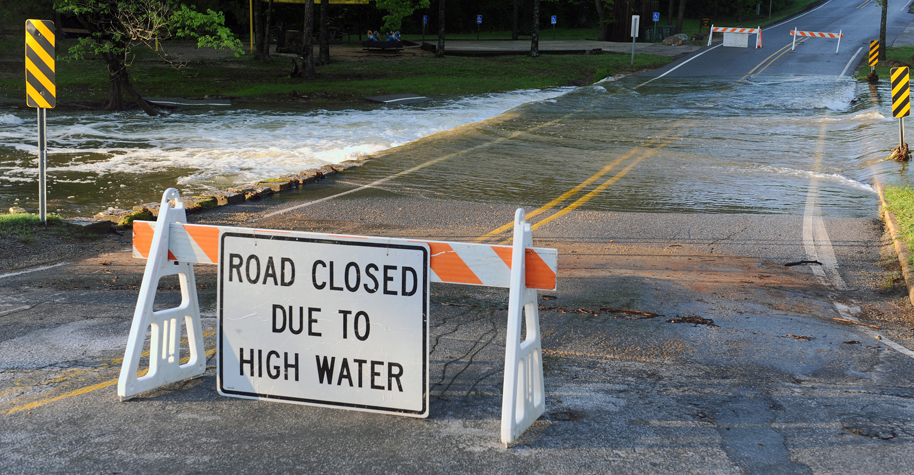 March 14–20 is Flood Safety Awareness Week.
Floods are the most widespread of all weather-related natural disasters. They happen in every U.S. state and territory.(1)
Here are some ways you can prepare for and respond to flooding.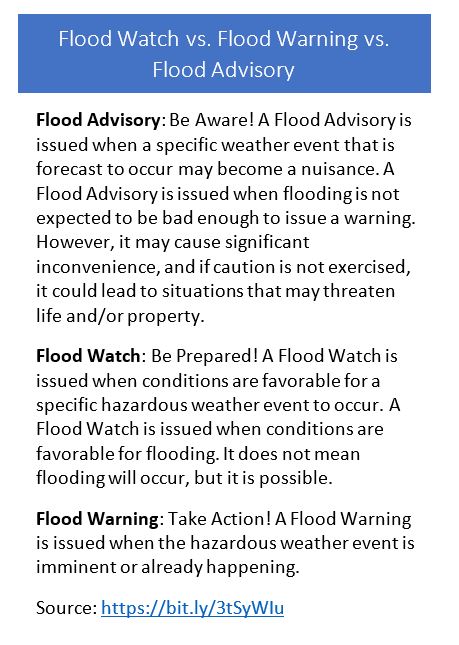 Know Your Risk
Flooding can happen year-round anywhere it rains.(1) If you live in a flood-prone area, you should prepare.
Use FEMA's Flood Map Service Center to find your official flood map. You can also contact your local emergency management agency.
Use the information you gather to make an informed decision about how best to protect your finances and property.(2) Homeowners' insurance policies do not cover flooding. A flood insurance policy typically takes up to 30 days to go into effect.
Prepare Yourself or Your Household
Planning for an emergency can give you and your family peace of mind. If the entire process seems too big, you can take small steps throughout the year.
Collect emergency supplies, including

personal needs such as water, medications, and supplies for pets
personal protective equipment, such as

an N-95 respirator
long pants or waders
rubber boots
rubber gloves
goggles (i.e., safety glasses)

insect repellent
cleaning supplies (unscented household bleach can be used to disinfect surfaces, canned goods, and even water if bottled water is not available.)

Collect, check, and protect important paperwork, including homeowners or renters and flood insurance policy documents.
Stay informed of weather updates. Follow trusted sources of information on social media like your local National Weather Service Weather Forecast Office.
Along with preparing yourself for a flood, you should also take steps to get your home ready for a flood. This includes learning practical skills like how to turn off the utilities in case you must evacuate.
Protect Your Health
Floodwater can be dangerous. It can contain things that can harm health. We don't know exactly what is in floodwater at any given point in time. Protect yourself and others from possible contaminants, chemical hazards, and objects.
Stay out of floodwater. Exposure to contaminated floodwater can cause wound infections, skin rash, gastrointestinal illness, tetanus, and other health problems. If you must enter floodwater, wear rubber boots, rubber gloves, and goggles.(3)
Don't drive into flooded areas—turn around, don't drown! Have an evacuation plan that gives you options in case a path is flooded.(3) A few inches of water can sweep a car away.
Prevent injuries. If you happen to have an open wound during a flood, make sure to avoid floodwater by keeping wounds clean and covered. (3)
Going home after a flood can present challenges, too. Here are some practical steps to take when you first reenter your home.
Throw out any food, including emergency supplies, that may have come into contact with floodwater. Discard canned foods that are bulging open, or damaged. Food in undamaged cans can be saved if properly cleaned.
Use Environmental Protection Agency (EPA)-registered insect repellents to protect yourself from mosquito bites. Immediately following a hurricane, flooding occurs. Mosquito eggs laid in the soil by floodwater mosquitoes during previous floods hatch. This results in very large populations of floodwater mosquitoes. Most of these mosquitoes are considered nuisance mosquitoes. In general, nuisance mosquitoes do not spread viruses that make people sick.(4)
Dry out your home to prevent mold. When returning to a home that has been flooded, be aware that mold growth may be present. Mold can be a health risk for your family. If possible, air out your house by opening doors and windows. Use fans to dry wet areas. Position fans to blow air out doors or windows. Use proper protective gear such as safety glasses, gloves, and N95 respirator when removing mold.(5)
Visit the CDC website for more information on what to do when reentering a flooded home.
References
Resources
Thanks in advance for your questions and comments on this Public Health Matters post. Please note that CDC does not give personal medical advice. If you are concerned you have a disease or condition, talk to your doctor.
Have a question for CDC? CDC-INFO (http://www.cdc.gov/cdc-info/index.html) offers live agents by phone and email to help you find the latest, reliable, and science-based health information on more than 750 health topics.
Posted on

by
---
Page last reviewed:
March 29, 2022
Page last updated:
March 29, 2022