Prep Your Health for Earthquakes
Posted on

by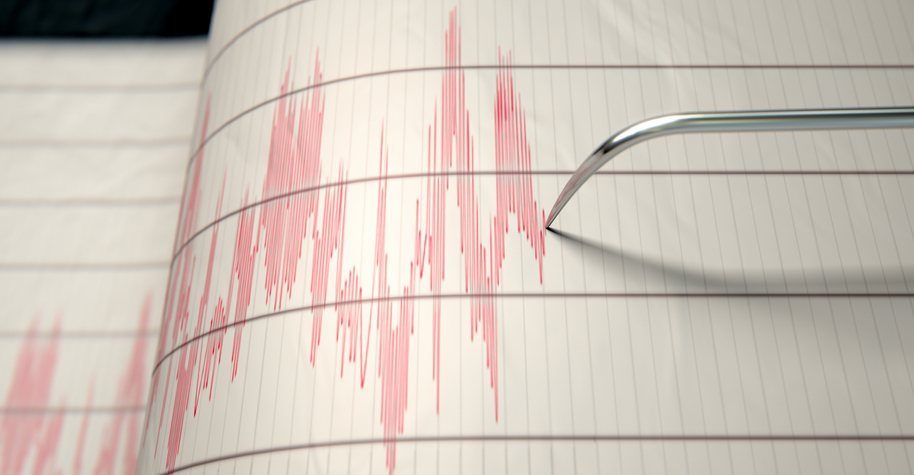 February is Earthquake Awareness Month
If people were asked where in the United States do most earthquakes happen, they are likely to answer California. They'd be correct.(1) But earthquakes are a hazard in other parts of the country, too.
The U.S. Geological Survey (USGS) estimates that nearly half of all Americans live in areas with some potential for damaging earthquakes. That includes people living in the central states where there is what USGS calls "strong shaking potential."(2)
If you live under the threat of earthquakes, there are ways you can prepare. They start with collecting emergency supplies, including personal needs, and planning ahead. Here are three more ways you can prepare.
Know Your Risk
There's no way to know when or where an earthquake will happen. The best scientists can do is calculate the probability that a significant earthquake will happen in a specific area within a certain number of years.(3)
It is, however, possible to better know the earthquake hazard where you live and the earthquake risk to your community.
An earthquake hazard is anything associated with an earthquake that may affect the normal activities of people. This includes landslide, liquefaction, tsunamis, and seiches.(4)
Use the USGS National Seismic Hazard Map to learn the general earthquake hazard in your area. The map shows how many times earthquakes could cause damaging ground shaking in 10,000 years. That doesn't mean the earthquakes won't happen before. They could happen at any time.(5)
Your earthquake risk is the probable building damage and the number of people that are expected to be hurt or killed if an earthquake occurs on a particular fault. Earthquake risk and earthquake hazard are sometimes incorrectly used interchangeably. High earthquake hazard does not mean high risk.(6)
The best way for you to stay informed about both the hazard and risk to your community is to contact your local emergency management or geological survey office. Understanding your risk can help you take steps to protect yourself and your property.
Earthquakes can trigger tsunamis. A tsunami can strike any U.S. coast, but the hazard is greatest in places near subduction zones. For example, Hawaii, Alaska, Washington, Oregon, California, and the U.S. Caribbean islands. If you live along the coast in one of these places, you are at risk from tsunamis.
Practice Your Response
Earthquakes can have immediate and long-term impacts on health and safety. They can cause injuries, anxiety and stress, and death.(7)
Participating in emergency response activities like the Great ShakeOut earthquake drill can teach you practical skills that you can use during an earthquake. Take these steps:
STOP and stay put. Stay inside if you are inside and outside if you are outside. If inside and if possible, move away from glass, hanging objects, bookcases, cabinets, and large furniture that could fall. If you are outside, move away from buildings, utility wires, and fuel and gas lines.
DROP down onto your hands and knees. This position protects you from falling but allows you to still move if necessary.
COVER your head and neck (and your entire body if possible) underneath a table or desk. If there is no shelter nearby, get down near an interior wall or next to low-lying furniture that won't fall on you, and cover your head and neck with your arms and hands. If you are in bed, hold on and stay there. Protect your head with a pillow.
HOLD ON to your shelter (or to your head and neck) until the shaking stops. Be prepared to move with your shelter if the shaking shifts it around.
Studies of injuries and deaths caused by earthquakes over several decades show that you are much more likely to be injured by falling or flying objects than to die in a collapsed building.(8)
Imagine your home or workplace being picked up and shaken sideways. What would be thrown around and cause injury or damage?
Reduce your risk of injury by taking no-cost steps to secure the space around you:
Move or secure furniture, such as bookcases, away from beds, sofas, or other places where people sit, sleep, or spend a lot of time.
Move heavy objects to lower shelves.
Move heavy or unstable objects away from doors and escape routes.(9)
Learn more about how to protect yourself during an earthquake.
Protect Your Property
Consider buying earthquake insurance if you have the means and live someplace where there's a high earthquake hazard. Standard homeowners' and renters' insurance policies do not cover damage resulting from land movement or landslides.
Earthquake insurance isn't a realistic option for everyone. Increases in insurance premiums have made it difficult to find coverage in many areas. California experiences 90% of the country's earthquakes, but only 10% of residents had earthquake insurance in 2014.(10)
There are many things to consider when deciding whether to buy earthquake insurance. They include how often earthquakes happen in your area, how long it's been since the last earthquake, the value of your home and its contents, and the cost of the insurance and restrictions on coverage (i.e., the deductible).(11)
Learn more about earthquake insurance.
Resources
References
Thanks in advance for your questions and comments on this Public Health Matters post. Please note that CDC does not give personal medical advice. If you are concerned you have a disease or condition, talk to your doctor.
Have a question for CDC? CDC-INFO (http://www.cdc.gov/cdc-info/index.html) offers live agents by phone and email to help you find the latest, reliable, and science-based health information on more than 750 health topics.
Posted on

by
---
Page last reviewed:
February 15, 2022
Page last updated:
February 15, 2022