Vitally Important: Collect, Protect Essential Records before an Emergency
Posted on

by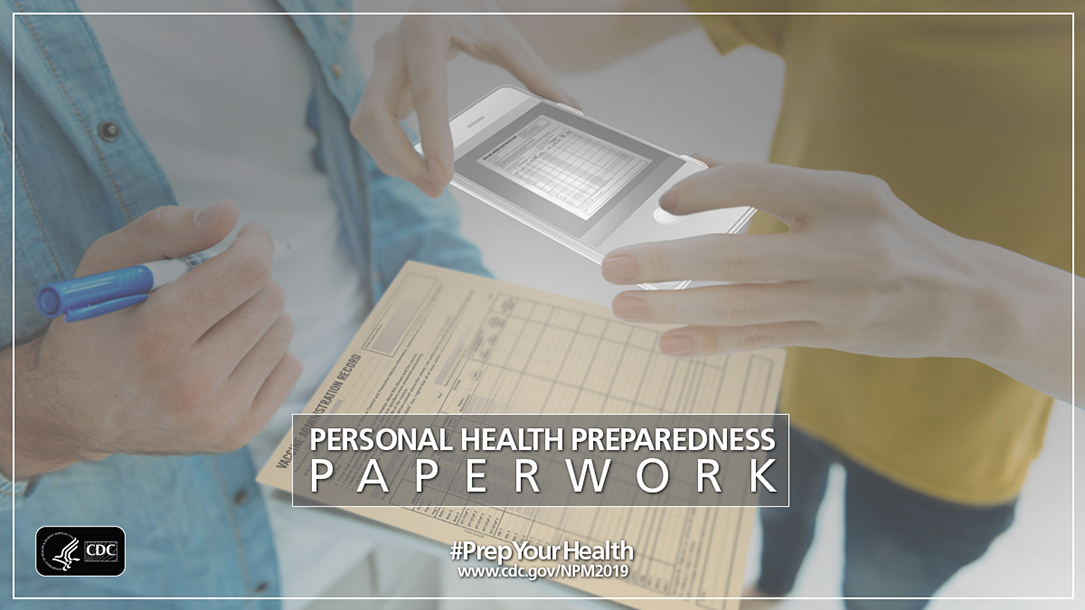 September is National Preparedness Month. Throughout the month, the Center for Preparedness and Response will publish posts that highlight the work of public health departments as it relates to personal health preparedness themes. This week's theme is Paperwork.
What do we mean when we advise people to collect and protect important paperwork? What classifies as "important paperwork"? Paperwork refers to any important documents and personal data that might serve as proof of insurance or identity, or instruct others on how to help you in an emergency.
From a personal health preparedness standpoint, it is important to have these essential documents ready and on-hand before an emergency occurs. From a broader preparedness perspective, CDC is focusing on improving the accuracy and reporting of one specific form of paperwork – the death certificate.
Why Death Certificates Matter in Disasters
Collecting and analyzing mortality data using death certificates is an important public health activity to understanding the leading causes of death related to disaster.
CDC research found that death certificates under report disaster-related deaths. Death certificates of disaster victims will list the cause of death, for example, drowning or carbon monoxide poisoning, but oftentimes certificates may not include disaster incident terms, such as "Hurricane Harvey" or "Paradise Wildfire," that connect the death to the specific disaster. Additionally, if the cause of death is indirectly related to a disaster, such as chronic illness being made worse by power loss or lack of access to healthcare services, authorities are even less likely to consider attributing these deaths to a disaster.
Attributing a death to a specific disaster is important for a number of reasons. Data that tell us how many people died – and how those deaths happened – help us understand the severity of a disaster and can help guide and evaluate the immediate response effort. Public health officials also use this information to identify ongoing hazards and help preparedness and response agencies plan for future disasters.
On a more personal level, authorities use death certificates to determine whether families qualify for FEMA funeral benefits.
Helping Investigators Make the Right Connections
Captain Rebecca S. Noe, an epidemiologist for CDC's Division of State and Local Readiness, is working to improve the quality of information on death certificates related to disasters by helping investigators make the right connections, and improving public health surveillance.
"One of the possible reasons that disaster terms are missing on death certificates of disaster victims is a lack of sufficient information collected during the investigation of the death," says Noe. "This information often provides critical evidence needed to attribute the death to the disaster."
Captain Noe, along with other partners across CDC and in the public health community, created a death scene investigation toolkit for death investigators working in disaster-impacted areas. The toolkit provides a suite of data collection templates and guidance documents to help investigators capture more uniform and complete disaster-related scene data. She also led efforts to develop a death certificate completion reference guide, which provides disaster-related case definitions and a framework to determine whether a death is associated with a disaster.
Death Certificates are Key to Public Health Surveillance
Tools like the death scene investigation toolkit support a wider CDC initiative to modernize death data to better support public health surveillance. Improving the quality of information captured on death certificates will bring us closer to understanding events as they are happening in real time.
CDC and its state and local partners work tirelessly to ensure that injury, death, and loss of property are minimized during a disaster. Making sure death certificate "paperwork" is filled out as accurately and completely as possible will benefit preparedness and response organizations, advance public health preparedness and practice by improving the reporting around the impact of specific disasters, and help bereaved families through the crisis by ensuring they receive appropriate benefits
Personal Health Preparedness
At the same time that CDC is working to improve the usefulness of death certificates, individuals can prepare their personal paperwork for an emergency. Here are some simple recommendations to help you get started:
Collect and protect your important paperwork, including vital records. Vital records include birth certificates and marriage licenses. Visit www.cdc.gov/nchs/w2w/index.htm for a list of where to write for yours.
Digitize hard copies and save electronic copies of important papers in a password-protected format to a flash or external hard drive or a secure cloud service.
Store flash drives and hard copies of important papers in a fireproof and water-resistant file organizer, container, or storage bag, with a trusted friend or relative, or in a safety deposit box at a bank.
For more information, recommendations, and tips on how to prepare your health for a natural disaster or emergency, please visit www.cdc.gov/prepyourhealth.
Thanks in advance for your questions and comments on this Public Health Matters post. Please note that the CDC does not give personal medical advice. If you are concerned you have a disease or condition, talk to your doctor. 
Have a question for CDC? CDC-INFO (http://www.cdc.gov/cdc-info/index.html) offers live agents by phone and email to help you find the latest, reliable, and science-based health information on more than 750 health topics.
Posted on

by
---
Page last reviewed:
May 20, 2020
Page last updated:
May 20, 2020