How the Social Vulnerability Index (SVI) Provides Insights into Vaccination Coverage Inequities
Posted on

by
Vaccines are one of the greatest advancements in public health in the United States, and integral in keeping community safe from certain diseases. Since the start of the COVID-19 pandemic, people in racial and ethnic minoritized groups have experienced challenges accessing and accepting vaccinations. Existing research measures the success of vaccination programs by focusing largely on demographic coverage rates, often overlooking other systems shaping uptake. Research has shown that social disadvantage, and by extension social vulnerability, increase health disparities for many populations. Therefore, understanding social vulnerability or a community's ability to respond and "bounce back" is imperative.
What is the Social Vulnerability Index (SVI)?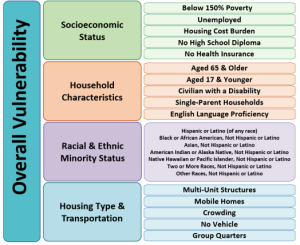 The Social Vulnerability Index (SVI) is a tool that can identify and quantify social needs of vulnerable communities at the county level, in each state, during public health emergencies. The SVI tool ranks counties on their social determinant factors which are grouped into four related themes: socioeconomic status, household characteristics, racial and ethnic minority status, and housing type and transportation.
What has CDC been doing?
CDC continues to work with communities and partners to create tools and resources to increase vaccination opportunities across all demographic groups. Of note, is the application of the health equity science approach with the SVI tool. Combining COVID-19 vaccine administration data from the Tiberius platform with SVI highlights the underlying social determinants and drivers of health inequities. In a 2023 report, CDC assessed vaccination coverage for persons who completed a primary series of the COVID-19 vaccine by SVI themes at the county level. Key results from the analysis indicated the following:
COVID-19 vaccine primary series completion was lower in high SVI areas compared to low SVI areas
There was high vaccination coverage for counties with high levels of vulnerability for racial and ethnic minority status, housing type and transportation themes; and
Following the expansion of vaccine eligibility in April 2021, disparities among high and moderate vulnerability counties widened for all themes except socioeconomic status.
The full report can be accessed here.
What Can Public Health Practitioners Do?
Social determinants of health are important elements for vaccination programs to improve population level health. Employing a health equity science approach may help practitioners better understand contributors to community level vaccination coverage across the social vulnerability spectrum. Achieving vaccine equity also requires building vaccine confidence which is the belief that vaccines work, are safe, and are part of a trusted healthcare system. For communities with high social vulnerability and limited faith in the health infrastructure establishing a rapport and trust is imperative. Engaging communities in a sustainable, equitable, and inclusive way is important to limit harms from historical and contemporary social disadvantage. Lastly, designing and employing robust hyperlocal initiatives with communities may help to further advance equity-centered practice for optimal vaccination coverage.
For National Immunization Awareness Month, held annually in August, CDC is promoting vaccinations across the lifespan. With many adults and children missing routine immunizations, it is imperative to stay up to date with the recommended vaccinations. Getting routine immunizations back on track and vaccine equity are achievable goals when strong science supports effective strategies and interventions for those groups that experience disparities in immunization.
What are you doing to support vaccine equity in your community? What are some effective best practices that can be implemented to advance vaccine equity in your community?
Posted on

by
---
Page last reviewed:
August 31, 2023
Page last updated:
August 31, 2023