A Black History Moment: HBCUs and Their Influence on CDC's Health Equity Journey
Posted on

by
Fisk University. Morehouse College. Tuskegee University. Howard University.
At first glance, this may appear to be a list of a few of the nation's distinguished Historically Black Colleges and Universities (HBCUs). While that's true, together they also tell a story about the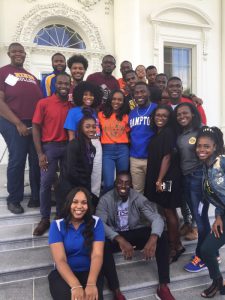 strength, connection, legacy, and importance of HBCUs as part of CDC's quest to eliminate health disparities and increase equity and diversity. As we celebrate Black History Month throughout February, I am reminded that HBCUs are a critical piece of African American history and American history. The story of the United States of America would be drastically different without the legacy of HBCUs and their graduates. The same is true for CDC's flagship programs that seek to increase public health workforce diversity and advance health equity — -the John R Lewis Undergraduate Public Health Scholars Program and the Dr. James A. Ferguson Emerging Infectious Diseases Fellowship. The legacy of HBCUs is interwoven into the very fabric of these programs and into our agency.
Fisk University. Founded in 1866, Fisk University is a preeminent institution located in Nashville, TN. Fisk counts Nikki Giovanni, James Wheldon Johnson, Ida B Wells, and W.E.B. DuBois among its prominent alumni. Former U.S. Congressman John Lewis was also a graduate of Fisk University. Lewis's bravery, commitment to causing "good trouble," and passionate advocacy for human rights propelled him to national prominence as a young student at Fisk. John Lewis later served in the United States House of Representatives for 17 terms (1987 – 2020) and was awarded the Presidential Medal of Freedom in 2011. In March 2022, Congress announced that CDC's Undergraduate Public Health Scholars (CUPS) Program, established in 2011 by CDC's Office of Health Equity (formerly Office of Minority Health and Health Equity) would be renamed the CDC John R. Lewis Undergraduate Public Health Scholars Program, as tribute to the legacy of Congressman John Lewis who was a fervent supporter of CDC and lifelong champion of health equity. The Lewis Scholars Program introduces undergraduate students and recent graduates to topics in minority health and health equity. It aims to accelerate the path toward health equity by investing in workforce diversity, strengthening academic and governmental partnerships, and providing public health education and training to the future public health workforce. In renaming the program to bear the name of Congressman John Lewis, a graduate of Fisk University, the Lewis Scholars Program will continue John Lewis's goal of striving to achieve that which is good and right and equitable.
Morehouse College. CDC's Office of Health Equity is currently partnering with Columbia University, Kennedy Krieger Institute, Southern Plains Tribal Health Board, University of California, Los Angeles, University of Michigan, University of Pittsburgh, and Morehouse College to implement the Lewis Scholars Program through 2027. Each institution has talented and passionate faculty and staff as well as excellent resources and opportunities available to Lewis Scholars. While I could write about why each of these institutions offer an unparalleled experience for Lewis Scholars, I will highlight a unique connection between the Lewis Scholars Program and Morehouse College, in recognition of Black History Month. Morehouse College is an all-male HBCU founded in 1867 in Atlanta, GA. Morehouse has a rich legacy and counts Martin Luther King, Jr., Samuel L. Jackson, Spike Lee, and Senator Raphael Warnock among its ranks of esteemed alumni. Another graduate of Morehouse College, Dr. Bill Jenkins, was a pioneer in health equity and committed his life and career to increasing diversity in the public health workforce and elevating scholarly research about minority health and health disparities. Early in his career as a statistician with the US Public Health Service, Dr. Jenkins became aware of the Tuskegee Syphilis Study. He immediately expressed concerns about the ethics of the study and worked diligently, alongside other concerned colleagues, to end it. This early experience shaped the direction of Dr. Jenkin's career and his commitment to eliminating health disparities and increasing diversity in the field of public health. As part of that commitment, Dr. Jenkins worked with his alma mater, Morehouse College, to establish the Public Health Sciences Institute (PHSI), created under a cooperative agreement with CDC in 1988, with a goal of diversifying the public health workforce by producing culturally competent, well-trained minority students. Project Imhotep has been a key component of Morehouse's PHSI since its inception. The primary goal of Project Imhotep is to prepare underrepresented minority students for entry into graduate programs and careers in Public Health. To continue its mission, the Morehouse College Public Health Sciences Institute is now funded under the Lewis Scholars Program and Project Imhotep is now known as the Lewis Scholars Imhotep (LSI) Project. Dr. Bill Jenkins, a graduate of Morehouse college, knew and understood the important role of a diverse workforce as a key component of advancing health equity. He was a mentor and hero to many people at CDC, and beyond, and his legacy lives on through the Lewis Scholars Imhotep Project at Morehouse College.
Tuskegee University. Tuskegee University was founded in 1881 in Tuskegee, Alabama. Under the leadership of the University's first president, Booker T Washington, Tuskegee quickly became one of the preeminent HBCUs in the country, a designation it still holds today. Ralph Ellison, Lionel Richie, Betty Shabazz, and Claude McKay are among famous alumni of Tuskegee. Tuskegee University is also the only HBCU in the country with a veterinary medical professional program. Dr. James A Ferguson is a Tuskegee alumnus and former dean of the Tuskegee University School of Veterinary Medicine. Throughout the 1980s, Dr. Ferguson advocated for the establishment of a summer research fellowship program that would provide medical and veterinary students from racial and ethnic minority groups the opportunity to explore the broad range of public health careers. Ferguson's tenacity led to the inception of the Dr. James A. Ferguson Emerging Infectious Diseases Fellowship (Ferguson Fellowship) program in 1989. Kennedy Krieger Institute is currently funded to deliver the program which supports graduate students, post-graduates, doctoral, and post-doctoral scholars with summer-, semester-, and year-long public health research and professional development opportunities in areas such as infectious diseases, public health, mental health, maternal and child health, and/or health equity research. The Ferguson Fellowship has trained over 500 fellows throughout its 30-years of operation. The tireless advocacy of Dr. Ferguson, a Tuskegee graduate, has undoubtedly increased the diversity of the public health workforce and exposed talented graduate and post-graduate students to the field of public health.
Howard University. Howard University was founded in 1867 in Washington, D.C. Prominent graduates of Howard University include Vice President Kamala Harris, former Supreme Court Justice Thurgood Marshall, Ambassador Andrew Young, renowned author Zora Neale Hurston, and Black Panther himself, Chadwick Boseman. I could write for days about the esteemed graduates of Howard University and the legacy of this highly regarded HBCU. In fact, you may have noticed a change in the tone of this blog. This is because I am a completely biased and supremely proud graduate of Howard University. My time at Howard University shaped the person I am today, my "why" for entering the field of public health, and my passion for health equity.
I am among many proud graduates of HBCUs working at CDC who bring fresh ideas and new perspectives. We are here, and we are striving each day to make a difference at CDC and contribute meaningfully to the quest toward achieving health equity. HBCU graduates at CDC are the legacy of those who came before us. We are also aware of our responsibility to continue and build on the legacy for those who will come after us. For my part, I am proud to work in the Office of Health Equity which coordinates and administers the Lewis Scholars and Ferguson Fellowship programs, among many other activities rooted in advancing health equity. This year, OHE will lead a yearlong celebration in recognition of CDC's 35 years of baking health equity into public health. When I consider the contributions HBCU alumni have made at CDC and the collective history, power, and legacies of our institutions, I believe HBCUs are a special ingredient in CDC's recipe for baking health equity into public health.
Learn more about CDC's commitment to continuing the rich legacy of HBCU Excellence at CDC.
Posted on

by
---
Page last reviewed:
February 28, 2023
Page last updated:
February 28, 2023