Stories from the Field: Conversations on COVID-19 Prevention with 3 Exemplary Charter Schools
Posted on

by
CDC has ongoing relationships with charter schools (tuition-free schools of choice that are publicly funded but independently run) across the United States. These relationships allow charter schools to share insights on COVID-19 prevention strategies and health disparities facing students and CDC to offer information on how schools can address health barriers. Ongoing conversations strengthen CDC's awareness of charter schools' needs and best practices related to COVID-19.
Charter Schools and Equity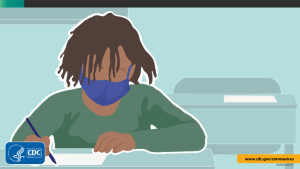 Charter schools differ from other schools in two ways related to their approach to preventing the spread of COVID-19 in school. Like all public schools, charter schools must comply with the COVID-19 prevention measures if required by the state. However, charter schools have more freedom than traditional public schools to select and develop additional prevention measures that best fit the needs of the students they serve. Many charter schools serve populations with higher social vulnerability and barriers such as inequitable access to vaccine and testing resources, healthcare, and grocery stores. They strive toward health equity, fairness, and the attainment of quality education and community health within their vision and mission.
In December 2021, CDC hosted listening sessions with charter and independent schools providing a two-way conversation on prevention strategies, factors driving disparities in vaccination rates, and resources to address their concerns. We share below conversations with three charter school networks to showcase the exemplary effort schools are making to ensure the wellbeing of their students, staff, and community throughout the COVID-19 pandemic.
KIPP Metro Atlanta Schools operates 11 tuition-free, public charter schools on seven campuses in the Metro Atlanta, Georgia area, serving 5,300 students in grades K-12. KIPP's COVID-19 prevention strategies (such as masking, hand hygiene, and a COVID-19 pre-screen questionnaire) were funded through the Coronavirus Aid, Relief, and Economic Security (CARES) Act, Georgia Department of Public Health (DPH), and other outside funding. CDC spoke with Kimberly Foster, who serves as the Regional School Nurse for KIPP Metro Atlanta Schools, on March 30, 2022:
Please describe the most successful strategy implemented to combat COVID-19 at your school. 
Our bi-weekly town halls with students, staff, and families [have] helped to keep everyone on the same page and ensure our initiatives are accepted and trusted.
What was your main challenge?
Finding testing to provide equity in the community. The communities we serve are primarily underserved. It is important to have testing available in schools to provide to our students, staff, families, and community. We went through three testing partners, until we found one that had the infrastructure to support our needs.
Please describe how you're looking to the future. Do you intend to alter strategies due to recent CDC COVID-19 Community Level guidance?
We have been very cautious that everyone has access to participate in our COVID-19 prevention efforts. In the future, we will continue to follow guidance that is put out by Georgia Department of Public Health and CDC to determine what happens next. We will continue to guarantee our practices are safe, equitable, and adhere to our expected level of excellence.
Ivy Preparatory Academy (Ivy Prep) is the first single gender, K-8 charter school in Georgia, educating girls from Dekalb County, Clayton County, South Fulton, and the City of Atlanta. Ivy Prep falls under the management of the Georgia Department of Education and Charter School Commissions. Ivy Prep's COVID-19 prevention strategies (such as touch-free temperature scanners, air purifiers, and building sanitizing) were funded through CARES I, II, and III allotments. CDC spoke with Derek Bolton, Director of Operations at Ivy Prep on March 30, 2022.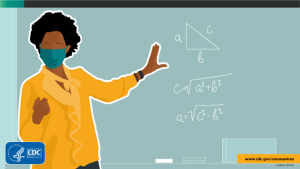 What was your main challenge?
IT infrastructure, custodial support, and securing a substitute when teachers tested positive – which was the hardest. Making up the difference with individuals in a specialty role is difficult to fill. In addition, having substitutes diminish[ed] the quality of instruction given to our scholars due to the relationship they have with their teacher.
Tell me about your students' involvement in promoting prevention efforts on campus.
Currently, our older girls serve as role models to younger students on how to navigate a COVID-19 environment. The older girls display – hand hygiene and proper mask use.
Please describe your staff's mental health throughout the pandemic. 
Once teachers saw our prevention efforts, their fear began to wane. We held virtual Wellness Wednesdays – a weekly event for teachers and staff with wellness topics ranging from yoga to money management.
Please describe how you're looking to the future. Do you intend to alter safety strategies due to recent CDC COVID-19 Community Level guidance?
We will continue to stay in tune with local and state safety risks and tech advances. We intend to pivot if things change. Our prevention efforts will ease as things begin to get better.
Family Life Academy (FLACS) is a K-12 community-grown charter school network located in the South Bronx of New York City. The network consists of FLACS 1, 2, 3, Middle School, and High School. FLACS' COVID-19 prevention strategies (such as weekly testing for 20% of the school, improving ventilation systems, community town hall meetings) were funded by the Elementary and Secondary School Emergency Relief (ESSER) Fund. Rachel Cotto-Nunez, Principal at FLACS 3 and Dilys Stanislaus-Blache Afful, Assistant Principal at FLACS 3 shared feedback with CDC on April 13, 2022.
What was your main challenge?
The main challenge for FLACS was parent buy-in to vaccinate their children, along with cohorting (which is when the same small groups of students stay together), on the bus. While cohorting is a practice in FLACS buildings, it is not protocol on bus services provided by the Office of Pupil Transportation (OPT), which is a separate entity.
Please describe vaccination hesitancy among students, staff, and community. How are you combating mis- and disinformation?
At the beginning of the school year all staff members were required to be vaccinated. As a community, we continue to provide webinars and information sessions around vaccination in hope that our vaccination percentage will increase.
Please describe how you're looking to the future. Do you intend to alter strategies due to recent CDC COVID-19 Community Level guidance?
We are aware that the pandemic is still very present. Although COVID rates have dropped significantly, we will still plan to keep our prevention measures in place. While masking mandates have been lifted in schools, most of our staff continue to mask as an added precaution. We continue to monitor the number of cases in our city and in our community to adjust safety measures and protocols accordingly.
Working Together 
Charter schools' willingness to be flexible with their approaches to addressing COVID-19 helped create equitable access to prevention resources for their students and staff. The major takeaways from managing COVID-19 in charter schools includes the significance of community engagement through external partnerships, parent buy-in to prevention strategies, and having adequate technology to operate in a pandemic. Knowledge of charter schools' successes and challenges will help inform future emergency responses. Charters schools with support, financial resources, and flexibility to decide how to apply their funds are better equipped to advance health equity. CDC will continue to shine a light on exemplary schools who are keeping their community safe throughout the COVID-19 pandemic.
Posted on

by
---
Page last reviewed:
June 13, 2022
Page last updated:
June 13, 2022