Stories From The Field: REACHing Multnomah County
Posted on

by
Joy could be felt in the air after the success of the first REACHing US COVID-19 Vaccine Clinic in Multnomah County, Oregon. Friends were excited to greet each other once again, choosing high fives instead of hugs, and to share familiar foods, like sweet potato pie. Multnomah County, a diverse community of 800,000 people, includes Portland and six other cities. With the assistance of supplemental CDC funding from the Racial and Ethnic Approaches to Community Health (REACH) grant, the Multnomah County REACH program is working diligently with neighborhoods, community organizations, and faith-based organizations to reduce racial and ethnic disparities and share facts about COVID-19 vaccines.
Approximately 50,000 people in Multnomah County are part of the Black and African immigrant and refugee population. Similar to national patterns, Black people in Multnomah County have higher risks of COVID-19 infection, hospitalizations, Intensive Care Unit (ICU) admission, and deaths. Health disparities stemming from centuries of unequal access to health care and inequitable opportunities for social determinants of health (SDOH), including healthy jobs, homes, and lifestyles, likely contribute to differences in COVID-19 outcomes between non-Hispanic Whites and other racial/ethnic groups in the U.S. For example, compared to non-Hispanic Whites, Black people who were diagnosed with COVID-19 had a higher risk of having two or more underlying medical conditions, such as cardiovascular disease, diabetes, and cancer. To address the differences in COVID-19 outcomes, it is important to expand access to health care, ensure equitable model of health care, and address SDOH among racial/ethnic groups with high burden of COVID-19. CDC and their partners are committed to paving the way in vaccine equity efforts with national, state, tribal, territorial, local, and community partners to ensure that racial and ethnic minority groups have fair and just access to COVID-19 vaccination.
Reflecting on the REACHing US COVID-19 Vaccine Clinic in Multnomah County, Charlene McGee, REACH Program Manager shared that, "medical mistrust is one of the biggest challenges" the health department is facing. "The Tuskegee study has not been forgotten. Public health and medicine have violated human rights and here we ask people to trust us again. With that trust, mishap could happen, but there is an intention to protect and ensure safety," McGee explained.
Making a Plan
To address medical mistrust, Multnomah County used a "leading with race" approach early in the pandemic. This approach confronted historical and current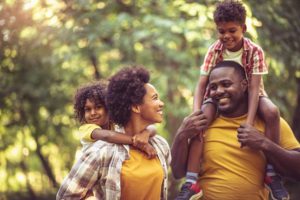 injustices that Black people experience as a result of institutional racism. To acknowledge this, they released this statement:
"The Multnomah County REACH Program wants to give you the most up-to-date information. We want to listen to you and get your concerns and recommendations. We want to build relationships that help to heal the trauma of past experiences. We want to work with you to build trust and equitable health outcomes.
We acknowledge that this has been an especially stressful and painful year. The loss of loved ones, jobs, businesses, homes, and livelihoods has been an enormous weight for us all. Many of you have also suffered from years of disinvestment, biased treatment, and lack of access. These experiences have reinforced cycles of trauma and created a lack of trust toward government and health care.
The decision to vaccinate or not is a very personal one. We empathize with those who have historically or personally experienced discriminatory treatment. The work we are doing to educate and gather information from the community on vaccination is with these important truths in mind." (Adapted from City of Minneapolis).
After releasing the statement, the county created a BIPOC (Black, Indigenous, and People of Color) Plan in June 2020 to reduce health inequities among the Black and African immigrant and refugee populations in the COVID-19 response. The county utilized the Governor's plan, which consisted of a list of seven prerequisites for a phased reopening, to determine what areas to focus on to ensure racial equity is centered in those areas of work. The BIPOC Plan's areas of focus range from data trends and accountability, health care and wellness, to economic vitality.
Taking Action
The BIPOC Plan supports Multnomah County Health Department to identify neighborhoods with low vaccination rates. Vaccination clinics are intentional and launched based on community feedback. This ensures the county brings services where the community needs them. Highland Haven, a nonprofit wellness organization formed by the Highland Christian Center, and Multnomah County Health Department collaborated to open the first REACHing US Vaccine Clinic. On February 18, 2021, Highland Haven clinic, one of the REACHing US Vaccine Clinics, vaccinated over 400 people amidst challenging weather conditions. Despite the success of the Highland Haven clinic, medical mistrust remained a challenge for the health department.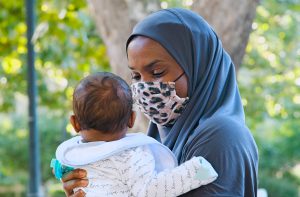 Multnomah County's innovative activities provided opportunities for the Black and African immigrant and refugee community to build more trust, strengthen relationships, and demonstrate solidarity.
Virtual forums became parties with DJs playing everything from reggae and soul music, to 'Lift Every Voice and Sing' and spoken word. It gave the community a space to talk about vaccines and feel like themselves. Multnomah County was not talking at attendees, instead they were having conversations with attendees. At one virtual forum, Black barbers, stylists, and braiders were able to have an open and honest discussion with Black healthcare providers and public health professionals. Questions such as "What is the general pulse like of the community when you ask about vaccination?" and "What motivated you to get vaccinated?" were asked to help gain a better understanding of feelings toward COVID-19 vaccination in the community.
Barbershops participated in a "train the trainer" model. Local barbershops are trusted gathering places in the community. Black health care providers and public health professionals gathered at local barbershops and the Champion Barber Institute with local barbers to answer questions, educate, and give updates on community vaccine events. During one virtual training session, a barber shared that he got vaccinated because he was, "thinking about more than just myself." Learning about COVID-19 transmission and the safety and side effects of the COVID-19 vaccine turned local barbers into health advocates to raise awareness in their communities.
Dr. Bukhosi Dube, who works with Multnomah County and is an advisor for the Oregon Health Authority, hosts the "Ask a Black Doctor" podcast that airs on a local, Black-run radio station. Dr. Dube and other Black physicians discuss issues, dispel myths, and address concerns surrounding COVID-19. This radio station provides a platform for patients, caregivers, or others from the Black community to share their health-related questions. Doctors who look like the audience or share the same life experiences usually answer those questions. Podcast episodes include 'Black Men and COVID-19 Vaccines' and 'Hospitalization in the Black Community.'
As vaccination uptake began to decline, the county offered gift cards to participants at Multnomah vaccination sites. One man who received a gift card stated he, "wanted to get vaccinated but constantly had to work." The gift card incentive helped him be able to fix his car so he would not have to take the bus, making it easier for him to get to work quicker. After initiating the incentive program, vaccination rates began to rise once again.
Looking Toward the Future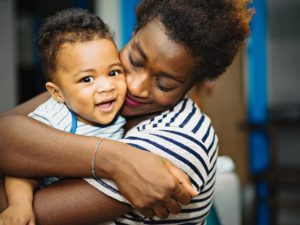 The gap in vaccination rates among the Black and White populations is closing. The vaccination rate for Black or African Americans at least doubled from May 1 to August 30. When McGee talked about the future, she said that public health needs to be supported and invested in, especially with evolving diseases. "The ability to pivot, shift, and innovate is essential. I've learned to not strive for perfection. If you're waiting for perfection, you will never do [anything]." McGee gave credit to the resilience and wisdom of the community: "There is value in reminding people how they've been able to survive up to this point." By acknowledging the past, listening to and meeting the needs of the community in the present, and planning for the future, Multnomah County is poised to continue their success and improve the health and well-being of their community.
Posted on

by
---
Page last reviewed:
April 25, 2022
Page last updated:
April 25, 2022