Give Your Community a Boost!
Posted on

by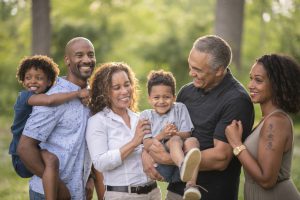 Communities play an integral role in many aspects of our lives. The COVID-19 pandemic has served as a case study for how resilient we can be and our determination to stay connected to our communities even during these challenging times. In April, we acknowledge National Minority Health Month (NMHM) to bring awareness to health disparities that affect racial and ethnic minority populations and encourage action that remove barriers to health care. This NMHM, we are working together to help ensure communities are up to date on their COVID-19 vaccinations by sharing credible information with communities about the importance of COVID-19 vaccination, including boosters, to help end the COVID-19 pandemic.
Two years into the pandemic, we have proven that we are resilient, adaptable, and capable of supporting our community's needs. However, it hasn't been easy, and communities that have been historically marginalized have faced additional challenges during COVID-19. The pandemic has shined a light on preexisting health disparities that have resulted in higher COVID-19 incidence and mortality rates in rural and urban communities and among racial and ethnic minority groups. There are many factors that create disproportionate rates of COVID-19 illness and death, one of which is insufficient access to vaccination.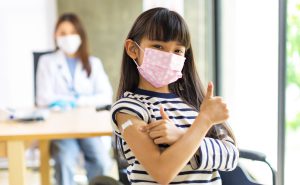 Getting vaccinated can help protect you from being sick or severely ill with COVID-19 and helps protect the people in your community. COVID-19 vaccines are safe and effective and our best tool for ending the COVID-19 pandemic. Everyone 5 years and older is eligible to get a free COVID-19 vaccination, and most people in the United States live within 5 miles of a COVID-19 vaccination location. You should get a COVID-19 vaccine, even if you already had COVID-19. Getting a COVID-19 vaccine after you recover from infection provides added protection to your immune system, and you are less likely than those who don't get vaccinated after their recovery to get COVID-19 again. Staying up to date means getting all recommended COVID-19 vaccines, including a booster when you are eligible. Booster shots can enhance or restore your protection against COVID-19 since protection against the virus, including variants, decreases over time. If you are older than 12 years and have completed your COVID-19 vaccine primary series, you should get a booster when you are eligible for one. If you received a two-shot series (Pfizer or Moderna vaccines), you are eligible for a booster 5 months after your second dose. If you received the J&J vaccine, you are eligible for a booster two months after receiving the vaccine. If you are moderately or severely immunocompromised, you should get an additional third dose of the COVID-19 vaccine. When you become eligible, you need to get a booster shot to be considered up to date with your COVID-19 vaccine. Your health care professional can answer any questions about when you should receive your doses.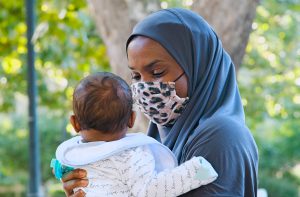 CDC continues to work with partners to increase health equity efforts in collaboration with communities at increased risk for COVID-19 and severe outcomes. Health Equity in Action features CDC partner activities and showcases innovative efforts to expand vaccine access and create more equitable communities. Mobile COVID-19 Vaccination Campaign Guide for Refugee, Immigrant, and Migrant Communities illustrates how community-based organizations joined together to conduct a mobile COVID-19 vaccination campaign with refugee, immigrant, and migrant communities. Another creative community approach is highlighted in Pivot, Shift, and Innovate: REACHing Multnomah County, Oregon, where local barbers were engaged to help promote equitable COVID-19 vaccine access.
Ensuring everyone is up to date on vaccination will help slow the spread of COVID-19. Here are four ways to support your community:
Addressing barriers to vaccination in communities is critical to achieving vaccine equity, reducing disparities, and decreasing COVID-19 related illness and death. This will require a collective and ongoing effort and commitment from everyone, including all levels of government, community members, organizers, and city officials. This April, as we consider the value of community and all the ways we have shown our resilience over the last 2 years, let us also recognize that there is still much work to be done. Building on prior successes, we celebrate National Minority Health Month by continuing to take action to ensure everyone, in all communities, has a fair and just opportunity to attain their highest level of health.
How has your community shown resilience during the COVID-19 pandemic? How are you giving your community a boost? Share your story in the comment section below.
Posted on

by
---
Page last reviewed:
April 18, 2022
Page last updated:
April 18, 2022