National Minority Health Month: Promoting Fair Access to Health
Posted on

by
"Recognizing that health is the key to progress and equity in all other things," said Tuskegee Institute founder Booker T. Washington, who proposed the observance of "National Negro Health Week" in 1915. Washington called on local health departments, schools, churches, businesses, professional associations, and the most influential organizations in the African American community to "pull together" and "unite …in one great National Health Movement." That observance grew into a month-long initiative to advance health equity across the country on behalf of all racial and ethnic minority groups—National Minority Health Month, which is recognized each year in April. This year's theme is #VaccineReady.
National Minority Health Month looks vastly different this year. We are still grappling with the global pandemic that has resulted in the death of more than 500,000 Americans more than a year after it began. The virus that causes COVID-19 has infected millions of people across this country, but the impact of COVID-19 is felt, severely, in communities of color—communities that have experienced disproportionate cases, hospitalizations, and deaths, and for whom the social and economic impact of the pandemic has been extreme. Long-standing systemic health and social inequities have left many racial and ethnic minority groups more likely to get sick and die from COVID-19. Fortunately, millions of people are able to get vaccinations, and all COVID-19 vaccines currently available in the United States have been shown to be effective at preventing COVID-19.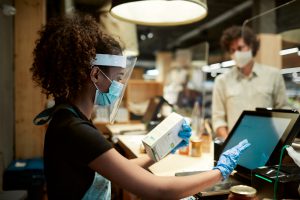 However, more must be done. Essential workers at our frontlines remain more likely to get COVID-19. "Your risk is greater if you are in an occupation classified as 'an essential worker.' Healthcare providers, people who work in a supermarket as a cashier, drive a bus, work in construction, and others who provide essential public service must be diligent about following prevention measures to protect themselves from COVID-19 while at work," says Dr. Leandris Liburd, director of CDC's Office of Minority Health and Health Equity. "A health equity perspective helps us understand the context in which risk for COVID-19 happens. We have to make environments more supportive."
Ensuring everyone is vaccinated will help slow the spread of COVID-19. Take steps to make sure you, your family, and your community are "vaccine ready."
Achieving health equity requires valuing everyone equally. As we look ahead to a healthier nation, we invite you to learn more about health equity and how to better support your communities. Focused and ongoing efforts to address avoidable inequalities, historical and contemporary injustices, and the elimination of health and healthcare disparities will support our vision of better health for all. These efforts can be challenging, but progress in our most challenging issues happens when we intentionally organize, convene, and work together to address the health inequities that our communities face. COVID-19 health equity projects are currently underway and information on these projects is available on CDC's COVID-19 web page.
Additional Information
Posted on

by
---
Page last reviewed:
April 29, 2021
Page last updated:
April 29, 2021