Mission Possible: Healthy Lives for Everyone
Posted on

by
Last fall, one of my friends launched a monthly blog that chronicles her life and that of seven of her friends. They journeyed through the Civil Rights Movement and the transition of a once highly segregated and deeply divided city in the south to experience much of the promise of America. The blogs foretell what will be published in a book which will similarly reveal the personal histories, challenges, and triumphs of these African American women who would create a legacy of achievements possible only after the landmark Brown v. Board of Education decision and continue today.
I asked my friend what inspired her to write about friends, friendship, and the significance of these relationships over decades of social change. We talked at length about living through the experience of the legal desegregation of public schools, movie theaters, restaurants, private colleges, and neighborhoods. Looking back, these changes ushered in opened doors as well as new civil rights challenges that continue to occupy the professional and civic commitments of this circle of friends. Through the book, they are hopeful that their stories will resonate with others, and coming generations will learn important lessons from them. They believe new paths to The Beloved Community will be created as a result of documenting their histories. 1
As we launch a yearlong commemoration of the 30th anniversary of CDC's Office of Minority Health and Health Equity (OMHHE), I am mindful of why it is important to take the time to examine, document, and celebrate an organization's history. According to Seaman Jr. and Smith, in their Harvard Business Review article Your Company's History as a Leadership Tool, "A sophisticated understanding of the past is one of the most powerful tools we have for shaping the future." 2
Beyond the celebration of having persevered for 30 years, reflecting on the history of the Office is an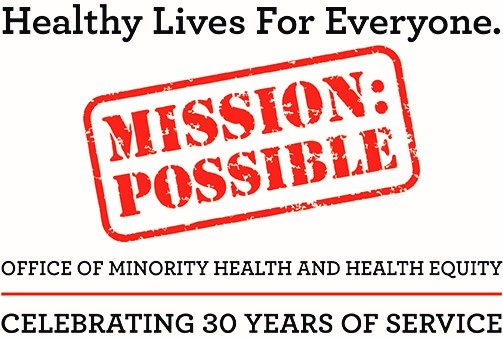 opportunity to study change that has occurred over time both within OMHHE and across CDC in reducing health disparities and pursuing health equity. We are able to put the Office's evolution in perspective and examine what makes our contributions distinctive within CDC's comprehensive public health program. Seaman Jr. and Smith argue that the effective use of an organization's history can be "a potent problem-solving tool, one that offers pragmatic insights, valid generalizations, and meaningful perspectives." They observe, "Conventional problem-solving begins with two questions: What is the problem? and How can it be fixed? It is more unusual to ask, How did we get to this point?" 2
CDC was the first operating division within the Department of Health and Human Services to establish an office of minority health in response to the 1985 Secretary's Task Force Report on Black and Minority Health. Then CDC director, Dr. James Mason, added the Office of the Associate Director for Minority Health to his senior leadership team. He began the process of elevating awareness across CDC programs of the disproportionate burden of premature death, preventable disease, and injury experienced by communities of color in the U.S. This also started building the agency's capacity to effectively address and reduce health disparities and increase the diversity of the CDC workforce to broaden perspectives on what is needed in surveillance, programs, policies, and other strategies to improve minority health. Over the years, the name of the office has changed some, but the mission to reduce health disparities has not changed. Much has been implemented, but there is still more to do before we achieve health equity, that is, when all people have the opportunity to attain the best health possible.
Over the past 30 years, both the discourse of minority health and
the complexities associated with reducing and eliminating health disparities have evolved. The discourse has shifted to include eliminating racial and ethnic health disparities, overcoming health inequities, addressing social determinants of health, and achieving health equity. For example, we understand that not all health differences are health disparities. According to Healthy People 2020, health disparities are "a particular type of health difference that is closely linked with social, economic, and/or environmental disadvantage.3  Health disparities adversely affect groups of people who have systematically experienced greater obstacles to health based on their racial or ethnic group; religion; socioeconomic status; gender; age; mental health; cognitive, sensory, or physical disability; sexual orientation or gender identity; geographic location; or other characteristics historically linked to discrimination or exclusion." 3 This awareness has given rise to global and national attention to the impact of the social determinants of health, and the need for multi-sectoral partnerships to address factors that impact population health, but are outside of the traditional purview of public health. 4
Throughout 2018, we will highlight success stories from the national centers, institutes, and offices at CDC that capture how they have improved minority health and reduced health disparities. We will challenge our colleagues to become public health agents of change in their communities as well as at CDC. Our theme for the 30th anniversary commemoration is Mission: Possible. We believe "healthy lives for everyone" is possible and a goal that resonates in public health.
What success stories do you know of in improving minority health and reducing health disparities? How can you become a public health agent of change and help us achieve healthy lives for everyone?
References
Marsh, C. (2005). The beloved community: How faith shapes social justice, from the civil rights movement to today. New York: Basic Books.
Seaman , J. T., Jr., & Smith, G. D. (2014, July 31). Your Company's History as a Leadership Tool. Boston, MA: Harvard Business Publishing. Retrieved January 30, 2018, from https://hbr.org/2012/12/your-companys-history-as-a-leadership-tool
Disparities. (n.d.). HealthyPeople.gov. Retrieved January 30, 2018, from http://www.healthypeople.gov/2020/about/foundation-health-measures/Disparities
Commission on Social Determinants of Health – final report. (2008). World Health Organization. Retrieved January 30, 2018, from http://www.who.int/social_determinants/thecommission/finalreport/en/
Posted on

by
---
Page last reviewed:
February 27, 2018
Page last updated:
February 27, 2018