New Resources Empower Patients and Health Care Professionals to Make Decisions Together
Posted on

by
"Empowerment" has become a buzzword, but what does it really mean? While many definitions exist, it basically means feeling confident to make decisions that are consistent with your values. This feeling is at the heart of the CDC Foundation's Empowered Health program. The program was designed to provide a pathway to empowerment by helping patients and health care professionals strengthen their relationships, improve their conversations, and make informed medical decisions together based on what's most important to the patient.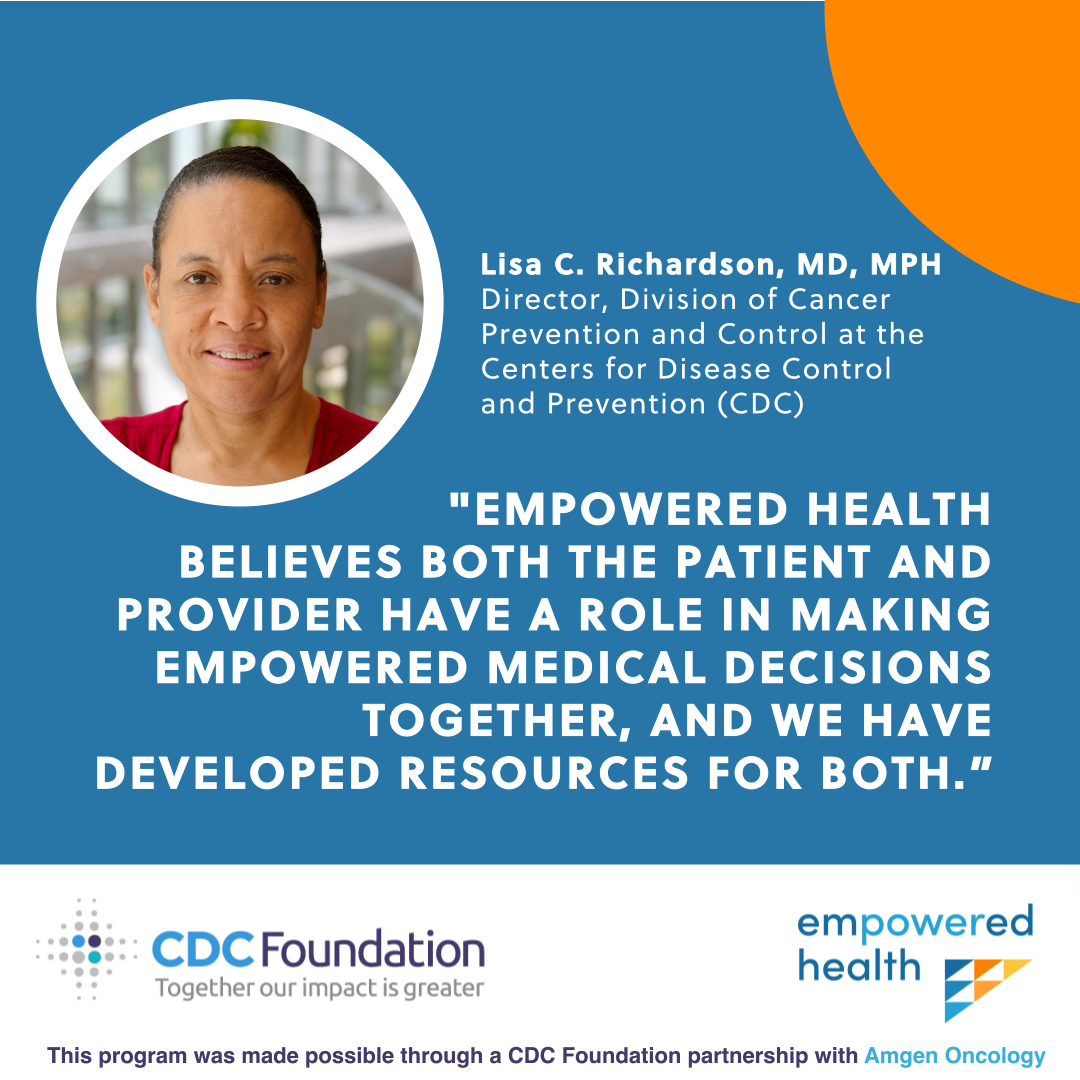 For the past three years, I have been honored to support this program in my role as the director of CDC's Division of Cancer Prevention and Control. The program's tools and resources complement important CDC priorities: eliminating preventable cancers, ensuring all people get the right care at the right time for the best result, and helping cancer survivors live longer, healthier lives.
When it comes to cancer, feeling empowered is proven to lead to:
More people getting screened and finding cancer at an earlier stage.
Individuals adjusting faster and feeling more in control during cancer diagnosis and treatment.
A better care plan for cancer survivors, making life after cancer easier to manage.
But to feel empowered, people must have the right information, at the right time, in a language and format they can understand and use. For this reason, Empowered Health believes both the patient and the health care professional have a role in making empowered medical decisions together, and we have developed resources for both.
For individuals who want to develop skills and confidence to help them prevent, treat, and beat cancer:
The Patient and Caregiver Academy features an animated video series that explains the importance of making decisions together with your health care professional. One video specifically for caregivers offers tips on how to support a loved one and suggestions for not feeling overwhelmed. The academy also includes treatment resources and Peer Power, a peer support group directory that allows individuals to search for cancer support groups tailored to their needs. CDC also partnered with ROSAesROJO, a non-profit organization supporting Hispanic women at high risk of developing cancer, to make sure that the resources CDC developed in Spanish are culturally relevant to Hispanic people.
The Cancer Survivor Academy focuses on how to return to life after cancer treatment. This web page includes information on what comes next, how to get and use a survivor care plan, and what tips to use for handling the emotional and physical aspects of life after cancer.
The Cancer Prevention Academy offers proven steps that can help you prevent cancer or find it earlier, when it's easier to treat.
 For health care professionals who want to help their patients feel empowered and make informed decisions together: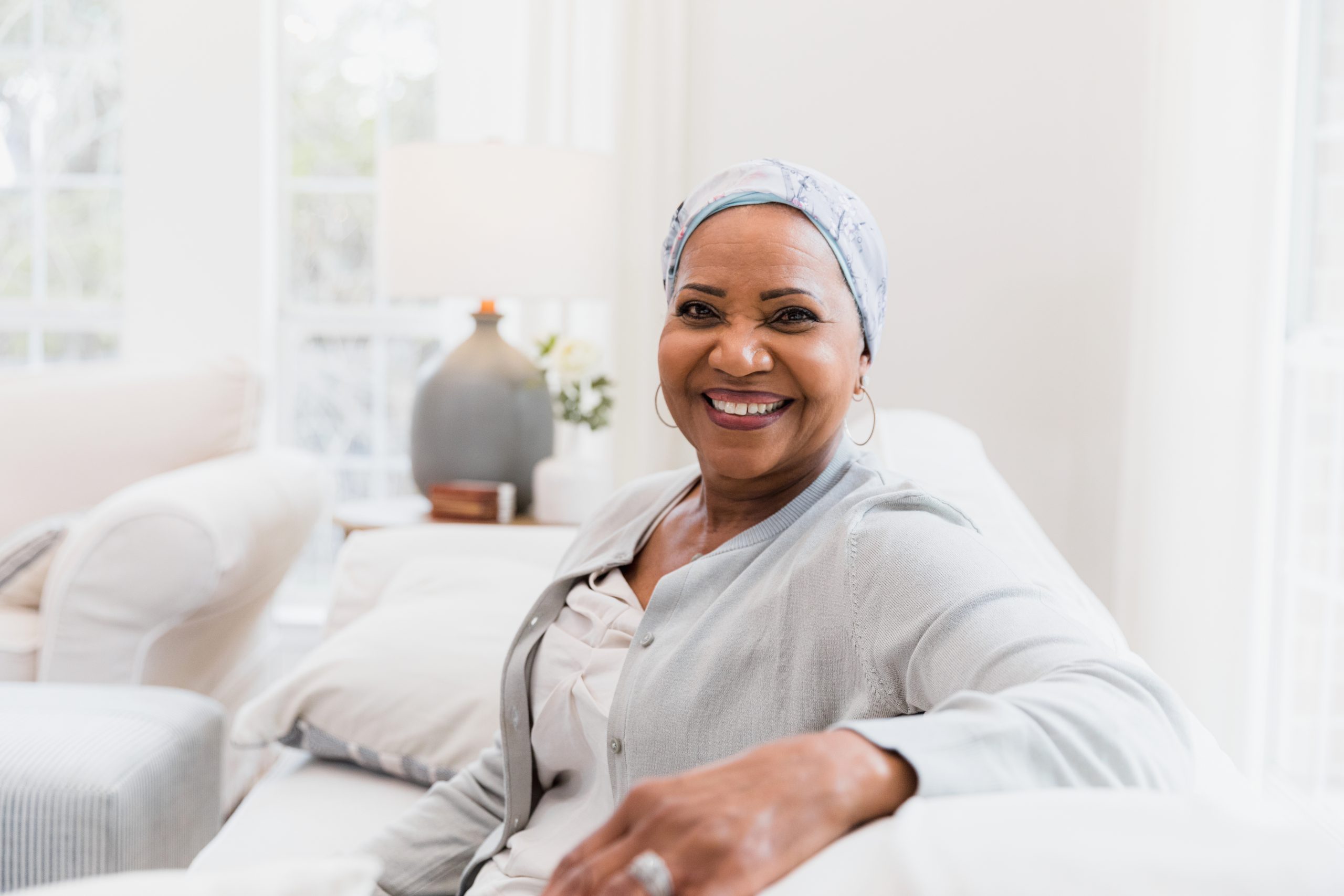 The Provider Academy was designed to help clinicians have better conversations with their patients about their treatment, screening, or care options. Such discussions can lead to patients' feeling empowered to make informed decisions with their health care professional that are consistent with patients' values and preferences. a video, short articles, and an audio podcast developed in collaboration with Medscape. Topics include the importance of cultural humility, approaches to tailoring language to fit the individual patient, and tips for when and how to initiate a shared decision-making conversation.
You can learn more by visiting www.EmpoweredHealth.org and by joining the Empowered Health community on Instagram.
 Empowered Health is a CDC Foundation program developed with technical support from CDC and is made possible by a partnership between the CDC Foundation and Amgen oncology.
Posted on

by
---
Page last reviewed:
Monday, January 23, 2023
Page last updated:
Monday, January 23, 2023