Healthy Lungs to Speak Out about Radon
Posted on

by
"Have you ever heard of radon?"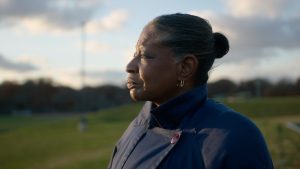 This is a question that Jackie Nixon asks a lot of people now.
Six years ago, Jackie was asked this question when a home inspector at a community development meeting overheard her talking about her recovery from lung cancer. Jackie had never smoked in her life and had no health issues prior to her diagnosis. Up to that point, as far as she knew, she had no reason to be concerned about her lungs.
Radon
Radon is an odorless, invisible gas naturally released from rocks, soil, and water into the air. Radon can get into homes or buildings through small cracks or holes and build up to high levels. Breathing in high levels of radon over time can cause lung cancer. This is what happened to Jackie, and she is determined to help prevent this from happening to others. Testing and taking steps to reduce radon levels in homes can save lives.
According to the Environmental Protection Agency (EPA), 1 in 15 homes in the United States has high radon levels, and radon causes around 21,000 lung cancer deaths each year.
The "Lucky" Diagnosis
In overall good health, Jackie had not been to the doctor in a year and a half when she came down with shingles* in July 2015. When she came in for medication, her doctor took the opportunity to ask if Jackie had any other health concerns. She said no, but then paused and mentioned that she noticed that when singing she suddenly needed short breaths to hold notes she previously could hold on one breath. Jackie has been singing in church choirs since she was 8; if singing wasn't such a big part of Jackie's life, she may not have noticed anything. She had no cough or chest pains and thought she probably just needed more exercise. Her doctor listened to her chest and it sounded normal. With her hand on the door to leave the exam room, her doctor looked down at notes and said, "You have an X-ray for screening included in your health care insurance plan. Let's order a chest X-ray."
Two days after her X-ray, her doctor called her with the results: a tumor was found on her lung. A biopsy determined it was cancer. Jackie and her doctor both realized that the cancer was only found through an unusual chain of events with luck and chance decision-making overcoming the odds stacked against coming to this diagnosis. If she hadn't had shingles, if her doctor hadn't asked about whether she had other concerns, if she hadn't thought to mention her hardly noticeable issues with singing, if the doctor hadn't noticed an X-ray was covered in her plan, the diagnosis would have come much later and made recovery far more difficult. They also were surprised. How did Jackie, who never smoked, develop lung cancer?
Treatment
Most people with lung cancer do not have symptoms until the cancer is advanced. Jackie was fortunate that her cancer was found in its early stages. A month after diagnosis, she had surgery to remove the cancer from her lung. She never had radiation treatment, chemotherapy, or medication and was back singing with her choir within three months.
Taking Action
It was not until seven months after her surgery that the home inspector asked her if she had heard of radon. Learning about radon and its connection to lung cancer finally started Jackie down the path toward answering how she got cancer and toward her current passionate commitment to protecting others from radon-associated lung cancer.
Jackie lived in her condominium for 32 years, but had never tested it for radon. Radon is measured in units of picocuries per liter (pCi/L) of air. EPA recommends installing a radon reduction system if your home radon level is above 4 pCi/L. She tested her building and found that the radon levels were 18 pCi/L on one side and 9 pCi/L on the other. Immediately, Jackie alerted the condo association, and they hired a certified radon mitigation company to make repairs that reduced the radon levels to help protect her neighbors and future residents in the building.
Raising Awareness
Jackie didn't stop there. She became the communication and marketing director for Citizens for Radioactive Radon Reduction (CR3), where she dedicates her time to raising awareness about the risks of radon. CR3 works on initiatives like the National Radon Action Plan, a strategy launched through a private-public partnership with 14 organizations, including CDC and EPA.
Jackie is grateful that her cancer was found early and that she found an answer. "Giving someone a brochure or taking the time to talk with them about radon can save a life. I found my purpose. For me, this is my way of paying it forward." Jackie's healthy lungs keep her singing and give her a voice to raise awareness about radon.
Learn more about radon and how you can protect yourself and your family.
*Recombinant zoster vaccine (RZV, Shingrix) is recommended to prevent shingles in adults 50 and older.
Posted on

by
---
Page last reviewed:
Tuesday, March 1, 2022
Page last updated:
Tuesday, March 1, 2022