Staying Healthy During the COVID-19 Pandemic as a Cancer Survivor
Posted on

by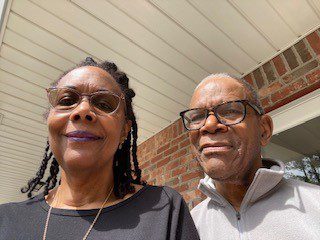 Life during the COVID-19 pandemic has been challenging for everyone, but especially for people with health conditions such as cancer, who are at increased risk for severe illness from the virus. David Brown, a colon cancer survivor, shared why physical distancing has been his biggest challenge during the pandemic.
"I Am a People Person"
"I am a people person who enjoys shaking hands, high fives, fist bumps, handshakes, and hugs. The only person I have hugged since the pandemic has been Denise," David explained. He and his wife Denise haven't seen their children or grandchildren since the pandemic began in March 2020.
Reflecting on a rare handshake while he and Denise were at a car repair shop, David said, "When the general manager closed us out and returned our car, he shook our hands. Shaking his hand felt strange, and as soon as we got home, we washed our hands."
David and Denise look forward to when they can gather in person with others again, especially at their church, where they've been participating virtually for the last year. They got their second COVID-19 vaccine on February 16, 2021.
Taking the Protocols Seriously
Despite the challenge of staying physically distant from others, David knows the precaution is necessary. David has worked with his wife to maintain social connection while seriously following the guidance of COVID-19.
"I wear my mask faithfully, maintain social distance, and wash my hands whenever I come from outside our home and before eating, especially when we take food out from a restaurant," he said.
Take Steps to Stay Healthy
David's story highlights the importance of following protocols, even when it's hard. If you are a cancer survivor, here are other steps you should take to stay healthy:
Talk with your doctor about your risk of getting COVID-19 based on your condition, your treatment, and the level of COVID-19 in your community.
Don't stop taking your medicines or change your treatment plan without talking to your doctor.
Make sure that you have at least a 30-day supply of your medicines.
Don't delay life-saving treatment or emergency care.
Call your doctor if you have concerns about your condition or treatment, think you may have been exposed to COVID-19, or have any new symptoms of illness.
If you don't have a doctor, contact your nearest community health center or health department.
Talk to your cancer doctor about the risks and benefits of getting the COVID-19 vaccine. He or she can tell you when you should receive it.
If you're experiencing stress or anxiety, reach out to your healthcare provider for help.
Resources
Posted on

by
---
Page last reviewed:
Friday, April 2, 2021
Page last updated:
Friday, April 2, 2021