Patient Navigation: Helping Those Facing Cancer Find the Way
Posted on

by
Elizabeth A. Rohan, PhD, MSW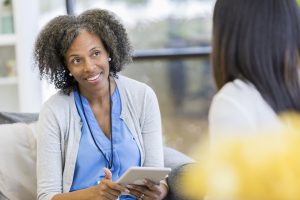 Having worked in clinical oncology social work for 19 years before working at CDC, I have first-hand knowledge of the issues faced by those who have cancer. I have listened to them as they described their anger and sadness. I have helped them work through regret. I have role-played how they would talk with their children about their illness. I have counseled and consoled them as they mourned the loss of future events they would not experience—children's graduations and weddings, having grandchildren. And I have helped them use their strengths to not only cope with their circumstances but also decide what is most important to them so they could make decisions on how and with whom they wanted to spend their time each day. I worked in busy oncology centers where caseloads were high and the pressure of time was ever-present. I was able to provide high-quality psychosocial care to my cancer patients and their families because the hospital also provided a system of patient navigators.
What Is a Cancer Patient Navigator?
Patient navigators are health care workers who provide individual guidance to patients as they move through the health care system. There are many unsung heroes along a patient's cancer journey, and patient navigators are some of them. The term "patient navigation" had recently been born at the time, so where I worked, these staff went by a different title, but their work was the same: to reduce or eliminate the barriers patients had to accessing care. This role is essential if we are placing the individual with cancer, and his or her family, in the center of cancer care.
Patient Navigators and Health Disparities
Patient navigators can play an especially important role when it comes to addressing health disparities, or different health outcomes, among different groups of people. Some groups of people get cancer, or die from cancer, more often than other groups. These groups may include racial and ethnic minorities, those living in rural communities, and those with less access to health care and other services. Patient navigators help ensure that patients receive the right information and guidance on various community resources. They can even help with things like making appointments. Patient navigators help address some of these health disparities by overcoming common barriers faced before and after a cancer diagnosis.
CDC's National Comprehensive Cancer Control Program
Just as I saw the importance of patient navigation 19 years ago, I still see the importance in the work I do today. CDC's
National Comprehensive Cancer Control Program
(NCCCP) provides funding, guidance, and technical assistance for programs to design and implement impactful, strategic, and sustainable plans to prevent and control cancer. NCCCP awardees develop and implement plans to coordinate cancer prevention and control activities, which includes supporting patient navigation interventions. Support is key not only in cancer treatment, but also as a part of prevention efforts and through cancer survivorship. During an overwhelming time, patient navigators can create a trusted environment to provide personalized guidance. I want to recognize these often-unsung heroes and their contributions to each and every person facing cancer.
Posted on

by
---
Page last reviewed:
Tuesday, June 23, 2020
Page last updated:
Tuesday, June 23, 2020