Volunteers Prepare for Another Season of Disaster Response, Relief Work
Posted on

by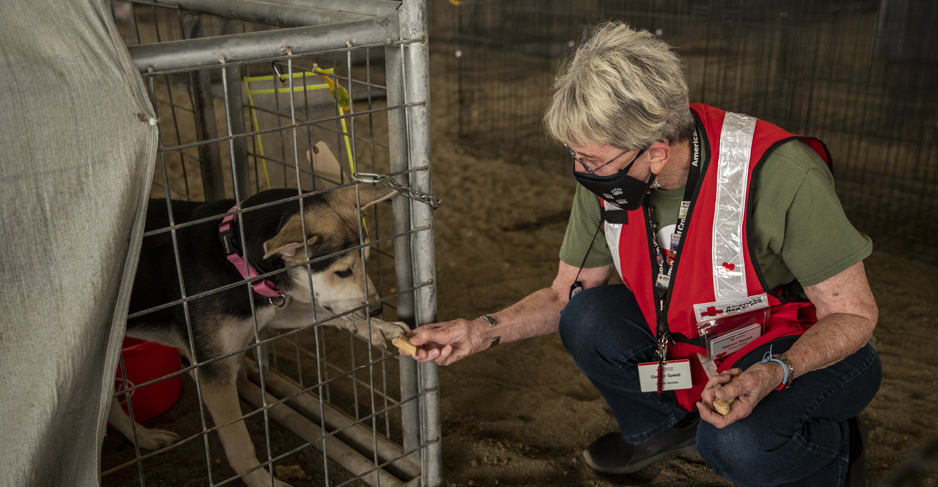 This student-authored post is published by CPR in partnership with Medill News Service and the Northwestern University Medill School of Journalism, Media, Integrated Marketing Communications. The views and opinions expressed in this article are the author's own and do not necessarily reflect the views, policies, or positions of CPR or CDC.
American Red Cross volunteer Gaenor Speed stood six feet away from a couple who lost everything in the wildfires that burned through the Cascade Mountains in Oregon last September. The first thing she wanted to do was hug them.
"I'm a hugger," said Speed, 78, a retired nurse. "It's really hard listening to a sad story from far away with masks on and not being able to just give them a hug."
The couple told her about their photos — of their wedding, their children, their grandchildren — all destroyed amid the ash and rubble that was their home.
"They asked me, 'Do you think we'll find them? Our photos?'" Speed said. "It was so sad. You just want to hold them."
Speed says the COVID-19 pandemic has made it difficult, if not impossible, for volunteers to comfort survivors in the ways they are used to. CDC recommends people stay at least 6 feet (or about 2 arm lengths) from others to prevent getting sick.
"Everything changed with COVID-19," she said. "It was like everything went upside down. Those of us who had been on deployments before were used to big shelters with lots of people, where we'd go around, sit on the side of their cots, talk to them and listen to their stories. Now, it's so hard to be able to empathize. We look like we're standing off a long way, which we are."
Speed, who lives in Cape Coral, Fla., is one of the most active volunteers in the Red Cross South Florida Region. She has responded to more than 20 disasters across the country since 2016. She's helped with emergency shelters, distributed food and supplies, and provided emotional support to victims.
Speed racked up frequent flyer miles in 2020. She deployed to Puerto Rico in response to an earthquake, the Florida Panhandle for a wildfire, and Louisiana after Hurricane Laura. She spent September in Oregon for the wildfires and returned to Florida in November for Tropical Storm Eta.
The pandemic and a record number of natural disasters have tested the resilience of first responders, emergency management officials, relief organizations, and volunteers like Speed.
Things aren't expected to get easier. Researchers predict an active Atlantic hurricane season in 2021.(1) NOAA will issue its initial outlook for the 2021 season in late May.(2)
The Atlantic and Central North Pacific hurricane seasons start on June 1. The Eastern North Pacific hurricane season starts earlier, May 15.(3) Disaster relief organizations are preparing now.
The Red Cross partners with state and local agencies to put in place emergency plans for shelter, food distribution, and volunteer assistance. Those plans must also integrate mask requirements, facility temperature screenings, physical distancing measures, and cleaning and disinfecting practices.
"As we saw in 2020, disasters did not stop for the pandemic," said Siara Campbell, regional communications manager for the South Florida Region. "It is imperative to make preparations now, and you need to prepare with the coronavirus situation in mind. You just have to be agile and ready to allocate resources that you may not have expected previously."
Nicole Coates, director of emergency management and public safety for the Village of Wellington, Fla., agrees. The village is reviewing debris removal contracts, servicing generators, and putting emergency vendors on standby in advance of the hurricane season.
"The better prepared our residents are, the better prepared we are, so we start that public messaging as early as we can before storm season," Coates said.
Speed knows the importance of preparing her community, as well. She's helping to recruit volunteers in the hopes of finding others who, too, are willing and ready to deploy.
She believes everyone has something to offer.
"It's the giving back," she said. "We need everybody, and I like being in an organization where we've got different jobs, but we're all working for the same goal: to deliver people from these terrible disasters and, as soon as we can, get them back to being able to carry on their lives again."
Supporting voluntary organizations like the Red Cross is an example of how people can get involved during National Volunteer Month. Other ways you can help improve the preparedness and resilience of your community include participating in response drills and donating blood.
Visit the Prepare Your Health website for information on how to prepare for emergencies.
References
Thanks in advance for your questions and comments on this Public Health Matters post. Please note that the CDC does not give personal medical advice. If you are concerned you have a disease or condition, talk to your doctor.
Have a question for CDC? CDC-INFO (http://www.cdc.gov/cdc-info/index.html) offers live agents by phone and email to help you find the latest, reliable, and science-based health information on more than 750 health topics.
Posted on

by
---
Page last reviewed:
April 21, 2021
Page last updated:
April 21, 2021