Treating TB During an Emergency
Posted on

by
March 24 is World Tuberculosis (TB) Day. World TB Day is a day to educate the public about the impact of TB in the United States and around the world.
Tuberculous (TB) has had several names over many millennia. Ancient Greeks called it "phthisis." Ancient Romans named it "tabes." TB was commonly called "consumption" in the 1800s.(1)
Something that hasn't changed is the seriousness of this life-threatening disease and the need for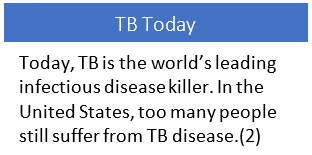 people being treated for TB to prepare for emergencies.
What is TB?
Tuberculosis is caused by a bacterium that usually attacks the lungs but can affect any part of the body. TB bacteria are spread through the air from person to person. This happens when someone with TB disease of the lungs or throat coughs, speaks, or sings. People nearby may breathe in these bacteria and become infected. But not everyone infected with TB gets sick.(3)
There are 2 types of TB conditions: latent TB infection and TB disease. People with latent TB infection have TB bacteria in their bodies, but do not feel sick, do not have symptoms, and cannot spread the infection to others. People with latent TB infection can take treatment to prevent the development of TB disease.
Untreated latent TB infection develops into TB disease when the body's immune system can't stop TB bacteria from growing. TB disease is when TB bacteria are active (multiplying in your body). People with TB disease feel sick and can spread TB bacteria, especially to people they spend time with every day.
TB disease is a serious condition and can lead to death if not treated. A typical case of TB disease requires 180 days of medication, X-rays, lab tests, and follow-up and testing of contacts.
TB treatment during emergencies
TB disease can be treated by taking several drugs for six to nine months. Treatment for latent TB infection is shorter (usually three to four months). People who are being treated for latent TB infection or TB disease must take and finish medicine as prescribed. Many TB programs use directly observed therapy (DOT) to help patients complete TB treatment.
With DOT, a patient takes their TB medicines in front of a healthcare worker. The worker also asks the patient about any problems or side effects with the medication. DOT can be done in person, or, in some cases, remotely using a smartphone or other device.
A disaster or emergency can make it difficult for people with latent TB infection or TB disease to continue treatment. If people with TB disease stop taking the drugs too soon, they can become sick again. If they take the drugs incorrectly, the bacteria that are still alive can become resistant to those drugs. TB that is resistant to drugs is harder and more expensive to treat.
People receiving TB treatment can prepare for a disaster or an emergency in several ways.
Make sure the TB program has your contact information in case you must evacuate to a safer location or shelter.
Add the contact information for TB program staff to your Emergency Action Plan.
Talk to your doctor about creating an emergency supply of TB medicine if you live somewhere at high risk for disasters like hurricanes and wildfires.
If you or a family member are receiving treatment for latent TB infection or TB disease when an emergency happens, contact your state or local TB program. TB programs can help you continue treatment during an emergency or disaster.
TB prevention and control in emergency shelters
If you are receiving treatment for latent TB infection or TB disease and must go to an emergency shelter, here are some things to remember.
For everyone:
Let the shelter staff know if you have any symptoms of TB disease (cough lasting longer than 3 weeks, fever, chills, night sweats, weight loss).
Cover your cough with a tissue.
For patients being treated for latent TB infection or TB disease:
Let the staff working at the shelter know if you are taking treatment for TB. Tell them the medicines you take and provide the contact information for your TB program.
If you do not remember the names of the TB medicines you take, or if you do not have the medicines with you, share any details you do remember with shelter staff.
Emergencies and disasters can make it difficult for TB patients to continue their treatment. Being prepared can make it easier for them to keep up with treatment and protect others while staying in a shelter.
Resources
References
Thanks in advance for your questions and comments on this Public Health Matters post. Please note that the CDC does not give personal medical advice. If you are concerned you have a disease or condition, talk to your doctor.
Have a question for CDC? CDC-INFO (http://www.cdc.gov/cdc-info/index.html) offers live agents by phone and email to help you find the latest, reliable, and science-based health information on more than 750 health topics.
Posted on

by
---
Page last reviewed:
May 13, 2021
Page last updated:
May 13, 2021