Seeing is Believing: The Art of Moulage in Emergency Preparedness
Posted on

by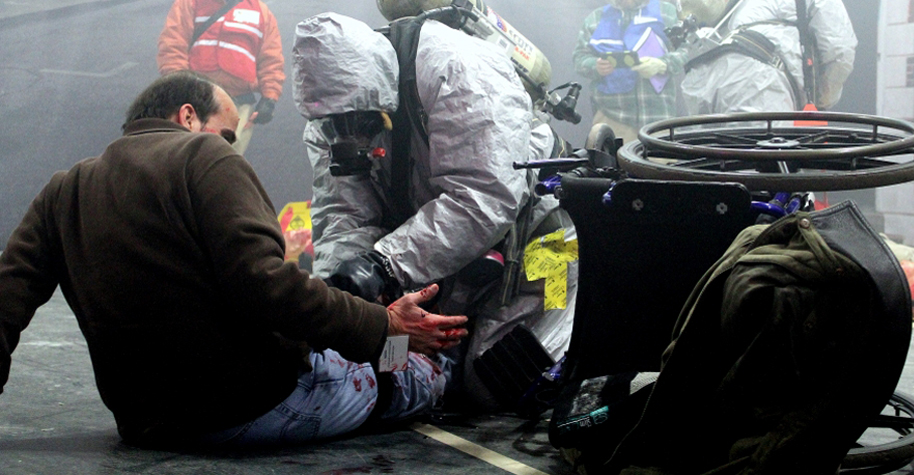 Moulage is the art of applying realistic, mock injuries for the purpose of training emergency response teams, medical, and military personnel.
Good special effects in movies are effective because they make illusions seem real. Making simulated injuries seem real helps first responders better prepare for the real thing.
Moulage is the French word for molding. It started as the art of applying mock injuries for educational purposes. The practice of moulage dates to the Renaissance when wax models were used in the study of human anatomy.
As technology and medicine evolved, photographs and plastic models eventually replaced wax models, and the term "moulage" came to represent the art of using advanced makeup techniques to simulate injuries. Today, it's used as a training tool for emergency response, medical, and military personnel.
Classical Art with Practical Applications
Moulage is a 16th-century art form with 21st-century applications. It is often used in emergency response training and exercises to simulate the kinds of injuries first responders are most likely to see after events like natural disasters, explosions, and hazardous materials incidents.
"Moulage adds layers of complexity and realism to exercises," said Richard Brewer, a moulage artist at FEMA's Center for Domestic Preparedness (CDP). "Simulated injuries such as lacerations, burns, and bruises helps CDP create realistic, immersive disaster training scenarios for students."
Brewer explained that an average full-scale exercise at CDP includes about 130 simulated "victims." Sometimes as many as 250 victims are needed to "flesh out" an exercise scenario and achieve training objectives. He said takes a team of two to four artists to apply moulage for such large-scale exercises.
Moulage artists, Brewer said, use molded silicone and everyday foods, like oatmeal, coffee grounds, chocolate syrup, and grits, to create many of the physical reactions and injuries. Artists use materials like these to make up people and manikins to look like they have teary eyes, runny noses, burns, lacerations, gunshot wounds, and amputations. Antacids are used to imitate foaming at the mouth.
Brewer said amputations and other serious wounds are the most challenging wounds to simulate. Building materials such as glass, wood, and metal rods are used in the creation of blast wounds. Minor abrasions and burns are the easiest to create.
Moulage Like the Masters
Food is a favorite medium of moulage artists and shows up in many moulage recipes. If fact, you may have some of the items already in your pantry. Here are some examples of recipes used by moulage artists.(1)(2)
How to Make Fake Blood
Add 4 tablespoons of red food coloring and 4 drops of blue food coloring to 16 ounces of red-colored dish soap. Mix well.
To apply, use a spray bottle mixture or pour it to create a dripping effect. Apply only below the neck due to avoid irritating the eyes.
How to Simulate Vomit
Combine water, dry oatmeal, and one drop of green food color to a desired consistency and color in a small bowl.
Add corn, peas, raisins, or other solid matter if desired.
Spoon desired amounts beside the simulator's mouth and dab traces on the side of the face. Do not allow the mixture to enter the mouth, nose, or airways.
How to Simulate a Bruise
Crush a combination of old blue, purple, aqua, and green eye shadow with half the amount of red blush into a fine powder.
Use a round rouge or make-up brush to apply.
People dressed up in costumes and makeup are a familiar sight on Halloween night. Unfortunately, events like costume parades and trick or treat can be high-risk for spreading viruses, including the virus that causes COVID-19.
How to Have a Healthy Halloween
Many traditional Halloween activities can increase the risk of getting and spreading COVID-19. Take steps to protect yourself and others, such as finding lower risk ways to participate in Halloween and trick or treating; for example:
Avoid direct contact with trick-or-treaters by giving out treats outdoors or setting up a station with individually bagged treats for kids to take, if possible.
Bring hand sanitizer with at least 60% alcohol with you, and use it after touching objects or other people. Parents should supervise young children using hand sanitizer.
Wash your hands with soap and water for at least 20 seconds when you get home and before you eat any treats.
Wear a mask if you are age 2 or older (children under the age of 2 should NOT wear masks). A costume mask is not a substitute for a cloth mask and should not be worn over a cloth mask. It can make breathing more difficult.
Stay at least 6 feet away from others who are not part of your household.
If you may have COVID-19 or you may have been exposed to someone with COVID-19, you should not participate in in-person Halloween festivities and should not give out candy to trick-or-treaters.
Learn more ways to protect yourself and others during holiday celebrations at https://www.cdc.gov/coronavirus/2019-ncov/daily-life-coping/holidays.html
References
(1) https://www.cert-la.com/downloads/moulage/moulage-recipes.pdf
(2) https://www.vdh.virginia.gov/content/uploads/sites/23/2016/05/PRE-025-RecipesForDisaster.pdf
Resources
Thanks in advance for your questions and comments on this Public Health Matters post. Please note that the CDC does not give personal medical advice. If you are concerned you have a disease or condition, talk to your doctor.
Have a question for CDC? CDC-INFO (http://www.cdc.gov/cdc-info/index.html) offers live agents by phone and email to help you find the latest, reliable, and science-based health information on more than 750 health topics.
Posted on

by
---
Page last reviewed:
October 30, 2020
Page last updated:
October 30, 2020