Give & Take Bins Serve as Small-Scale Food Pantries
Posted on

by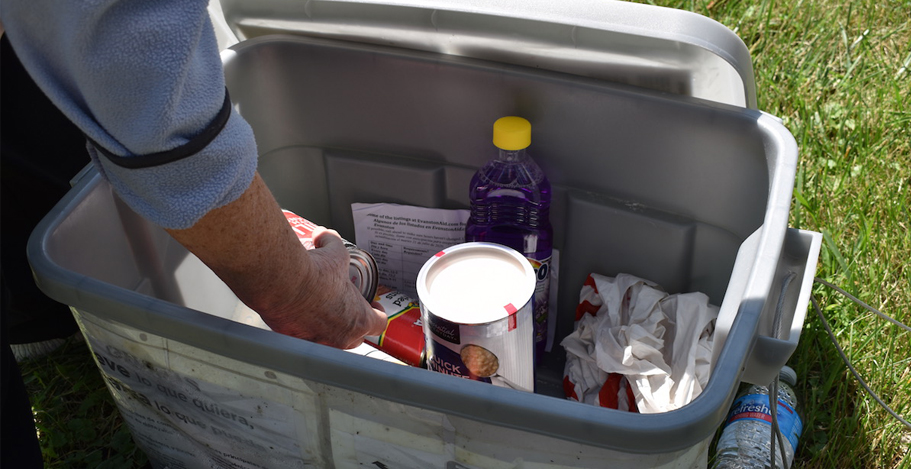 In observance of National Preparedness Month, the Center for Preparedness and Response (CPR) will publish posts in September that highlight ways people and organizations are helping to "create community" where they live.
This student-authored post is published by CPR in partnership with Medill News Service and the Northwestern University Medill School of Journalism, Media, Integrated Marketing Communications. The views and opinions expressed in this article are the author's own and do not necessarily reflect the views, policies, or positions of CPR or CDC.
Customers stared at Beatriz Echeverría in the grocery store. She filled her cart with vegetable oil, rice, beans, and other foods, conscious of looking like a hoarder stocking up to weather the pandemic. By the time she and her son, Nacho Pavón, piled all their goods into their car, the haul filled the trunk.
But they weren't hoarding. Echeverría and her son were redistributing the items around the city of Evanston, just north of Chicago, through a system of mini-food pantries housed in boxes called Give and Take Bins.
"This is a good, practical thing that you can do in your spare time," said Echeverría, an Evanston resident. "You know it's effective because you're actually filling the bins and you're actually going to the store to get the food."
When the COVID-19 pandemic shut down much of the country in March, Evanston neighbors and activists created the network of bins to support growing needs in the community. These weather-proof containers placed on porches, in yards, and at schools are filled by volunteers who donate food, cleaning supplies, menstrual products, and other necessities. Anyone may take items from the box, free of charge.
Evanston, like Chicago, is located in Cook County, where more than one in 10 people were food insecure before the pandemic, according to 2018 data from Feeding America. Food insecurity spiked nationwide, however, as a result of COVID-19. Relative to predicted rates for March, food insecurity doubled in April and tripled in households with children, reported an analysis from the Institute for Policy Research at Northwestern University.
"I feel like the need is there," said Stephanie Mendoza, a facilitator of the Give and Take Bins program. "There's a huge need."
The existing need grew as COVID-19 shut down some local food pantries run by seniors, a population that is at increased risk for severe illness from the virus. Some people couldn't go to grocery stores, and those who could often encountered empty shelves, said Michele Hays, another program facilitator.
The Give and Take Bins were a "more nimble way" to get food and other necessities to neighbors in need, Hays said. Volunteers spread the word about these bins through a Facebook page that Mendoza advertised in local parenting, COVID-19 support, and Latinx Facebook groups. There's also a Google map showing all the bins' locations, and a QR code to the map is placed on some of the bins.
To find out what items people most needed, Hays conducted an informal poll in her mutual aid group and came up with a list of suggested donations. Volunteers may print that list and attach it to the bins. Now, with about 25 boxes placed around the city, a box is within "at least a few blocks' walking distances for just about most people," Mendoza said. Based on census data, Hays suggested locations for new bins, such as near the parking lot of the local high school.
Anyone may fill the bins; anyone may take from the bins. Volunteers emphasize stocking bins with culturally specific foods in certain areas.
"We would buy, I don't know, like Sazonador, which is a typical Latin American seasoning. We would buy pinto beans. We would buy things that were very specific of certain groups," Echeverría said. "People, if given a chance, they'll take the foods they're used to."
While there's a large need for food, Mendoza said the items that disappear quickest from the bin on her front porch are menstrual products, soap, and toilet paper. These can't be bought with a SNAP card or Illinois Link card, and they're often not found at food pantries, either.
"Folks who get food stamps can't use that money to buy cleaning supplies. They can only use it for food," said Alyce Barry, a volunteer who manages a box near her home.
Barry recalls starting a bin as soon as she heard about them. Though Hays said she's received reports that bins are being used less, Barry said her bin is seeing more traffic now than it did earlier this year. She wishes, however, that there was a way to know for sure what the individuals using her bin need, rather than being so distant.
"Before the pandemic, I was of the opinion that ways like this of helping the community weren't a very good idea because they are so detached," Barry said. "Racism and a lot of other social ills are the results of people who have being distant from the people who don't, and this is just another way of being distant. But unfortunately, with the pandemic, that all changed."
Volunteers also keep their distance to respect the privacy of their neighbors who use the boxes. Barry hasn't spoken to anyone who uses her bin, because she doesn't want to embarrass them. Mendoza once saw a family taking items from her bin as she was arriving home, but she said she kept driving down the street as if the house wasn't hers.
Hays and Mendoza said this program has grown "organically," fueled by the passion, generosity, and ingenuity of volunteers and community members who often solve problems without supervision to keep everything running smoothly. They insist the program doesn't require a lot of central coordination and that it's easy to participate in something like this.
"Anybody can do it. You don't even have to be in Evanston," Hays said. "You can do it wherever you are just with stuff that you have in-house — whatever the bin is that you have in your basement that you store stuff in."
Once boxes are set up, volunteers don't even need extra income to be what Hays and Mendoza call a "box fairy," or someone who fills a bin with donations, unbeknownst to the facilitators.
"To be a box fairy, you don't even necessarily have to buy things, you can just go around and take stuff out of the [bins] that are full and put them into the ones that are empty," Hays said.
The Give and Take Bins program isn't without its flaws — occasionally, bins go missing and have to be replaced. Most bins hold only non-perishables, though there are a couple of coolers. Fresh food placed in the bins often spoils, and volunteers remove those items.
Still, the bins are having an impact: They continue to be emptied — and filled. Volunteers see the impact in small ways. Hays met a man at the local homelessness organization drop-in center and he said he had used the box at her house. Once, her neighbor came over to take a few things as she was filling the bin. Someone wrote a thank-you note on a torn-off corner of a shopping bag and left it in a box.
In early July, Mendoza's children left some chalk on her front steps. When she went outside, she noticed someone had written a chalk message on the lid of her bin: "Gracias." Finding that, she said, was "just heartwarming."
Posted on

by
---
Page last reviewed:
September 10, 2020
Page last updated:
September 10, 2020