Hero Hobbyist: Student Prints Face Shields for Special Education Organization
Posted on

by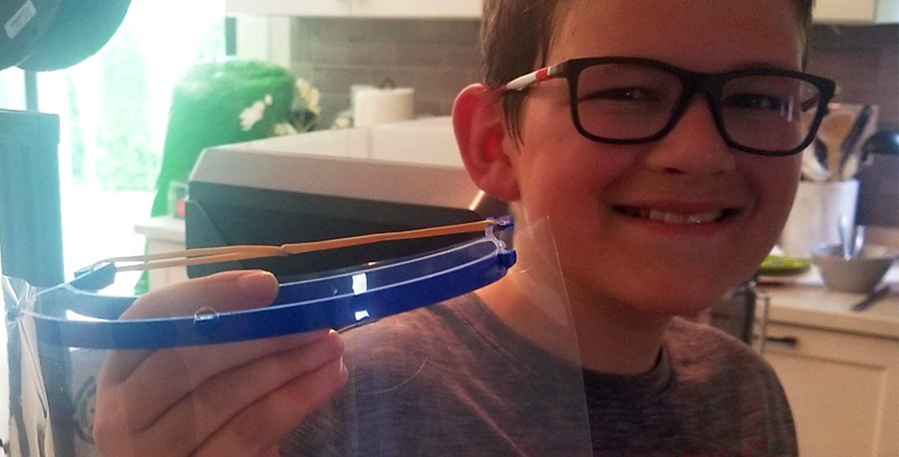 In observance of National Preparedness Month, the Center for Preparedness and Response (CPR) will publish posts in September that highlight ways people and organizations are helping to "create community" where they live.
This student-authored post is published by CPR in partnership with Medill News Service and the Northwestern University Medill School of Journalism, Media, Integrated Marketing Communications. The views and opinions expressed in this article are the author's own and do not necessarily reflect the views, policies, or positions of CPR or CDC.
Twelve-year-old Vince Radlicz quickly morphed his 3D printer into a face shield-maker in March, spurred by the needs of a neighbor and nurse at Mount Sinai Hospital in Chicago when the COVID-19 pandemic hit.
As cases continued to rise, he didn't rest until hundreds of his creations had been delivered to hospitals, nursing homes, and other health care facilities across the city and its suburbs free of charge.
"Some of them went as far as California. It kind of snowballed after we first started doing it," said Vince. He added that it felt amazing to help people just by doing something he loves.
An incoming seventh-grader at South Middle School in Arlington Heights, Vince received the printer as a Christmas gift two years ago and quickly honed his 3D skills through an assortment of projects ranging from making miniature cars to game pieces.
"One time Vince made some game pieces for a game that allowed only four players," recalled his mother, Donna Radlicz. "We have six people in our family, and he made two more sets of game pieces so the whole family could play."
Now he makes only plastic face shields that cover the whole face, protecting health care workers and anyone else who uses them (in combination with a mask) from not only spreading germs but also from exposure to germs from others.
This summer, the Northwest Suburban Special Education Organization (NSSEO) joined that list of clients and asked him to make an additional 100 face shields for staff and students at their various partner schools to wear once classes begin in the fall.
Most people with disabilities are not inherently at increased risk of becoming infected with or having severe illness from COVID-19. According to CDC, however, the risk might be increased for people who have limited mobility or who cannot avoid coming into close contact with others who may be infected, as well as for people who have trouble understanding information or practicing preventative measures like handwashing and social distancing.
"Some students are in wheelchairs, some are in diapers, and some need assistance with feeding," said NSSEO assistant superintendent Julie Jilek. "We're looking at using face shields in combination with face masks to provide that little extra protection when we do have to break that barrier to work with students."
NSSEO superintendent Judy Hackett said her organization has provided programming in Illinois for more than 50 years to students with severe disabilities that occur in less than 1% of students in the U.S. Unfortunately because these students' needs are so significant, it's sometimes difficult for educators to maintain the 6-foot social distancing that is recommended during the pandemic, she said.
Many of those students might also have compromised immune systems. Hackett said the organization always strives to provide a safe learning environment, but the pandemic has "put an accent mark on the fragility of life" and emphasized how important it is to customize safety measures to each student's needs.
Using his own 3D printer and one borrowed from the Arlington Heights Memorial Library where his mother works, Vince first 3D-printed a frame for each of the face shields. The rest of the construction had to be done by hand. In a makeshift assembly line strewn across his family's kitchen counter, he hole-punched clear plastic sheets from an office supply store, snapped them into place on each frame, and fastened everything together with two rubber bands around the back.
Nearly a month had passed by the time Vince finished the 100th face shield for NSSEO, but he was modest about the undertaking.
"A lot of it is automatic, so we don't really have to do half of the work," he said.
When he first began making face shields, it took three hours to 3D-print each frame. After a few tweaks, he's now able to churn one out in a third of that time.
Joy Borkowski, a nurse from the Miner School in Arlington Heights—one of NSSEO's programs—reached out to Vince's family to request face shields after she saw a post in their town's Facebook group. Though she had never met Vince, some of the students within Vince's school district go to her school.
"I think it was a little closer to home for him to know that some of the face shields were for kids with disabilities in his own neighborhood," she said.
Borkowski said that Vince refused payment for his work, despite several attempts to convince him otherwise. He donated any money that did find its way to him, including what NSSEO gave him to cover the cost of materials, to Mount Sinai Hospital to provide lunches for the staff.
Borkowski, who has sewed nearly 3,300 masks herself during the pandemic, is not one to take no for an answer, however. As a personal thank-you, she gave Vince a homemade face mask with the logo of his favorite baseball team—the Chicago Cubs.
Along with the completed face shields Vince sent to NSSEO in August, Vince included a handwritten note with directions and a small diagram showing how to wear them.
"We find him to be a great inspiration," said Hackett. "We spend much of our time and emphasis on helping students find their voice, passion, and life's work . . . and Vince shows that in his work ethic at such a young age."
Jilek added that her organization struggled to find reasonably priced personal protective equipment that would arrive before the start of school. She said it was particularly challenging because school districts across the country were trying to buy the same items at the same time.
That is until they met Vince.
"The pandemic has been devastating to so many families who have lost loved ones, and to our economy," said Hackett. "But there are silver linings in people like Vince who have stepped up and said, 'How can I help others in my community during this?'"
Posted on

by
---
Page last reviewed:
September 25, 2020
Page last updated:
September 25, 2020