It's National Radio Day, Over.
Posted on

by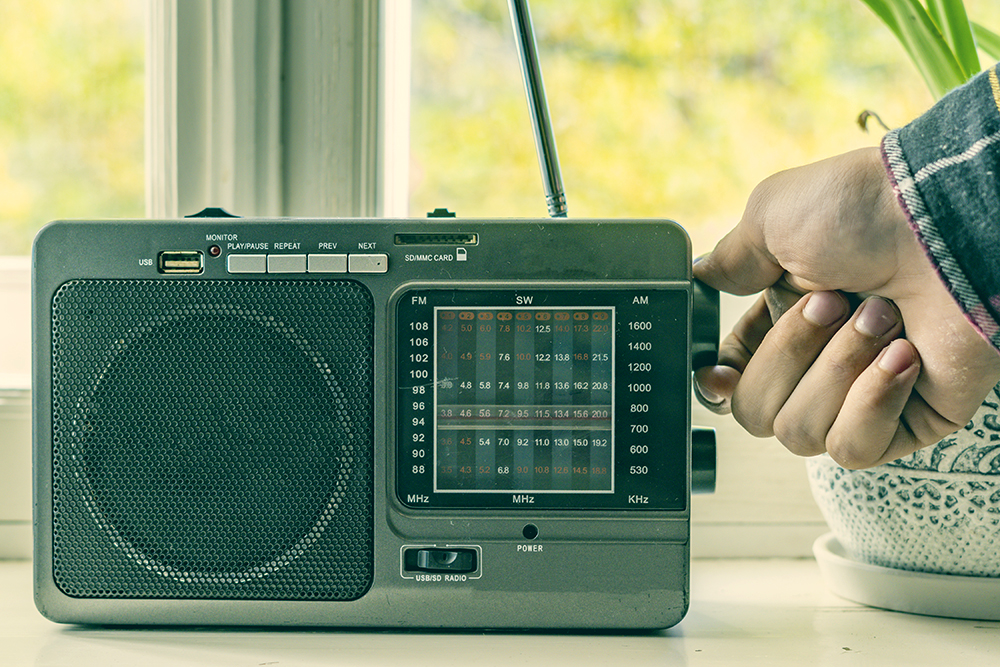 August 20 is National Radio Day (#NationalRadioDay), an annual observance dedicated to the invention and history of radio.
The more things change, the more they stay the same. The same could be said for radio. Radio was in its heyday and remains—more than a century later—an effective medium of mass communication.
For a long time, radio was a critical (and in some cases the only) medium for communicating to vulnerable and at-risk populations of people who lived in hard-to-reach places. It still is in many parts of the world.
In present-day Africa, radio is popular, in part, because it is readily available and easily accessible throughout the continent. For some people living in remote and rural communities, radio might be their only connection to the wider world.(1)
In addition to serving the everyday news and entertainment needs of listeners, radio is also a powerful tool for broadcasting crisis and risk communication during a natural disaster, disease outbreak, or other emergency.
Radio remains a useful communication tool, but it is also important to acknowledge that times have changed and—with it—technology and people's preferences for how they receive news and information. Today, there are many ways to stay informed during an emergency.
Local TV & Radio
Emergency preparedness, response, and recovery begins and ends at the local level; so, it is only natural that you look to local television and radio for information in an emergency.
Local broadcasters help federal, state, and local officials keep communities informed in disasters and emergencies. Use of local television and radio to give people advanced notice of an event (e.g., severe weather) and communicate instructions (e.g., evacuation orders, road closures, and shelter information) can save lives.(2)
The Emergency Alert System (EAS) is one way local broadcasters can help keep their communities informed in an emergency. EAS is a national public warning system commonly used to deliver important emergency information to affected communities over television and radio stations. EAS messages consist of an attention signal, audio announcement, and digitally encoded end-of-message marker delivered through local TV and radio.(3) Most EAS alerts are sent by the National Weather Service in response to severe weather events, but state, local, territorial, and tribal authorities also send alerts.
FEMA, in partnership with the Federal Communication Commission (FCC) and NOAA, is responsible for implementation, maintenance and operations of the EAS at the federal level.
Cellphones
Cellphones are in the hands, pockets, and bags of most individuals in the country. (4) They provide quick and invaluable access to news and entertainment and can be a lifeline during and after an emergency.
FEMA's Integrated Public Alert & Warning System (IPAWS) allows public safety officials to leverage this lifeline. A component of IPAWS is the Wireless Emergency Alert (WEA) System. The WEA System relies on the pervasiveness of cellphones to keep people informed with emergency alerts that appear like text messages on compatible mobile phones. Authorized public safety officials use WEA System to send geographically targeted message to people who are in warning or affected areas. Alerts emit a loud, high-frequency sound or vibration meant to alert the smartphone owner to an emergency message.
Since 2012, the WEA has sent more than 49,000 emergency messages that have alerted users to weather emergencies, evacuation orders, and AMBER alerts. These messages are a critical resource and avenue for saving lives. (5) As of July 2020, the AMBER Alert Program has credited WEA messages with the successful recovery of 75 children.
WEAs are a free service that don't require a subscription. To make sure it is turned on, you can search for "WEA" or "Emergency Alerts" in your settings or reach out to your cellphone carrier to make sure it is provided. You can opt out of alerts about imminent threats to safety or life and AMBER Alerts about missing children but cannot block emergency alerts issued by the President of the United States.
Social Media & the Internet
Seeking out sources of good information is part of smart preparation.
When there is a public health emergency, the information disseminated by reliable organizations and government sources can save lives. It is important to keep in mind that although there are many sources for good information, there are others that could be spreading false information whether intentional or unintentional.
A big part of staying informed in an emergency is knowing where to turn for timely, consistent, and reliable information. Here are some tips on how to do that.
Bookmark the websites and webpages of trusted sources of information.
Follow trusted sources on social media, including handles run by CDC, state and local public health departments, and your local National Weather Service Forecast Office on social media.
Beware of and help dispel rumors and misinformation, especially on social media. The administrators of some social media handles will take advantage of a disaster or emergencies to spread inaccurate information on social media. Look instead for posts from verified accounts, like those associated with your state and local health departments and emergency management agencies.
For many years, the radio was the best way to communicate and receive information, but times have changed and so has technology. Today we have faster forms of communication and the ability to respond quicker in emergency situations.
Related Reading
References
Thanks in advance for your questions and comments on this Public Health Matters post. Please note that the CDC does not give personal medical advice. If you are concerned you have a disease or condition, talk to your doctor.
Have a question for CDC? CDC-INFO (http://www.cdc.gov/cdc-info/index.html) offers live agents by phone and email to help you find the latest, reliable, and science-based health information on more than 750 health topics.
Posted on

by
---
Page last reviewed:
August 18, 2020
Page last updated:
August 18, 2020