Prep Your Health: Power Sources
Posted on

by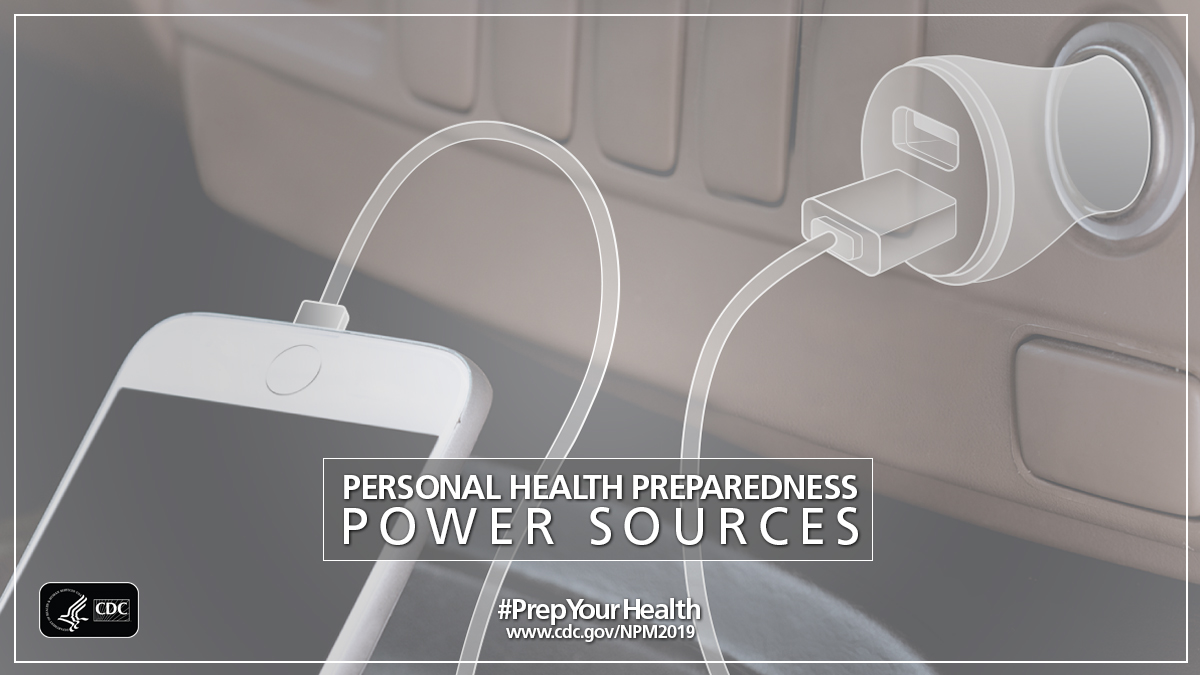 September is National Preparedness Month. Throughout the month, the Center for Preparedness and Response will publish posts that highlight the work of public health departments as it relates to personal health preparedness themes. This week's theme is Power Sources.
If you, a family member, or someone in your care relies on a home use medical device or durable medical equipment then a major disaster like Hurricane Dorian should have you asking yourself, what's the plan for keeping those devices running in a post-disaster power outage?
According to the U.S. Energy Information Administration, the average U.S. electricity customer was without power for 250 minutes in 2016. A power outage resulting from a major disaster, such as a hurricane, however, has the potential to drag on for days, weeks, or longer.
The longer a power outage lasts, the greater the health risks for vulnerable populations become, including more than 2.5 million people who rely on electric-powered medical equipment.
emPOWER
Health and Human Services (HHS) created the HHS emPOWER Map to help state and local public health departments respond to Medicare beneficiaries who rely on electricity-dependent medical equipment, such as ventilators, in an emergency. The HHS emPOWER Map is updated monthly and displays the total number of at-risk electricity-dependent Medicare beneficiaries in a geographic area, down to the zip code.
Since the launch of emPOWER, state and local public health departments have made consistent use of the tool. In 2018, the Fire Department of New York (FDNY) exercised the City's ability to use emPOWER data to identify ventilator patients; specifically, those individuals in the highest risk hurricane flood zone in New York City.
The Department of Health and Mental Hygiene (DOHMH) geocoded and did a reverse phone lookup on 89 individuals and securely sent the data to FDNY. FDNY then proceeded to call and visit patients in person to conduct a preparedness survey of this population.
Performing this drill enabled NYC to continue to refine emPOWER protocols for downloading, cleaning, and geocoding data in order to perform revers phone lookups, mass notifications, and secure sharing of the data with responders.
Having access to this tool gives every public health official, emergency manager, hospital, first responder, electric company, and community member the power to discover the electricity-dependent Medicare population in their state, territory, county, and ZIP Code. When combined with real-time severe weather and hazard maps, communities can anticipate and plan for people's health needs in an emergency.
Prepare Your Health
If there's a benefit in having gone through a power outage it is that the experience can help motivate an individual, family, or community to re-examine their personal health preparedness and reconsider their everyday power needs.
There's more to a power outage than not having lights or air conditioning, although both are important. Blackouts can also disrupt medical services, close pharmacies and create life-threatening situations.
Prepare yourself and your family for the possibility of being without electricity for days rather than hours. Here are a three easy ways to get started:
Invest in safe, alternative lighting and backup power sources for your cellphone and home-use medical devices.
Fully charge your cellphone, medical devices, and back-up power sources if you know a disaster, like a hurricane, is coming.
Find out if your local, 911 dispatch supports the Smart911 registration service. If not, notify your local police and fire department and utility companies if you rely on an electricity-powered, home use medical device. Some electricity providers keep a "priority reconnection service" list of power-dependent customers.
For more information, recommendations, and tips on How to Prepare Your Health for a power outage, visit https://www.cdc.gov/cpr/prepareyourhealth/PowerSources.htm.
Thanks in advance for your questions and comments on the Public Health Matters blog. Please note that CDC does not give personal medical advice. If you are concerned you have a disease or condition, talk to your doctor.
Have a question for CDC? CDC-INFO (https://www.cdc.gov/cdc-info/index.html) offers live agents by phone and email to help you find the latest, reliable, and science-based health information on more than 750 health topics.
Posted on

by
---
Page last reviewed:
May 20, 2020
Page last updated:
May 20, 2020