The Right Stuff: Know Your Personal Needs Before an Emergency
Posted on

by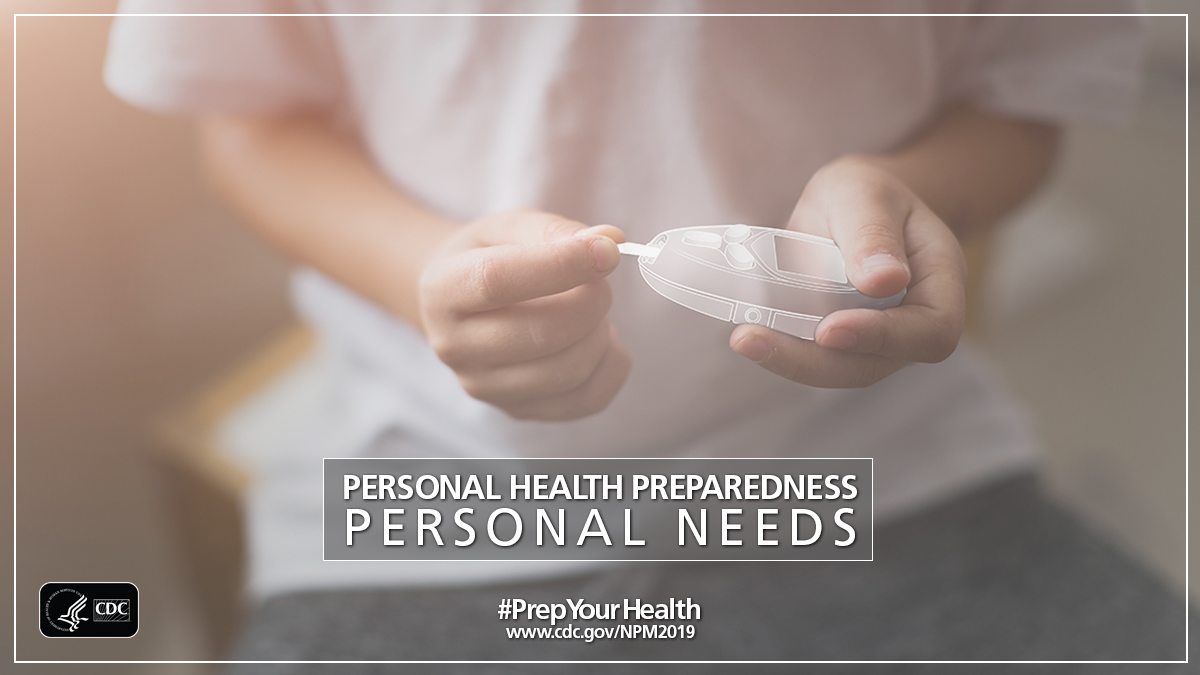 September is National Preparedness Month. Throughout the month, the Center for Preparedness and Response will publish posts that highlight the work of public health departments as it relates to personal health preparedness themes. This week's theme is Personal Needs.
Personal needs are the things—the stuff—you will need to protect you and your family's health in an emergency. At the top of that list is enough nonperishable food and safe water to last at least three days.
Once you've got the basics down (in other words, packed in a portable and durable container(s), such as a plastic bin, duffle bag, backpack, a trash can with a lid, and/or carry-on luggage), it's time to think about your personal needs, which included but are not limited to:
Home use medical devices and assistive technologies, such as contact lenses and disinfecting solution, asthma inhalers, and blood sugar monitors
Medical supplies, such as catheters, syringes, and blood test strips
First aid supplies
Childcare and baby supplies
Pet supplies
Most are things you don't want to leave home without, which is why you want to prepare before an emergency when you have the benefit of time –time to think through your personal needs and how best to prepare for when store shelves are empty, the power is out, pharmacies are closed, and/or you've evacuated on the recommendation of local authorities.
Here are three (3) examples of how state, local, and territorial public health departments are helping people prepare their health with personal needs.
Hurricane Preparedness: It Pays
North Carolinians won't soon forget Hurricane Florence. The storm made landfall near Wrightsville Beach on Sept. 14, 2018 and then slowed to a crawl, causing a record-breaking storm surge and torrential rain.
"Many of our [60,000] residents had never experienced a dramatic storm," remembers Tammy Proctor, Public Information Officer for Pender County, NC. "None of us had experienced a storm the magnitude of Florence."
In response to Florence and the opportunity to help Pender County residents prepare their health for this hurricane season, Pender County debuted the It Pays campaign on Facebook this spring as a piecemeal approach to building an emergency supplies kit.
"Every pay period (based on a two-week pay period), we post suggestions for emergency supplies to the Pender County Emergency Management Facebook page," said Proctor. "Because we already use Facebook to communicate important information during weather events or road closures, we felt it was the natural place to have a conversation with residents about preparation."
The It Pays campaign has received positive feedback since its launch. "Residents have messaged us that they appreciate the practical way of preparing and they share the posts with their friends," said Proctor.
Take 10
Located thousands of miles from the U.S. mainland, Hawai'i is particularly vulnerable to natural disasters. Older residents remember Hurricane 'Iniki, which devastated the island of Kauai in 1992. And, of course, everyone remembers the Kīlauea volcano eruption and Hurricane Lane in May and August of last year.
To help Hawai'i residents prepare for the next big event, the Hawai'i State Department of Health (DOH) created the Take 10 brochure. As the name suggests, the guide identifies 10 essential items every household needs:
Water: One gallon per person, per day for drinking and sanitation.
Food: Remember the manual can opener.
Radio and flashlight: Don't forget extra batteries!
Electronics: Cellphones with chargers.
Health and medical supplies: An emergency supply of any prescription medicines you're taking.
Clothes: One change of clothes and footwear per person.
Hygiene and personal care items: Basics like soap, toilet paper, toothpaste, and toothbrush.
First aid and safety supplies: Basics such as antiseptic, gloves, bandages, and non-prescription medicines (e.g., aspirin).
Cash and documents: Important documents plus enough money (in small bills) to purchase extra food, water, or other items. Store these items in a waterproof pouch.
Supplies for unique needs: Supplies for family members with unique needs, including infants, pets, and older adults.
The reverse side of the Take 10 guide includes a list of important websites.
The Take 10 guide takes design inspiration from the Plan 9 brochure created by the Maryland Advanced Practice Center. The health department liked that the trifold was something a person could slip in their pocket, take home, and put up on the refrigerator as a reminder to be prepared.
"We want our audience to understand that they will be better off the more they plan and prepare ahead of time," says Jonathan Hilts, a public health educator and information specialist in the DOH's Office of Public Health Preparedness. "It is important that Hawai'i residents know that, while government agencies will do all they can before, during, and after a disaster, they may need to be on their own for a while. Three days, even seven days [worth of supplies], is not enough."
While the health department says people should keep 14 or more days—versus the standard recommendation of at least 3 days—of supplies on hand, they also know that many homes in Hawai'i are small, which doesn't leave people with a lot of room to store food, water, medicine, and other essentials. The content in the Take 10 brochure tries to take that type of ground truth into account.
In the end, the brochure is about one thing—getting Hawai'i residents ready for emergencies.
"Hawai'i is already a pretty healthy state, but there's always room for improvement," says Hilts. "We want to get information out about how staying well is part of being resilient and prepared in case of disaster."
U.S. Virgin Islands Department of Health
The U.S. Virgin Islands bore the brunt of more than one strong storm in recent years. In September 2017, two hurricanes—Irma and Maria—struck the U.S. Virgin Islands within a two-week period. The storms took a toll on the territory's infrastructure. Many residents were without electricity or safe household water for months.
The power is back on, but some of the impacts of hurricanes Irma and Maria are still visible. But it's not all bad. The storms also inspired a renewed interest in preparedness among residents.
"We want Virgin Islanders to adapt a culture of preparedness," says Jahnesta Ritter, the Director of Public Relations for the U.S. Virgin Islands Department of Health (DOH). "The more prepared our community, the stronger and more resilient the Virgin Islands. By remembering the basics like food and water safety, by considering all members of the family, and by living a healthy lifestyle, we can persevere through anything."
Forever on the lookout for ways to reach the Virgin Islands' diverse population with important health information, the DOH produced a series of one-minute videos on hurricane preparedness topics ranging from emergency planning to prescription preparedness and safe generator use.
The videos are shown in theaters during the previews and posted to the DOH Facebook page, where they've racked up thousands of views. At least partial credit for the success of the videos can be attributed to the health department's portrayal of real people in everyday scenarios using plain language to explain preparedness concepts.
"Producing content tailored to our region and culture is a great way to connect with those who really need these messages the most," explains Ritter. "We are also using other methods to reach our audience like community outreach, radio ads, and more."
For more information, recommendations, and tips on how to Prepare Your Health for a natural disaster or emergency, please visit www.cdc.gov/prepyourhealth.
Thanks in advance for your questions and comments on this Public Health Matters post. Please note that the CDC does not give personal medical advice. If you are concerned you have a disease or condition, talk to your doctor.
Have a question for CDC? CDC-INFO (http://www.cdc.gov/cdc-info/index.html) offers live agents by phone and email to help you find the latest, reliable, and science-based health information on more than 750 health topics.
Posted on

by
---
Page last reviewed:
May 20, 2020
Page last updated:
May 20, 2020