Pet Project: 5 Ways to Prep Your Pet for Emergencies
Posted on

by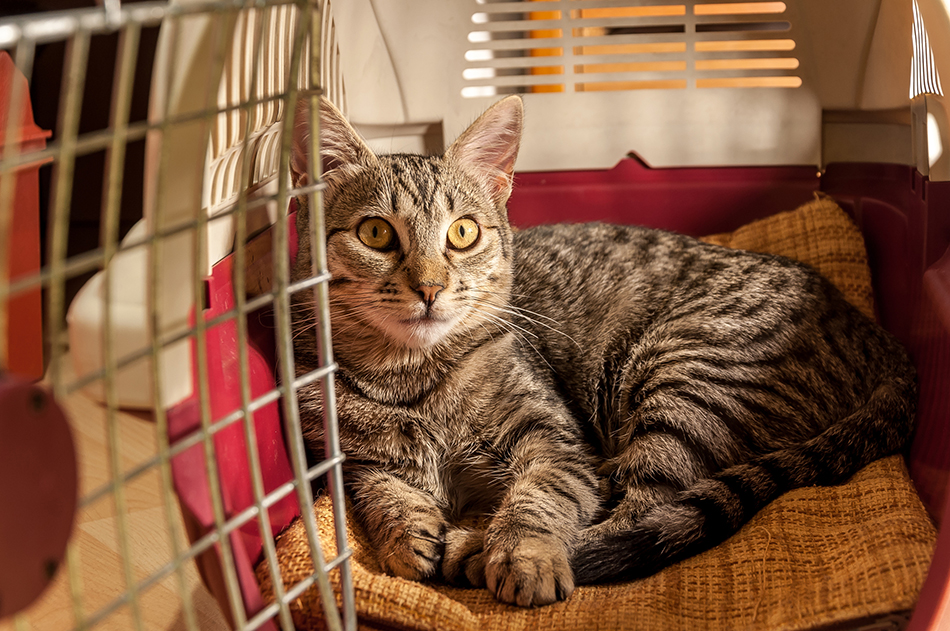 Your pet is family. Their safety and well-being is a priority for you every day, but have you thought about what you would do with your pet in an emergency?
Many people don't think about being prepared until an emergency is at their doorstep. When disaster strikes, they may choose to ignore evacuation orders because they don't know what to do with their pets. Try to imagine having to make the decision to leave your pet behind during a flood, fire, hurricane, or other emergency—this was a reality for many pet owners during recent emergencies including hurricanes Florence and Michael, the California wildfires, and the eruption of Hawaii's Kīlauea volcano in 2018.
Although you can never completely control what will happen during an emergency, you can take steps to be as prepared as possible for advance-notice disasters, like hurricanes, and no-notice emergencies, like house fires. By taking some easy actions now, you can avoid having to make difficult and dangerous decisions during an emergency.
Get your pet microchipped. It is relatively inexpensive to have a veterinarian implant a microchip that contains the owner's contact information. Owners can be located if a shelter or veterinary clinic scans the chip. Finding a lost pet that hasn't be microchipped can be extremely difficult and many times impossible. If your pet is already microchipped, make sure the registration info is up-to-date so you can be contacted if your pet is found.
Prepare a disaster kit for your pet ahead of time, along with your family's personal needs. Include everything your pet will need, from food and prescriptions to leashes and bedding. Although this may mean purchasing twice as much stuff, it will be faster and easier to gather your pet's items if you have them all together and ready for an emergency.
Collect and protect your pet's veterinary records, rabies vaccination certificates, microchip information, and any prescriptions. Make sure items are stored with your important paperwork in waterproof containers. And don't forget the most basic, but important, information—your contact information and a photo of your pet; preferably one of you with your pet as further proof of ownership.
Visit CDC's Healthy Pets, Healthy People website for a detailed checklist of items to include in your pet's emergency kit.
Plan where your pet will stay in case you need to evacuate. Pets are often not allowed in evacuation centers unless they are service animals. You can ask out-of-town friends or relatives about keeping your pet in an emergency ahead of time, or you can check a website that lists pet-friendly hotels (e.g., bringfido.com or tripswithpets.com) so you have some locations ready to book. Another option is to locate veterinary clinics and boarding facilities in areas where you plan to evacuate just in case you need to temporarily house your pet. You can also contact your local emergency management office to ask if they offer accommodations for owners and pets during a disaster.
Use a buddy system with friends, family, and neighbors in case you're not home during an emergency. Have a trusted person you can call to check on pets and evacuate them if necessary. Having a kit ready to go will make it easier for them if you aren't there.
Practice evacuating or sheltering in place with your pet. This will help familiarize your pet with the process so when the time comes, it won't be scary for them. Training pets to be in their carriers can make them more comfortable and reduce the stress of getting everyone out safely. Know exactly how and where you will place your pet's carrier and supplies in a vehicle.
For sheltering in place, pick a room with few or no windows, no toxic chemicals or plants, and make sure to close off small areas where frightened pets could get stuck. Include your pet in your family's plan—everyone should know who will grab the pet(s), supplies, and where you will meet during an emergency.
Learn more about preparing your pet for emergencies on CDC's Healthy Pets, Healthy People website.
Thanks in advance for your questions and comments on this Public Health Matters post. Please note that the CDC does not give personal medical advice. If you are concerned you have a disease or condition, talk to your doctor. 
Have a question for CDC? CDC-INFO (http://www.cdc.gov/cdc-info/index.html) offers live agents by phone and email to help you find the latest, reliable, and science-based health information on more than 750 health topics.
Posted on

by
---
Page last reviewed:
June 29, 2020
Page last updated:
June 29, 2020