The Power of Preparedness: Prepare Your Health
Posted on

by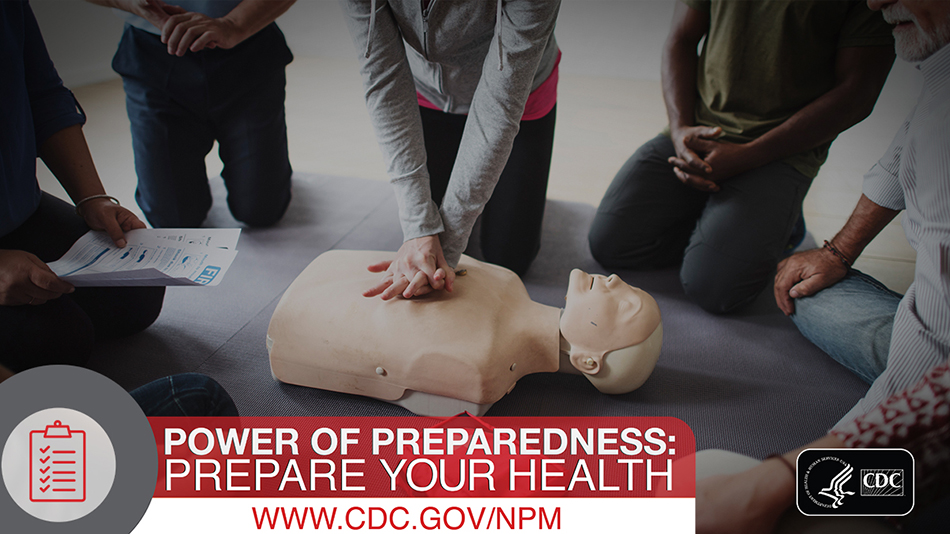 The devastating hurricanes of 2017 reminded us how important it is to prepare for disasters. These potentially life-threatening situations have real impacts on personal and public health. During Hurricane Irma, existing medical conditions and power outages increased the likelihood of death. Being prepared with supplies and an Emergency Action Plan can help you protect the health of your family until help arrives.
September is National Preparedness Month (#NatlPrep), and the perfect time of year to remind people of The Power of Preparedness. This year's call-to-action of Prepare Your Health (#PrepYourHealth) and four weekly themes highlight the roles that individuals, state and local public health, and CDC play in creating community health resilience. It takes everyone "pulling in the same direction" to create families, communities, and a nation that can withstand, adapt to, and recover from personal and public health emergencies.
The first week focuses on personal preparedness, and the importance of nonperishable food, safe water, basic supplies, and the personal items you need to protect your health until help arrives.
Personal needs
A large-scale disaster or unexpected emergency can limit your access to food, safe water, and medical supplies for days or weeks. However, nearly half of adults in the U.S. do not have an emergency kit for their home; they don't have the provisions, supplies, and equipment necessary to protect the health of their families in a disaster. This list will get you started:
Special foods—such as nutrition drinks—for people with dietary restrictions, food sensitivities and allergies, and medical conditions such as diabetes.
Prescription eyeglasses, contacts and lens solution
Medical alert identification bracelet or necklace
Change of clothes
Emergency tools (e.g., manual can opener; multi-use tool; plastic sheeting; etc.)
Durable medical equipment (e.g., walkers; nebulizers; glucose meters; etc.)
Medical supplies, including first aid kit
Pet supplies
Baby and childcare supplies
Prescriptions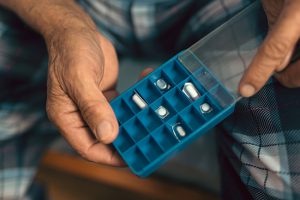 Many people need daily medications and medical equipment. Nearly half of Americans take at least one prescription drug, and a quarter of Americans take three or more medications. A large-scale natural disaster, like a hurricane, could make it difficult to get prescription and over-the-counter medicines.  You and your family may need to rely on a prepared emergency supply. There are some basics to include:
A 7 to 10 day supply of prescription medications stored in a waterproof container.
An up-to-date list of all prescription medications, including dosage and the names of their generic equivalents, medical supply needs, and known allergies.
Over-the-counter medications, including pain and fever relievers, diuretics, antihistamines, and antidiarrheal medications stored in labeled, childproof containers.
A cooler and chemical ice packs for storing and keeping medicines cold in a power outage.
Paperwork
Over half of Americans do not have copies of important personal paperwork. Collect and protect documents such as insurance forms, and medical, vital, and immunization records. Here are some of the basics:
Health insurance and prescription cards
Shot records
Living wills and power of attorney forms
Vital records (e.g., birth and death certificates; adoption records)
User manuals, model and serial numbers, and contact information for the manufacturer of medical devices (e.g., blood glucose meters; nebulizers)
Hardcopies of your Emergency Action Plan
Power sources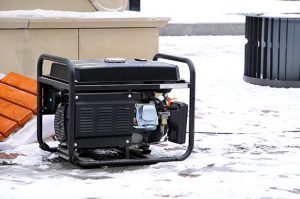 A power outage can close pharmacies, disrupt medical services, and can be life threatening for over 2.5 million people who rely on electricity-dependent medical equipment. Be ready for a lengthy blackout with an emergency power plan and back up. You will need alternative power sources for your cellphone, refrigerator , and medical equipment. Here's a checklist:
Extra batteries, including those for hearing aids, in standards sizes (e.g., AA and AAA)
Fully-charged rechargeable batteries for motorized scooters
Hand-crank radio with USB ports
Car chargers for electronic devices, including cell phones and breast pumps
A generator
Practical skills
Finally, it's important to know some basic do-it-yourself skills to stay healthy and safe until help arrives. Here are the basics to get you started:
Call 911 in a life-threatening emergency
Get trained in cardiopulmonary resuscitation (CPR). If you do not know CPR, you can give hands-only CPR—uninterrupted chest compressions of 100 to 120 a minute—until help arrives.
Learn how to use an automated external defibrillator (AED).
Learn Handwashing is one of the best ways to protect yourself, your family, and others from getting sick.
The good news is that it is never too late to prepare for a public health emergency. You can take actions, make healthy choices, and download free resources to help you prepare for, adapt to, and cope with adversity.
Posted on

by
---
Page last reviewed:
September 4, 2018
Page last updated:
September 4, 2018