HICPAC invites your comments on revised isolation precautions guideline this fall
Posted on

by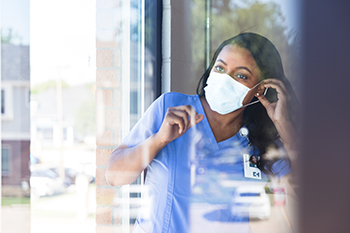 CDC's evidence-based guidelines for health care are designed to protect healthcare workers and patients, encourage safe practices, improve health outcomes, and save lives. They are not regulations, but many regulatory bodies consider this advice when they create the rules that lead to penalties and payments for healthcare facilities. We have learned a lot about how to improve CDC guidance, particularly during the COVID-19 pandemic. It is more important than ever that guidance be flexible for future threats, and simple and clear to ensure correct application and uptake.
To ensure its widely used 2007 Isolation Precautions guideline continues to meet the latest science and emerging needs in U.S. health care, CDC recently requested review of the guideline by the Healthcare Infection Control Advisory Committee (HICPAC).
HICPAC'S ROLE
HICPAC, a federal advisory committee, weighs science and public discussion to inform their recommendations to CDC. Consisting of experts from infection prevention and control fields who work outside of CDC, the HICPAC process allows for wide-ranging input while reducing concerns about conflicts of interest. Members and liaisons represent expertise across the continuum of care, including infectious diseases, nursing, pediatrics, kidney care, surgery and perioperative care, critical care, laboratory medicine, clinical operations, occupational and environmental health, healthcare quality improvement, healthcare accreditation, medical engineering, epidemiology, public health, health policy, and more. These experts bring related healthcare and patient safety expertise from their experience working in local hospitals, public health departments, professional associations, consumer groups, government, and global organizations.
When HICPAC recommends guidance for CDC consideration, those can be used at the local level for facilities to adapt to their own needs and practices. See the chart below for more information on the guideline update process.
How the U.S. updates its healthcare guidelines
How the U.S. updates its healthcare guidelines

| General process for HICPAC's review | Status of the 2007 Isolation Precaution update |
| --- | --- |
| Step 1. Workgroup. A workgroup is formed and meets for an extended period (e.g., months or years) to gather, examine, and interpret data. | Complete! The workgroup has met since February 2022 to collect and discuss initial data. |
| Step 2: Data. The workgroup presents data and expert opinion to the full HICPAC membership for review and discussion. The full committee (not the workgroup) is charged with making recommendations to CDC. | In progress. Meeting notes are being transcribed and will be available soon. There may be additional data presented at the August 2023 meeting. |
| Step 3: First draft. The first draft of new or revised guidelines are presented and discussed. If ready, the HICPAC members will vote on if the draft guidelines are ready for CDC review and public comment. Members weigh public discussion and the presented data. | In progress. Expected at the August and/or November 2023 meeting. These dates may shift depending on workgroup progress. |
| Step 4: Public comment. If voting members approve, the guidelines are reviewed by CDC and then posted to the Federal Register for public comment, including industry input. | Coming soon, dependent on previous steps. Expected approximately 2 months after the public meeting and vote. The guidelines usually stay open for comment on the Federal Register for approximately 2 months. |
| Step 5: Review & revision. CDC and HICPAC review and respond to the public comments. The guidelines are revised to reflect public input. CDC reviews again. | Coming soon, dependent on previous steps. Timeline varies depending on the number and type of comments. If changes are significant, the revised guidelines will be further updated, and the process will begin again at Step 2. This cycle will continue until the draft is stable. |
| Step 6: Vote & recommendation. The workgroup presents the revised and pre-final draft for HICPAC approval. The members vote on the guideline and recommend the final draft to CDC, if approved. | Coming soon, dependent on previous steps. If approved, CDC will update its infection control website and related materials. CDC will work with partners to educate and train HCWs on the changes to ensure their safety and patient safety. |
WHY NOW?
HICPAC is reviewing and updating the 16-year-old guideline to incorporate the latest science and lessons learned from the COVID-19 response, as well as reflect feedback from frontline healthcare workers (HCWs), the broad HICPAC membership, and other stakeholders. The updates will make the guidelines more accessible, concise, and useful for protecting patients and HCWs by stopping the spread of pathogens across healthcare delivery.
The updated guideline will:
be relevant to all healthcare settings,
reflect updated, scientifically transparent descriptions of how pathogens spread in healthcare settings,
describe categories of transmission-based precautions, and
be suitable for access via multiple platforms, including mobile devices.
In its June 8-9, 2023, public presentation to the HICPAC members, the workgroup shared findings from its review and their discussions so far. Key takeaways from the workgroup findings include:
Different healthcare settings face different challenges when implementing interventions to protect HCWs and patients. These differences need to be considered when designing infection prevention interventions.
The workgroup and HICPAC members also discussed the concept of how pathogens spread in the air.
The workgroup continued to support the importance of multiple layers of intervention (hierarchy of controls) to reduce transmission risk.
The COVID-19 pandemic highlighted that strict implementation of impractical guidelines may yield unintended risks to healthcare workers, patients, and healthcare quality. It also demonstrated that providing clear and unambiguous recommendations helps facilitate implementation and adherence. HICPAC will continue conducting systematic evidence reviews that consider effectiveness in real-world situations, not just success (efficacy) seen in controlled laboratory studies. The revisions being made will include those issues and help ensure every healthcare worker has practical and understandable interventions to protect themselves and their patients.
WHAT'S NEXT
HICPAC wants to hear from the public, partners, and healthcare workers. The first draft of the updated guideline is expected to be presented this fall, at either the August or November 2023 public meetings. Pending HICPAC member approval, the first draft will later post to the Federal Register for public comment, including industry input.
CDC will continue to provide updates on the progress of the workgroup and HICPAC discussion on the HICPAC website and on this blog. Register for the August meeting now to ensure your voice is heard: https://www.cdc.gov/hicpac/meeting.html.
More on this Topic
About the Healthcare Infection Control Practices Advisory Committee (HICPAC)
About the Authors
Michael Bell, MD Leadership Bio
Alexander J. Kallen, MD, MPH Leadership Bio
Posted on

by
---
Page last reviewed:
August 15, 2023
Page last updated:
August 15, 2023