Epilepsy and Emergency Preparedness
Posted on

by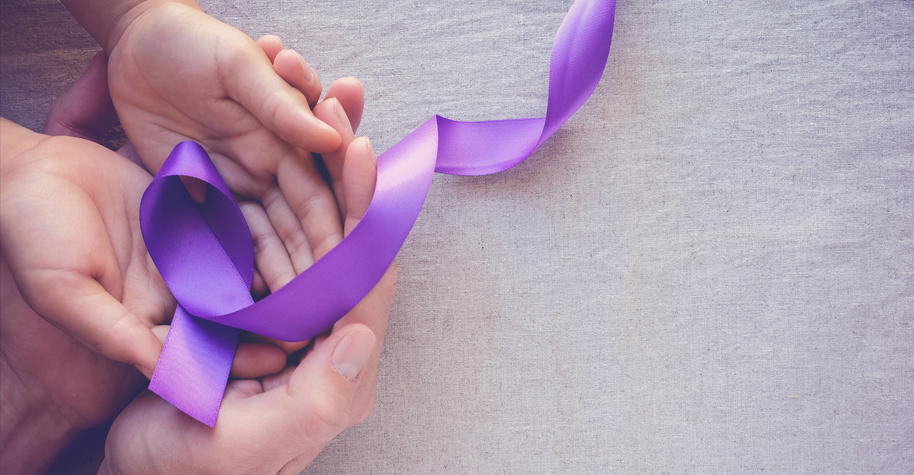 November is National Epilepsy Awareness Month
Epilepsy is common. In 2015, about 3.4 million people reported having active epilepsy in the United States.
Epilepsy is a broad term used for a brain disorder that causes repeated seizures. There are many different types of epilepsy.
A seizure is a short change in normal brain activity.(1) There are also many different kinds of seizures.
People are diagnosed with epilepsy when they have had two or more seizures.
Self-management is what you do to take care of yourself and your health. For people with epilepsy, that includes preparing for and responding to emergencies and disasters.
#PrepYourHealth for an Emergency
People with epilepsy have personal needs to consider when collecting emergency supplies and making an emergency plan.
Here are some other steps a person living with epilepsy can take to prepare for emergencies:
Talk to your doctor or pharmacist about how you can create an emergency supply of medicine if possible. If you miss just 1 dose of medication, you can lose control of your seizures.
Wear a medical alert bracelet or carry some other form of identification. This way, if you have a seizure while in an emergency shelter, first responders will know how to better assist you.
Talk to family, close friends, coworkers, and neighbors about how they can help if you have a seizure.
Try to find out what triggers your seizures. Flashing lights, sounds, lack of sleep, and stress are triggers for some people. Talk to your healthcare provider about how to avoid seizure triggers during an emergency.(2)
Learn more about epilepsy and emergency preparedness.
Seizure Action Plans
More than a collection of names and phone numbers, an Emergency Action Plan is a user guide for how to stay healthy, informed, calm, and connected in an emergency. A person living with epilepsy should have an emergency action plan that includes a seizure action plan.
People with epilepsy need others to understand their condition. A seizure action plan is used to organize seizure information and inform bystanders and first responders on how to help during a seizure.
A good seizure plan should describe the seizures (seizures may not look like someone would expect) detail how to help (i.e., seizure first aid), and explain when to call 911.
Having a plan in place can help you feel ready for the unexpected.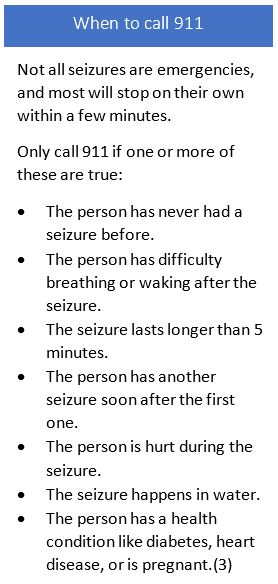 Helping Others with Seizure First Aid
Seizures are common. About 1 out of 10 people may have a seizure during their lifetime. One day you might need to help someone who is having a seizure.(3)
You do not need formal training or special certification to give seizure first aid, but you do need education. Learn what you can do to keep that person safe until the seizure stops by itself.
These are general steps to help someone who is having any type of seizure:
Stay with the person until the seizure ends and they are fully awake.
Remain calm. Time how long the seizure lasts.
Keep the person safe by guiding or moving them from harm.
Comfort them and speak calmly.
Check to see if they are wearing a medical bracelet.
Keep their airway clear and loosen tight clothing around their neck.(3)
Knowing what NOT to do is important for keeping a person safe during or after a seizure. Here's a list of things you should not do:
Do not hold the person down or try to stop their movements.
Do not put anything in their mouth.
Do not try to give mouth-to-mouth breaths. People usually start breathing again on their own after a seizure.
Do not offer the person water or food until there are fully alert.(3)
If you are interested in learning more or receiving certification, the Epilepsy Foundation has a free, online seizure first aid course.
Resources
References
Thanks in advance for your questions and comments on this Public Health Matters post. Please note that CDC does not give personal medical advice. If you are concerned you have a disease or condition, talk to your doctor.
Have a question for CDC? CDC-INFO (http://www.cdc.gov/cdc-info/index.html) offers live agents by phone and email to help you find the latest, reliable, and science-based health information on more than 750 health topics.
Posted on

by
---
Page last reviewed:
November 3, 2022
Page last updated:
November 3, 2022