Photographers Capture the Great Outdoors in Miniature Masterpieces
Posted on

by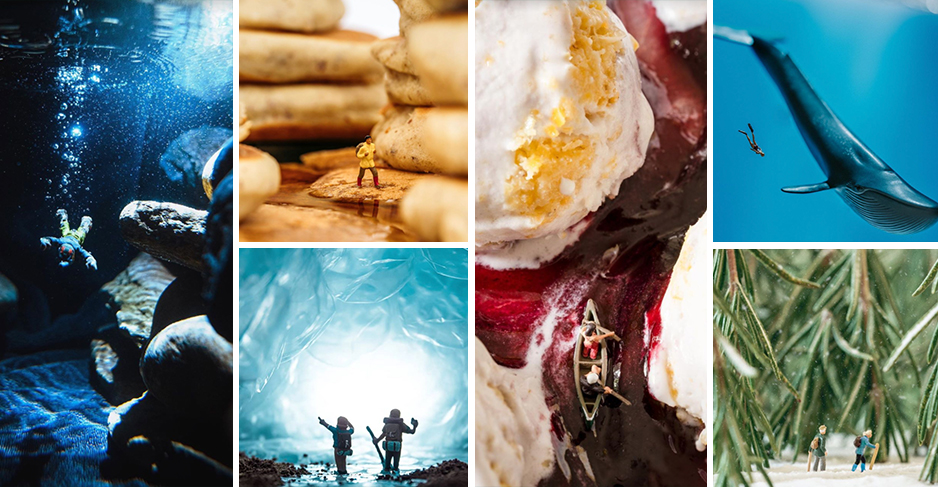 In observance of National Preparedness Month, the Center for Preparedness and Response (CPR) will publish posts in September that highlight ways people and organizations are helping to "create community" where they live.
This student-authored post is published by CPR in partnership with Medill News Service and the Northwestern University Medill School of Journalism, Media, Integrated Marketing Communications. The views and opinions expressed in this article are the author's own and do not necessarily reflect the views, policies, or positions of CPR or CDC.
When outdoor photographers stay indoors, anything can happen. A climb across pancake mountaintops drenched in maple syrup. A trek through baking soda snow in rosemary winter wonderlands. A paddle down huckleberry rivers in ice cream sundae canyons.
During the COVID-19 pandemic, photographers are having to find new outlets for their creativity. Some have turned to crafting miniature landscapes modeled after the great outdoors.
These mini masterpieces are catching the attention of thousands on social media and inspiring both professional and amateur photographers to try creating tiny worlds of their own. The trend first started with one photographer's curiosity and creativity.
As a full-time travel photographer, Erin Sullivan (@Erinoutdoors on Instagram) spent about a third of her time on the road. When travel shut down in February, Sullivan found a new way to bring the great outdoors into her Los Angeles apartment.
"When I was little and couldn't fall asleep at night, I used to imagine little adventures under my sheets," Sullivan said. "I would look at the scale of things and imagine, 'what if I could shrink myself and go on an adventure here.'"
Following stay-at-home orders, Sullivan thought about how to push herself creatively and stay connected to travel without leaving her apartment. She challenged herself to create believable outdoor scenes using household items and model train figurines.
Sullivan's creative process began with a rough sketch of the landscape. Next, she headed to the pantry to find foods or recognizable objects, and finally put it all together into one flavorful photo.
"The landscapes do not necessarily replicate the exact place, but the feeling or emotions I had when I was there," Sullivan said.
Following her first miniature photograph in March, Sullivan challenged viewers to create their own indoor adventure with the hashtag #OurGreatIndoors. Since then, her Instagram following has nearly tripled.
With attention from across the globe, little did she know these miniature figure photographs would change her world in a big way.
Inspired by Sullivan, Stevin Tuchiwsky (@stevint) staged miniature outdoor landscapes from his home in Calgary, Alberta. The #OurGreatIndoors post challenged him to replicate some of his past outdoor photographs of Banff National Park, Cape Breton Island, and the Silfra dive site.
Tuchiwsky's favorite miniature figure photographs captured a deep-sea dive from his bathtub. With his camera protected in a fish tank, he built the scene with rocks from a nearby river and toweling from his linen cabinet.
"One of the best parts of photographing the miniature figurines was getting creative and improvising with what I had around the house," said Tuchiwsky, a civil-engineer technologist and outdoor lifestyle photography hobbyist.
The miniature photograph recreated a visit to Iceland and brought back a lot of memories for him. "Especially during the pandemic, people can use creativity and the outdoors as an outlet to alleviate stress and showcase their inner selves through art," Tuchiwsky said.
Miniature figure photography also brought back memories for Al Baker (@albakerphoto), a freelance landscape photographer in Las Vegas. Sullivan's photographs resurfaced childhood memories of building model baseball stadiums, and he decided to give the #OurGreatIndoors challenge a try.
For Baker's favorite photograph, the creative process began with gathering and crafting each element in the mini-scape. He tried to get as detailed as possible, even searching for a toy whale that was to scale with the miniature diver.
When it was time to shoot, Baker set up the tripod and camera and used a telephoto lens to adjust the depth of field and compress the background. With the frame positioned, Baker goes back and forth between the camera and the scene to place figurines.
"My favorite part is making the scenes as realistic as possible and when I finish the photo, my imagination just comes to life," Baker said.
For Mike Rigney (@mikerigney) a marine engineer and outdoor photography hobbyist, the creative process involved less planning and more experimenting.
Living on a boat in San Diego didn't offer much space for his miniature landscape photography with all the props and tiny figures. But after messing around with bubble wrap packaging remnants, Rigney found inspiration to create one of his favorite miniature photographs of a Mendenhall ice cave.
However, in some cases, the places exist only in his imagination. "As a photographer, these miniatures are an opportunity to take photos exactly how I want to and 'travel' to places I've never been before," Rigney said.
For many photographers, miniature landscape photography is a great way to practice mindfulness.
Dr. Don (DJ) Stanley (@djstanleyphoto), a chiropractor in Moorpark, Calif., said both hobbies and the outdoors are very supportive of emotional and mental health, which is especially important during the pandemic. Outdoor experiences have health benefits such as lowering anxiety, lowering blood pressure, and improving overall wellness, Stanley said.
"The healing aspect of the outdoors is very prevalent and meaningful in my life," Dr. Stanley said. "Even though I am not accessing the outdoors as much as I did before the pandemic, I am still able to connect with both nature and creativity through my photography."
This trend is even starting to positively impact businesses that sell model figurines. In the model railroad industry, sales typically slow down over the summer and peak during the holiday season. But over the past few months, both experienced modelers and newcomers to the hobby have had more time to channel their creativity while in quarantine.
Paul Christel, co-owner of a model railroading business, said online sales tripled in March and April this year. Another online model train retailer store estimated quadruple sales compared to all summer seasons prior and sold more in April than any other Christmas season.
The model figurine business will likely continue to grow since many photographers said they plan to work on their miniature masterpieces, even after they return to traveling.
Sullivan said she hopes the miniature figurines can tag along on her adventures and add to her travel photography. But right now, she has some ideas that she'll revisit when she's ready … or hungry for more.
Thanks in advance for your questions and comments on this Public Health Matters post. Please note that the CDC does not give personal medical advice. If you are concerned you have a disease or condition, talk to your doctor.
Have a question for CDC? CDC-INFO (http://www.cdc.gov/cdc-info/index.html) offers live agents by phone and email to help you find the latest, reliable, and science-based health information on more than 750 health topics.
Posted on

by
---
Page last reviewed:
November 24, 2020
Page last updated:
November 24, 2020