We the People: How to Create Community in an Emergency
Posted on

by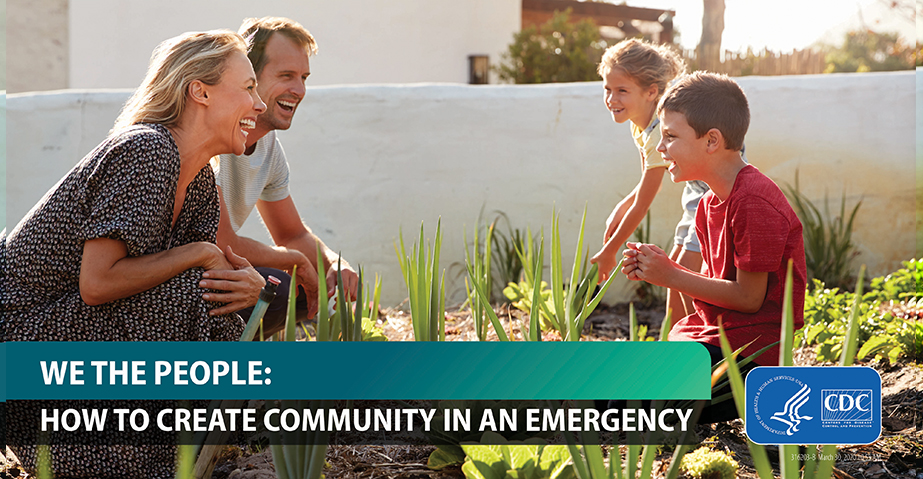 Creating community is important to building resilience to a public health emergency, but it can be incredibly difficult to do in a pandemic.
On its surface, the idea of coming together to prepare and build resilience contradicts CDC's guidance to put distance between yourself and other people (i.e., physical distancing). However, there are less traditional ways to create and strengthen the community that don't require people to get closer than 6 feet; many don't necessitate leaving your house at all.
Care for Each Other
Taking care of yourself, your friends, and your family can help you cope with stress. Helping others cope with their stress can also make your community stronger.
Stay home from work, school, and errands when you are sick, except to get medical care.
Stay in contact. Call, text, or email family and friends to ask how they are doing and to offer your support. If someone you care about is feeling overwhelmed with emotions like sadness, depression, or anxiety, or feels like they want to harm themselves or others, call 911. People can also call the Disaster Distress Helpline at 1-800-985-5990 or text TalkWithUs to 66746. (TTY 1-800-846-8517).
Help kids cope. Reassure your child or teen that they are safe. Let them know it is okay if they feel upset. Share with them how you deal with your own stress so that they can learn how to cope too.

Talk with your kids about the COVID-19 outbreak. Answer their questions and share facts about COVID-19 in a way that they can understand.
Limit their exposure to news coverage of the event, including social media.
Try to keep up with regular routines. If schools are closed, create a schedule for learning activities and relaxing or fun activities.
Get Involved
In a pandemic, the idea of getting involved in your community means doing so from a safe distance. Here are some ways to do that:
Check-in (from a physical distance of at least 6 feet) with family, friends, and neighbors—especially those who are at high-risk at getting seriously ill and social distancing–to make sure they have enough supplies, including personal needs and prescriptions.
Counter stigma. Don't let fear and anxiety about a disease erode empathy toward people. Everyone can help stop stigma related to COVID-19 by knowing and sharing key facts with others in your community.
Practice social distancing. Right now, one of the best ways to 'get involved' is to stay at home. Social distancing is one of the best ways to protect yourself, your family, and the most vulnerable from COVD-19.
Improve Access
Help your neighbors find the information and resources they need to …
Lead by Example
The best way to prevent illness is to avoid being exposed to this virus, which means taking simple everyday preventive actions to protect yourself and those around you. Inspire others to do the same by modeling healthy habits.
Practice self-care. Coping with stress will make you, the people you care about, and your community stronger. Here are some things you can do to support yourself:

Take breaks from television and social media.
Get plenty of rest, exercise, and eat well.
Make time to unwind. Try to do some other activities you enjoy.
Connect with others. Talk with people you trust about your concerns and how you are feeling.

Cover coughs and sneezes. Cover your mouth and nose with a tissue when you cough or sneeze or use the inside of your elbow. Throw used tissues in the trash and wash your hands immediately after.
Handwashing. Wash your hands often with soap and water for at least 20 seconds, especially after you have been in a public place, or after blowing your nose, coughing, or sneezing. If soap and water are not readily available, use a hand sanitizer that contains at least 60 percent alcohol.
For more information on how to prepare and protect yourself from COVID-19, please visit https://www.cdc.gov/coronavirus/2019-ncov/index.html.
Resources
Thanks in advance for your questions and comments on this Public Health Matters post. Please note that the CDC does not give personal medical advice. If you are concerned you have a disease or condition, talk to your doctor.
Have a question for CDC? CDC-INFO (http://www.cdc.gov/cdc-info/index.html) offers live agents by phone and email to help you find the latest, reliable, and science-based health information on more than 750 health topics.
Posted on

by
---
Page last reviewed:
September 8, 2020
Page last updated:
September 8, 2020