National Battery Day: Plan Ahead with Emergency Power Sources
Posted on

by
In observance of National Battery Day on February 18, take a minute to think about how integrated electricity and power sources, like batteries, are to our everyday lives. Electricity is so integral to our routines, that we sometimes take it for granted.
So many facets of our lives require electricity. Look around you. From cell phones to refrigerators to home use medical devices, many of the things that we rely on to help keep us connected, independent, and even healthy rely on transmitted, stored, and portable power.
Following Hurricane Katrina in 2005, it took utilities 23 days to restore electricity to approximately 80 percent of the power-out population in Louisiana.(1) An emergency power outage on that scale can create life-threatening predicaments for people—particularly vulnerable populations—who rely on healthcare systems and services.
Don't let emergencies knock you offline. Here are some simple, proactive steps that you can take now to plan ahead for extended power outages.
Put a Plan on Paper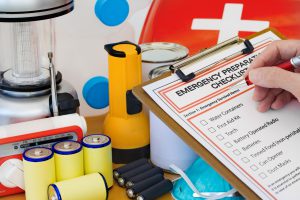 Write it down. Prepare for a prolonged blackout with an emergency power plan that includes:
An up-to-date list of your home use medical devices that require electricity.
Contact information for your local fire department, and power and water companies. Call your utility providers ahead of time if you rely on home-use medical devices and equipment. Some companies keep a "priority reconnection service" list of power-dependent customers.
Step-by-step instructions, including hard copies of user manuals, on how to use medical devices and equipment for family, friends, neighbors, and members of your personal support network.
Charge and Test Devices Ahead of Time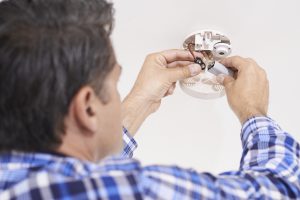 Don't get left in the dark. If or when you know a disaster is coming, take simple steps to prepare:
Fully charge your electronic devices, medical devices, and back-up power sources.
Identify backup power sources for your phones, including power banks, solar chargers, cars with functional charge outlets, and laptop computers with a fully charged battery.
Be prepared with safe, alternative lighting sources, such as flashlights, headlamps, battery-powered lanterns, and the batteries you need to keep those devices on.
Use Your Generator Safely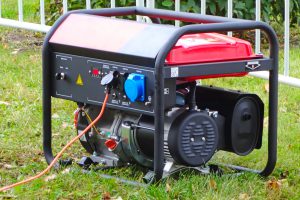 People put their lives in danger when they put portable generators too close to their homes. Carbon monoxide (CO) poisoning is one of the biggest killers after disasters. After Hurricane Irma in 2017, 16 of the 129 deaths in Florida, Georgia, and North Carolina were the result of CO poisoning.(2)
If you are thinking about using a portable generator:
Check with your electric utility company or a qualified electrician to know how much electricity you need to generate to operate specific equipment or appliances and how to safely operate your generator. Never wire your generator directly into your electrical meter.
Install battery-powered or battery-backup CO detectors in your home. Place them where they will wake up sleeping people if the alarm goes off. Check or replace the battery when you change the time on your clocks each spring and fall.
Know how to use your portable generator safely to prevent electrocution and CO poisoning. Always run your generator outside and in a dry area. Place the generator at least 20 feet from any window, door, or vent.
Be informed about how your portable generator works and how much fuel it uses. Safely store fuel in a cool, well-ventilated place, away from all heat sources.(3)
For more information, recommendations, and tips on how to Prepare Your Health for a power outage, visit https://www.cdc.gov/cpr/prepareyourhealth/PowerSources.htm.
References
(1) https://www.oe.netl.doe.gov/docs/katrina/katrina_092305%20_1500.pdf
(2) https://www.cdc.gov/mmwr/volumes/67/wr/mm6730a5.htm 
(3) https://www.energy.gov/ceser/activities/energy-security/emergency-preparedness/using-portableemergency-generators-safely
Thanks in advance for your questions and comments on this Public Health Matters post. Please note that the CDC does not give personal medical advice. If you are concerned you have a disease or condition, talk to your doctor.
Have a question for CDC? CDC-INFO (http://www.cdc.gov/cdc-info/index.html) offers live agents by phone and email to help you find the latest, reliable, and science-based health information on more than 750 health topics.
Posted on

by
---
Page last reviewed:
February 18, 2021
Page last updated:
February 18, 2021