Keeping Work with Select Agents Safe, Secure
Posted on

by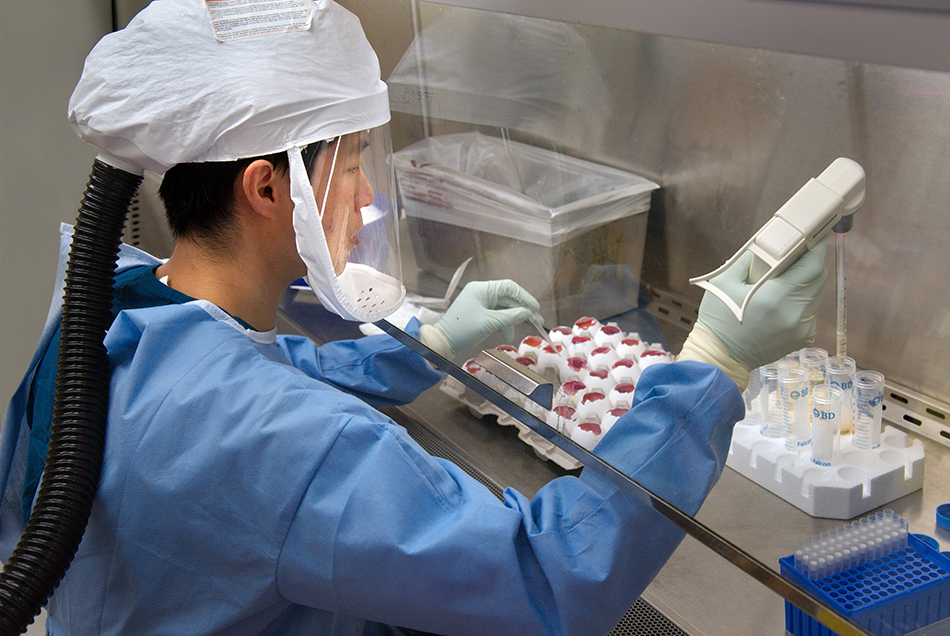 Although potentially dangerous, work with select agents and toxins provides important scientific discoveries that have led to improved detection, prevention, diagnostic, and treatment options for diseases. Select agents and toxins are also considered to be some of the most threatening to the health and safety of people, plants and animals.
While there is always some risk in working with these agents, our goal is to get as close to zero risk as possible.  The Federal Select Agent Program (FSAP), which is jointly run by CDC and our colleagues at the USDA's Animal and Plant Health Inspection Service (APHIS), regulates laboratories in the U.S. working with these materials and helps to ensure that lifesaving research conducted with these potentially dangerous materials is done as safely and securely as possible.  Unfortunately, sometimes incidents do occur.  When needed, FSAP can take action in order to further protect public, animal, and plant health.
To help shed light on this process, we've developed a new series of infographics in order to describe what happens should serious biosafety or security concerns be found at an entity that works with select agents or toxins.  These new infographics explain how FSAP would address any such concerns, illustrate the important role that FSAP would play in responding to an incident, and also describe the critical role that others play in responding to these situations.
How does the Federal Select Agent Program address serious biosafety or security concerns?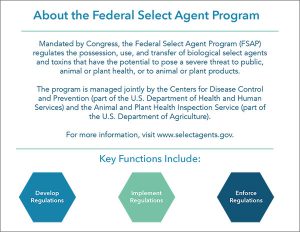 FSAP may identify biosafety and/or security concerns in a laboratory through the FSAP inspection process, after which an entity would be required to address the concerns.  However, should a particularly serious concern in biosafety or security measures be identified – or should there be an instance of a theft, loss, or release – FSAP can take additional actions to address the risk and bring an entity back into compliance with the select agent regulations.  A wide array of options are available, including:
Participation in a Corrective Action Plan: This is a way to address a serious or recurrent concern that does not present an imminent risk to public, animal, or plant health. Participation is voluntary.
Referrals for civil monetary penalties: An entity can be referred to the HHS Office of Inspector General or the APHIS Office of Investigative and Enforcement Services, as appropriate, in the case of a serious violation of the select agent and toxin regulations.
Notification to the Federal Bureau of Investigation: This is used when there may have been a violation of federal criminal law (e.g., in the case of security concerns, or reports of a theft or loss of a select agent or toxin).
Suspension: This would be used if FSAP had a significant concern for the health and safety of humans, animals, or plants because of an entity's failure to comply with the select agent and toxin regulations.
Revocation: In the most serious of circumstances or in the case of repeated failures to maintain regulatory compliance, FSAP can revoke an entity's registration to possess and work with select agents and toxins.
What happens if a select agent or toxin is stolen or lost?
An entity is required by regulation to immediately notify FSAP and appropriate federal, state, or local law enforcement agencies of a theft or loss of a select agent or toxin.
Once notified, FSAP helps to ensure that any potential risks to the health of humans, animals, or plants – or further vulnerabilities to select agent and toxin inventory – are addressed and that appropriate federal authorities, including the FBI, are informed of any potential criminal activity.
Fortunately, these events are uncommon.  Since the program's establishment in 2003, there have been no reported thefts of select agents or toxins.  In the instances where losses have been reported, the vast majority are actually the result of recordkeeping issues rather than "true" losses of select agents or toxins.  No indications of criminal intent associated with losses have been identified.
Who is involved in the response to a release?
Unfortunately, when biosafety practices are not followed, it is possible for a select agent or toxin to be "released."  This could occur in one of two ways – through occupational exposure of the person working in the laboratory (e.g., through a needle stick, animal bite or scratch, or failure of personal protective equipment), or by release outside of the primary barriers of the biocontainment area (e.g., a spill outside of a biologic safety cabinet or the laboratory itself). An entity is required by regulation to notify FSAP immediately upon the discovery of the release of a select agent or toxin.
The responsibility to respond to the release of a select agent or toxin is shared between several parties.  If such an incident occurs, it is critical that the entity working with the material immediately assesses the scope of the situation and the health of potentially exposed individuals, plants, or animals, and also ensures that the select agent or toxin is contained from further spread.  State or local public health or agriculture officials are responsible for human and agriculture health and safety in their jurisdiction, and may assist the entity in responding to the event.  Other federal agencies may also provide assistance if needed.
The majority of releases reported to FSAP represent potential occupational exposures which are immediately mitigated by occupational health providers at the entities and do not result in illness.
The good news is that the vast majority of laboratories are doing well in following the select agent regulations. However, should a laboratory not meet the safety or security requirements of the regulations, or should an incident occur, systems are in place to deal with those situations.  While risk will always remain, the critical importance of this work means we must find ways to continue, using methods that are as safe and secure as possible.
Please visit the FSAP website here to see the new infographic series that describes these processes in more detail.  For more information on FSAP, please visit www.selectagents.gov.
Thanks in advance for your questions and comments on this Public Health Matters post. Please note that the CDC does not give personal medical advice. If you are concerned you have a disease or condition, talk to your doctor. 
Have a question for CDC? CDC-INFO (http://www.cdc.gov/cdc-info/index.html) offers live agents by phone and email to help you find the latest, reliable, and science-based health information on more than 750 health topics.
Posted on

by
---
Page last reviewed:
August 21, 2019
Page last updated:
August 21, 2019