From the Field: CDC's Field Assignment Program
Posted on

by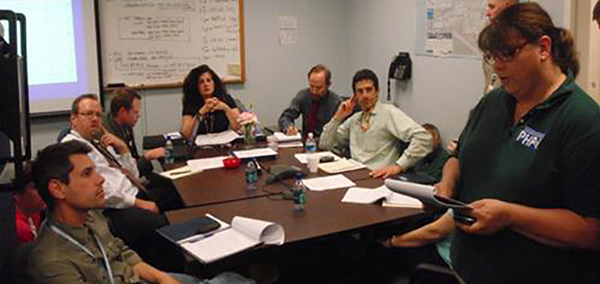 When faced with unexpected outbreaks and emergencies like zoonotic plague, Ebola, or contaminated cilantro that causes cyclosporiasis, Career Epidemiology Field Officers (CEFOs) are the experts in the field. One of CDC's newer field assignment programs, the CEFO program is made up of highly skilled professionals assigned to state, territorial, and local health departments across the country to strengthen nationwide epidemiologic capacity and public health preparedness. CEFOs accomplish this mission while supporting day-to-day operations and emergency response activities of health departments. Being in the field and embedded in the public health networks of the area, CEFOs are on the front lines where emergencies typically begin and end: the local level.
The CEFO program was launched in 2002 to boost public health surveillance, epidemiology, and response efforts following 9/11 and the 2001 anthrax attacks. As of November 2015, 34 CEFOs are assigned to 27 state, territorial, and local public health programs. CEFOs bring a direct CDC connection to the state and local level. Public health agencies request CEFO assistance for an initial 2-year commitment, after which they can extend annually. Selecting a CEFO with the right background and skillset for a specific agency's needs is important for success.
What do CEFOs actually do? 
 
Although CEFOs have diverse professional backgrounds (physicians, veterinarians, scientists, nurses, and health services), all are experts in applied epidemiology. CEFOs have either completed training through CDC's Epidemic Intelligence Service (EIS) or have comparable practical experience. Agency assignments vary, but CEFO priorities include rapidly identifying and halting the spread of disease outbreaks and other public health threats. CEFO's accomplish this mission through enhancement of public health surveillance, strengthening outbreak response, conducting epidemiologic investigations, and development of the public health workforce. They serve as liaisons between health departments, local and state emergency response partners, healthcare providers, and CDC. CEFOs also develop and implement jurisdictional preparedness plans for emergency situations. For instance, one CEFO is currently analyzing data to identify potential health threats and prioritize resource distribution following severe droughts in California. CEFOs use epidemiological tools to help guide public agencies towards fast and effective responses that can address the health needs of the community.
Do you want to be a CEFO?
According to CDC CEFO Supervisor, Brant Goode, CEFOs tend to be two things: highly personable and very intelligent. Though being a CEFO can be extremely rewarding, working as a CEFO does pose challenges. Goode provides a few tips to future CDC CEFOs:
Utilize the data. Understanding the demographics and other aspects of a jurisdiction's public health is a great way to tailor preparedness and response efforts to the population. Along with learning from healthcare providers and health department staff, using census and public health data to learn about the area can aid in planning and implementation.
Be clear about roles. CEFOs are federal officers meant to strengthen a jurisdiction's mission. Because CEFOs support both CDC and their jurisdiction, working well with diverse partners is crucial for success.
Be comfortable with being uncomfortable. Working as a CEFO can be very rewarding, but also challenging. Going from the federal level to the state or local levels can come with a steep learning curve at an accelerated speed. CEFOs should be prepared to serve in emergency management roles.
Accept agency support. The CDC, partnering jurisdictions, and fellow CEFOs can provide support to CEFOs in completing their mission. Utilize resources and refer to previous cases for best practices, as well as past mistakes, to improve efficiency and prevent "wheel reinvention."
CEFOs serve as CDC's frontline defense against public health threats. Through expertise in applied epidemiology, they continue to improve nationwide preparedness to respond to all types of public health emergencies.
Posted on

by
---
Page last reviewed:
February 19, 2016
Page last updated:
February 19, 2016