Frozen Without a Plan: A Mom, 3 Kids, and the Atlanta Ice Storm
Posted on

by
It was 4 p.m. on a Tuesday in January, and Kelly had been on the road for four hours. She was only a few miles from work, but many miles from home. Her rearview mirror showed a backseat full of children – 5-year-old Savannah, and her 9-month-old twins Caden and Kylie.
She had left work at noon, the time when most Georgians got on the road at the start of a winter storm in the Atlanta metro area. Kelly, a kindergarten teacher at the same school her children attended, had quickly loaded her kids into the car and hit the road for home.
Where they sat.
And sat.
And sat.
Kelly's mind raced – they were nowhere near home. The twins would be hungry soon and she only had one bottle for each child. She only had two diapers left and both were overdue for a diaper change. But she knew her children could not see her fear.
Instead, she and Savannah played "Frozen" – pretending Elsa was freezing the road around them and singing "Let it Go" on repeat. The twins woke up from their afternoon nap and played along with "oohs" and "ahhhs."
As the hours passed, the trip began to get scarier. Cars slid out of control on the icy road, some off the road and some into each other. More than once, Kelly gripped the wheel as a car got dangerously close to her family's car.
"Why is that lady crying?" asked Savannah. "Are we going to get stuck?" She and Kelly talked about snow, ice, and how scary things can happen.
"When scary things happen, we try to help other people," Kelly told her daughter as they began a new game of looking for people helping each other. They didn't have to look far. Commuters helped push stuck cars off the road.
Around 9 p.m., Kelly turned on to a residential street to find people walking with wagons full of supplies, handing bottles of water and packages of food to the stranded motorists. Several offered her and her children a place to stay, as did friends of friends who were following her on Facebook. Kelly declined the offers. They were still making progress. Her children had dozed off and she was focused on getting them home to fresh diapers and more baby food.
At 10:30 p.m. she made it to the final bridge before home. She was the next car in line to cross the bridge when a police officer stopped her. They had closed the bridge. A truck trying to pass had slipped back and hit cars. The bridge was not safe.
She asked him for advice on how she could get home. "He looked at me with the saddest look and said 'I'm sorry ma'am. You're not getting home tonight,'" Kelly remembered.
A Night on the Road
Kelly's husband, Jon, began calling hotels. Every single hotel was booked, even their lobbies were full of people. Around 2 a.m. Kelly pulled into a parking lot and let Savannah come to the front seat to sleep on her lap.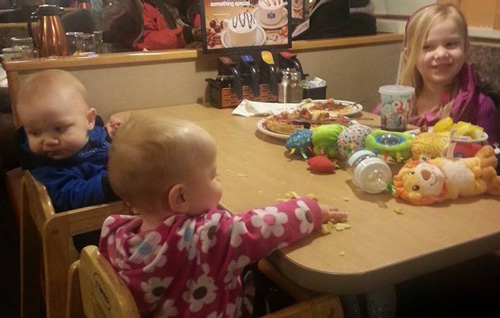 Kelly wished away the minutes, texting with her husband. Her full tank of gas allowed her to keep the heat running and her phone charged. "I kept worrying the babies would wake up hungry or needing a new diaper," said Kelly. "I'm so grateful they slept and stayed calm – and didn't poop!"
Staying positive and making the situation into a learning experience for her daughter helped them get through the night. "I almost lost it a couple of times," remembered Kelly. "I felt the tears coming on, but I just looked at my children and kept trucking."
An Extra Special Breakfast and a Shopping Spree
Around 5 a.m. the babies began to wake and Kelly knew she needed to get them somewhere with fresh diapers and food. She spied an open breakfast restaurant. She carried two car seats inside, where the whole family devoured pancakes.
With diapers as the next priority, she found a grocery store with its lights on. A lobby full of stranded motorists waved her inside. "The store manager, had pastries, juice, and water out for everyone," she shared. "I asked him if I could please buy diapers for the babies. He said the registers were closed and he couldn't sell anything, but instead took me to the baby aisle and told me to get whatever I needed."
Home at Last
Police and her husband arrived around 7:30 in the morning, sharing news that the bridge had reopened. The family got in his car and drove the last few miles home.
Getting ready for bed the next night, safely at home in their warm house, Savannah asked "Can we sleep in the car again?"
"Not tonight," said her mommy. "We're not sleeping in the car tonight."
Lessons Learned
"The most important thing is to be prepared," said Kelly. "You never know what's going to happen."
A full tank of gas and a car phone charger were game changing supplies. They kept the family warm and connected. Kelly and Jon now stock their cars with a big bag holding three changes of clothes, water bottles, snacks, diapers, and wipes. The first of every month, Kelly cycles out the food, replacing snacks and updating clothes for the weather. "The little bit of time is worth every second for my peace of mind," says Kelly.
Remember, an emergency can happen anywhere. Make sure you are prepared at home and on the go. For more family stories, visit our Caring for Children in Disasters portal.
Posted on

by
---
Page last reviewed:
December 4, 2015
Page last updated:
December 4, 2015